ABC's Radio National ran a great half-hour segment late last week entitled "The Economics of Immigration", which featured three featured guests, namely:
Dr Jane O'Sullivan, Honorary Senior Research Fellow, School of Agriculture and Food Sciences, Faculty of Science at the University of Queensland;
Ken Henry, former Secretary of the Australian Treasury and Chairman, National Australia Bank;
George Megalogenis, Journalist, political commentator and author; and
Professor Ian Goldin, Professor of Globalisation and Development and Director, Oxford Martin Programme on Technological and Economic Change, University of Oxford.
Of the four guests, Dr Jane O'Sullivan was brilliant and spoke by far the most sense. Dr Sullivan covered the cost to the environment and the folly of using GDP as an indicator of well being. She got her argument about infrastructure across well, dispelled the myth of immigration being all about bringing in skills, and hit the ageing furphy on the head:
"Every problem that we have to do with the environment and natural resource availability is made harder by more people. And certainly in Australia the State of the Environment reports have repeatedly identified population growth and population pressure as major threats to systems and species in Australia. And those indicators are really going backwards from one report to the next.

There's really nothing to gain from having more people because wealth and prosperity is a per capita thing…"
George Megalogenis and Ken Henry were interesting in that they are both pro-immigration in principle, but admit that current settlement patterns into Sydney and Melbourne are potentially disastrous. They would like to see Australia decentralise, with migrants dispersing throughout Australia into the regions and smaller cities.
Here's George Megalogenis:
"If most of the population growth that's already in train for the next 10, 20, 30 years ends up in Sydney and Melbourne, we've got a problem. But if we are able to pull-off decentralisation – something we've been talking about for more than 100 years as a nation… – we may be able to fit the next 10 or 20 million people a lot easier than otherwise would be the case"…

"You look at Sydney's topography and it can't fit another million people easily. And you look at Melbourne's, and it will fit in another million but at the expense of livability because they just keep pushing the boundary out. That next million, that next two million, that each city knows is in train could be divided quite neatly across not just the Eastern Seaboard but inland…"

"The default setting to me could potentially be catastrophic for the country over the next 20 years if people just end up in Melbourne and Sydney".
Here's Ken Henry:
"The Australian population's growing at somewhere around about 350,000 to 400,000 a year… It's also true that the cities are growing very strongly – Sydney and Melbourne are growing by around 100,000 people a year. And for fairly obvious reasons, new immigrants do tend to settle in areas of population concentration – cities – because that's typically have been the places for easiest integration into the economy and integration into society…

"We think maybe 7 million more will fit, somehow, into Sydney and Melbourne by that time [mid-century] – they will be cities of 8 million each. Very large cities by international standards, Sydney and Melbourne…. But even then there will be something like 8 or 9 million living outside of Sydney and Melbourne"…
Professor Ian Goldin takes the typical globalist view arguing that immigration makes you "more and more skilled, more and more competitive, and it makes you more dynamic", and that immigration is vital for Australia. But even he acknowledges that immigration "puts pressure on everything":
"Absolutely it puts pressure on housing, it puts pressure on school places, it puts pressure on transport and other infrastructure, and so you need to make a decision as a society – do we want higher levels of growth and productivity, do we want to remain a competitive country, and how are we going to bear these costs. The one thing not do do is sweep these issues under the table and pretend they don't exist [which Australia has done]. And I think this also applies to questions of resources – water, climate change, and so on… Are we prepared to tolerate these?…"
Clearly, Australia's mass immigration program is destined to create massive problems for the nation, given the migrants are all but certain to settle primarily in Sydney and Melbourne, which are already crush-loaded.
The hope that migrants will decentralise to the regions was destroyed by the Productivity Commission's (PC) recent Migrant Intake into Australia report, which revealed that immigrants are far more likely to settle in urban areas than people born in Australia. As shown in the next chart, 86% of immigrants lived in the major cities of Australia in 2011, whereas only 65% of the Australian-born population did: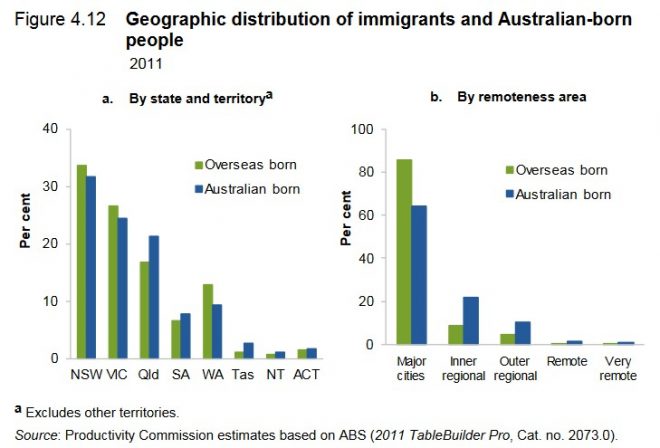 Melbourne's population is projected by the State Government to balloon by 97,000 people per year (1,870 people each week) over the next 35 years to more than 8 million people – effectively adding 2.5 Adelaide's to the city's population over this time period: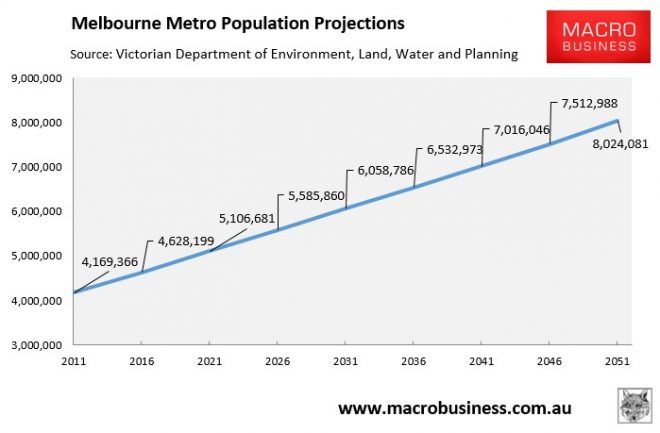 With Australia's major cities facing a catastrophe, and the hope for decentralisation nothing more than a pipe dream, the only solution is for the federal government to to slash Australia's mass immigration program to sensible and sustainable levels.
Sadly, the Turnbull Government last week announced that it would maintain Australia's permanent migrant intake at a record 205,000 people a year in 2017-18 without a whiff of opposition from Labor or the fake Greens. Hence, the gradual destruction of Australian living standards is set in stone for now.
I highly recommend that you listen to the Radio National podcast, which can be downloaded or streamed here.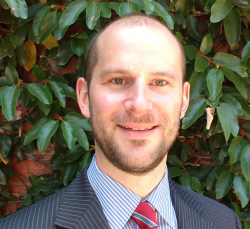 Latest posts by Unconventional Economist
(see all)