Yesterday, the NSW Government launched a new housing ponzi scheme where everyone's a winner. From The SMH [my emphasis]:
The NSW government will ramp up a program of encouraging major housing development near rail stations in Sydney, as well as pushing for new schemes that make it easier for renters to buy their own property.

The program of fostering developments near rail stations will take place through an expanded "priority precincts" program…

And the new schemes to improve housing affordability could include programs such as rent-to-buy, where renters are offered a chance to keep some of the increased value in their home, or a joint equity arrangement, where the government or another institution takes a partial stake in a home.

In an interview, Planning and Housing Minister Anthony Roberts said… "We've got to house people," said Mr Roberts. "This is a crisis. We're almost at the point of no return"… Mr Roberts said the government was looking at "up to 20 Priority Precincts, subject to discussions around proximity to transport, and upcoming rezonings"…

[Roberts] said the multi-lot planning of precincts around rail stations would lead to better designed areas, as well as benefits to home owners.

"One of the things I'm working with the Greater Sydney Commission on is when we go to communities and say there is going to be an increase in population here… we have a compact with them that says we will build the schools, we will build the roads, we will build the infrastructure that goes with this," Mr Roberts said…

"I want everyone to be winners in this," he said. "If you are going to get your house bought, or you want to sell your house because you actually live near a railway station… I want this to be, and this government wants it to be for those people, to be like winning the lottery."
Planning and Housing Minister Roberts is right about one thing: Sydney's housing is a crisis. There is almost no affordable housing left within a reasonable proximity of the CBD: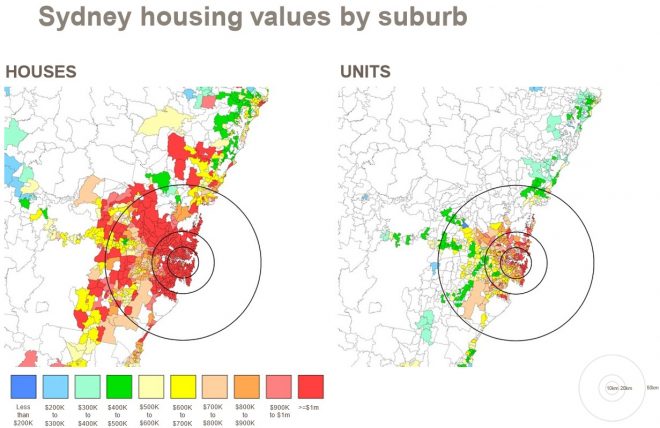 And there are now more Sydney suburbs with a median house price of more than $2 million than there are suburbs with a median house price below $600,000: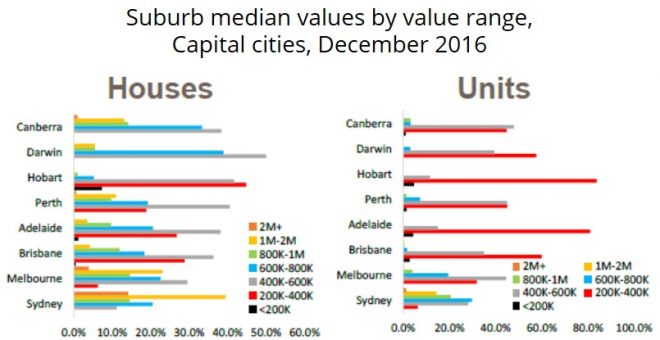 Sure, boosting densities around railway stations might help at the margins. But let's remember that Sydney's rail and bus system is already facing crush-loads after a decade-plus of rampant population growth (immigration), so this plan will just add to the overcrowding problem. The same goes for Sydney's schools, which are also running well over capacity and are failing to keep up with the population deluge.
It would be nice if, for once, the NSW Government leveled with voters and admitted that Sydney's housing woes are due, to a large extent, to the mass immigration program being run by the federal government, which is seeing 80,000-plus new residents piling into Sydney every year.
It would be nice, too, if the NSW Government finally admitted that it is incapable of providing the necessary infrastructure and public services required to keep up with this growth.
It would be nice if the NSW Government admitted that the federal government's mass immigration program means Sydney's suburbs face dramatic intensification and increased congestion as thousands of new residents are made to squeeze into the existing urban footprint.
And it would be nice if the NSW Government sought residents' views on whether they actually support such strong population growth and for people to be concentrated in Hong Kong-style towers? Because under the federal government's current immigration settings, Sydney's population is projected to balloon by 87,000 people per year (1.74 million in total) over the next 20 years – equivalent to adding 4.5 Canberra's: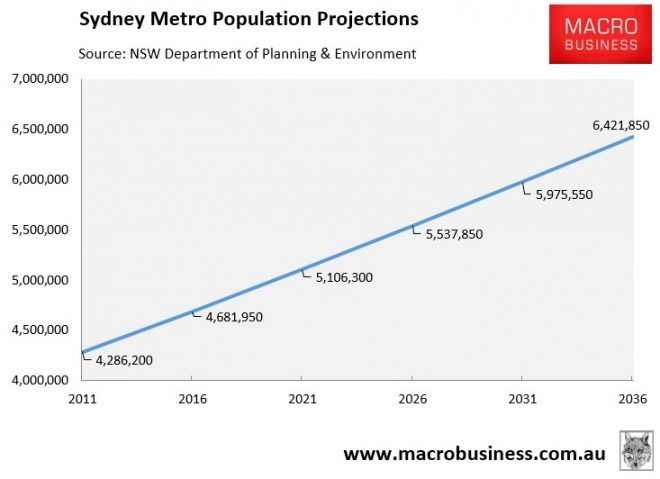 Clearly, the best way for the NSW Government to address Sydney's housing crisis, and to make the city more livable, is to tap the federal government on the shoulder and convince it to rein-in Australia's mass immigration program.
Tinkering around the edges on supply pales into insignificance when 80,000-plus resident are piling into Sydney each and every year.
At a minimum, the NSW Government should demand a fixed sum per migrant that arrives into Sydney, to ensure that it can then fund the necessary public services and infrastructure. This might make the politicians in sparsely-populated Canberra think twice before crush-loading the big cities.