Last month, ABC News published an article revealing how almost all of Sydney's trains are over capacity during the morning peak.
Now, an annual snapshot by the NSW Audit Office has revealed public transport use is soaring across Sydney placing even more strain on crowded trains and buses, which rarely run on time. From The SMH:
…patronage across the public transport network increased by 12 per cent last financial year.

But the Audit Office also highlighted the failure of buses, in particular, to run on time…

The Audit Office attributed the huge growth in passenger trips across Sydney – there were 72 million more public transport trips in 2015-16 compared to the year before – partly to the increased take-up of the Opal card…

Trips on the rail network increased 10.7 per cent last year, from 328 million to 363 million.

Trips on Sydney's buses increased 12.8 per cent, from 257 million to 290 million. Trips on the light rail line increased by 66 per cent, from six million to 10 million, while ferry trips remained stable…

"The continuing rise in patronage increases pressure on public transport crowding, punctuality and capacity," the report said…

The Auditor-General's snapshot also highlights the crowding pressures on trains and buses…
Seriously, what planet are these people living on – blaming the increase in patronage on "the increased take-up of the Opal card"?
How about the circa 400,000 increase in Sydney's population over the past five years, which is also projected to increase by another 1.74 million over the next 20 years, representing growth of around 1,650 people per week or 87,000 people per year, and is equivalent to adding 4.5 Canberra's to Sydney's population?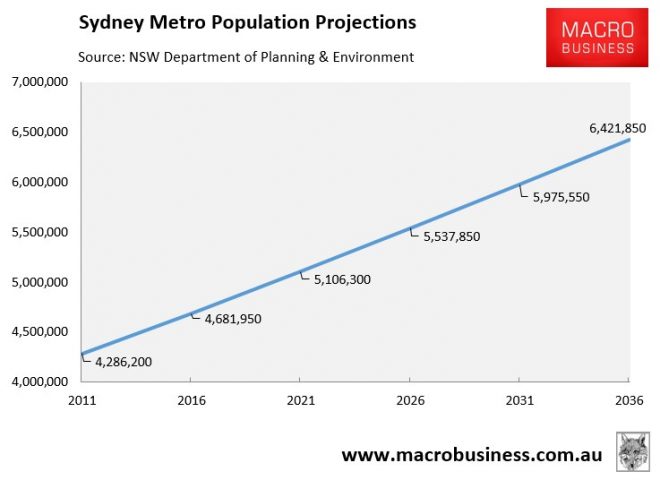 It's the same situation in Melbourne where the train system has become "crush loaded" from incessant population growth (read immigration).
The road system, too, is struggling under the weight of the population influx.
Infrastructure Partnerships Australia's latest report found that road network "efficiency" has followed the level of population growth. Melbourne, the population growth leader, has suffered the greatest efficiency loss, followed by Sydney (see below graphics).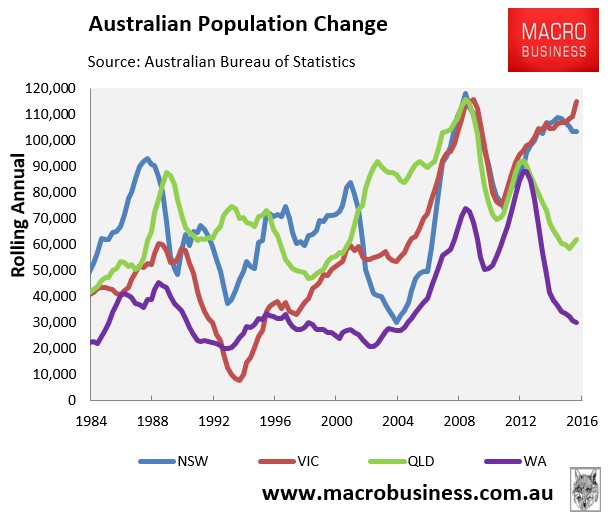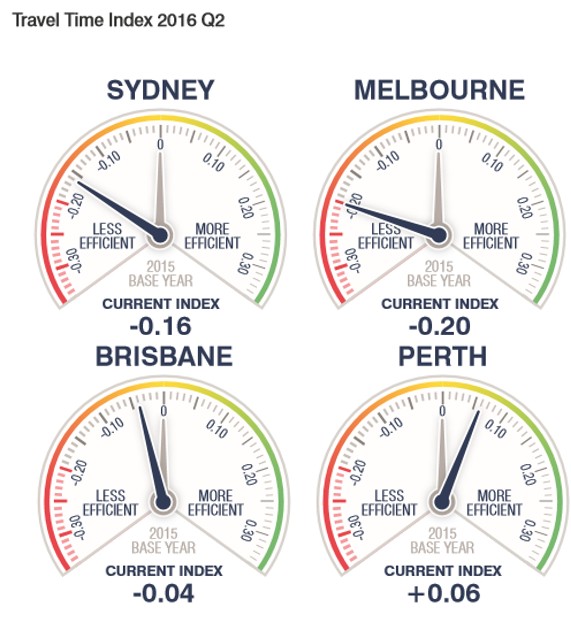 The Bureau of Infrastructure and Regional Economics also forecasts soaring costs of congestion, particularly in Sydney and Melbourne, over the next 15 years as their populations continue to boom: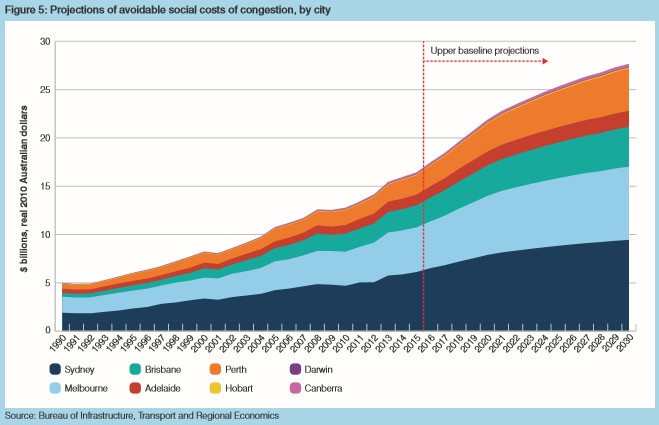 Blind Freddy can see the direct link between excessive population growth (immigration) and the strains on infrastructure, housing and living standards.
If all Australia is doing is growing for growth's sake, pushing against infrastructure bottlenecks, diluting its fixed endowment of minerals resources, and reducing the living standards of the existing population, why persist with a mass immigration program?