With New Zealand headed to the polls on 23 September 2017, Roy Morgan Research (RMR) has released special polling confirming voter angst over housing, with 26% of respondents citing housing as most important issue facing the nation, comprising 15% most concerned about affordability/increasing prices and 11% concerned about homelessness/housing shortages.
These issues are well ahead of other issues including Government/ Politicians/ Leadership/ Government Spending 6% and Refugees 4%.
The concerns are loudest in New Zealand's biggest and most expensive city – Auckland – where housing ranked as the key concern among 32% of residents, namely housing affordability/rising prices (20%) and homelessness/housing shortages (12%).
The polling follows in the wake of the latest Demographia International Housing Affordability Survey, released late January, which showed New Zealand's Median Multiple (median house price divided by gross annual median household income) jumping from 5.2 to 5.9, pushing New Zealand to second spot out of the eight countries surveyed (see next chart).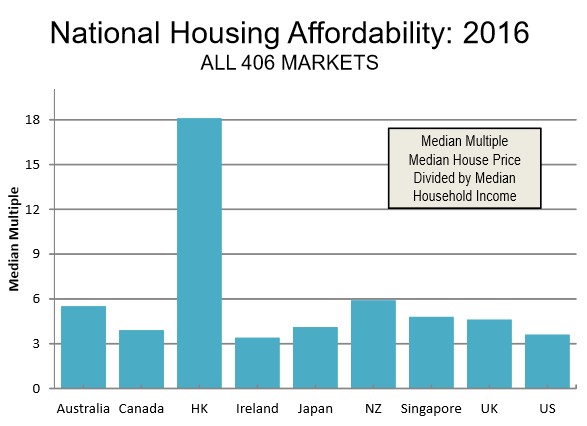 With New Zealand's biggest and most expensive city, Auckland, climbing to fourth spot on the rankings of most unaffordable housing markets, up from fifth position in 2016: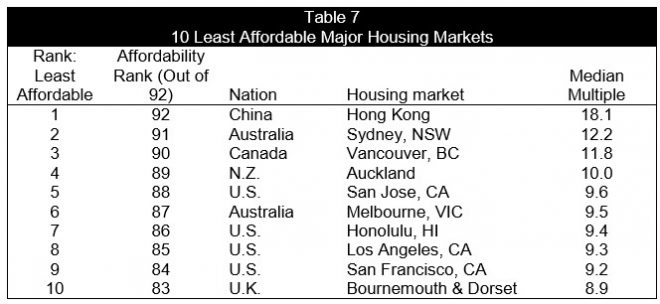 Recent RBNZ data also showed the value of New Zealand's housing stock hitting a new all-time high relative to the size of the nation's economy, surging to an unprecedented 391% of GDP as at September 2016, up from 351% the year prior, to easily lead the Anglosphere: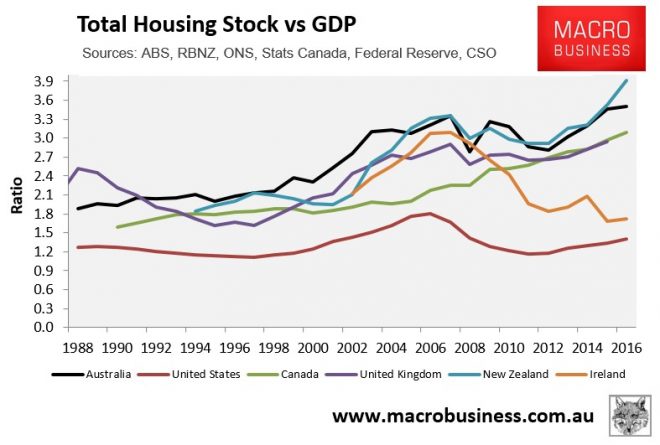 Adding to the pain, rents are also rising quickly across New Zealand, up 5.4% nationally in the year to January, and much more across Auckland:

Of course, a key driver of Auckland's housing pressures is mass immigration, with a record 71,305 people migrating to New Zealand in the year to January 2016: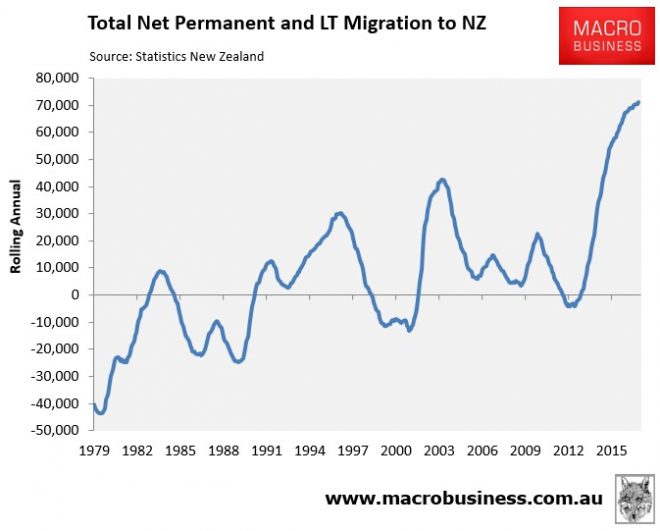 With the lion's share of this migration flowing to the hotspot of Auckland:
Statistics NZ said 56,231 arriving migrants said they intended to settle in Auckland during the year, although the actual numbers are likely to be closer to 65,000 because nearly 20,000 migrants did not state where they intended to live and many of those are also likely to have settled in Auckland.
For now at least, New Zealand Prime Minister Bill English refuses to countenance that there are problems, claiming yesterday that New Zealand's immigration settings are "about right". From Interest.co.nz:
The government feels it has the balance of migration settings "about right"…

English said the economy required current migration settings to fill skills shortage gaps…

Business leaders in the hospitality, horticulture, agriculture and IT industries, in particular, were constantly telling the government they were facing skills shortages among the local population, English told media at his post-cabinet press conference.

"They really are going to struggle to get the people they need, particularly in the regions. This is the type of balance we're trying to [reach]," he said.

A rise in local wages could help fix that problem, and certain businesses may have to re-evaluate pay settings to entice Kiwis into work, English said. However, when put to him that businesses might not need to do that because owners were able to hire cheaper migrant labour, he replied that there was a balancing act required.
English's argument that migrants are needed in the regions might be correct. But why then are nearly all of them flocking to Auckland, in turn placing massive additional pressure on housing and infrastructure?
His statement reminds me of Chris Pyne's comment last week when he argued against lowering immigration "because it would be catastrophic in places like the Northern Territory, South Australia, Tasmania. Most places outside the capital cities".  Pyne, of course, ignored the inconvenient fact that the lion's share of migrants are flocking to the big cities of Sydney and Melbourne, not the regions or smaller cities.
In any event, Bill English's housing failures are not yet hurting the National Government, with their support rising according to the latest polling from RMR. From Interest.co.nz:
During February support for National rose by 2% to 48% now well ahead of a potential Labour/ Greens alliance 39% (down 0.5%).

If a New Zealand Election was held now the latest New Zealand Roy Morgan Poll shows National would retain Government with the support of minor party allies.
Nevertheless, six months is a long time in politics and New Zealand's housing crisis could still turn around to bite.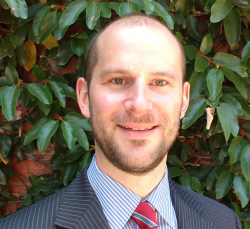 Latest posts by Unconventional Economist
(see all)