For years I have argued that markets where land supply is unresponsive (inelastic) – via planning constraints or geographical barriers – are far more prone to suffer from more expensive housing, higher house price volatility, and bigger boom and bust cycles than markets where land supply is relatively responsive (elastic) to changes in price.
These dynamics were explained in detail in my 2013 presentation to a mortgage risk roundtable in Melbourne (available for download here).
In essence, housing markets where strict regulatory barriers are in place – such as urban growth boundaries, restrictive planning/zoning requirements, minimum lot sizes, and upfront development taxes – are incapable of quickly and efficiently supplying low-cost housing.
These supply constraints thereby ensure that increases (decreases) in housing demand feed primarily into higher (lower) prices instead of changes in affordable new construction.
The perceived land/housing shortages and rising prices during the upswing also encourages speculative demand and 'panic buying' from first-time buyers, which assists in driving home prices up even further. However, when the economy and sentiment sour, such as in the wake of the financial crisis in the US, the slump in housing demand can cause prices to collapse.
The Los Angeles metropolitan area is a classic example of how land-use constraints have caused house prices to be both volatile and expensive: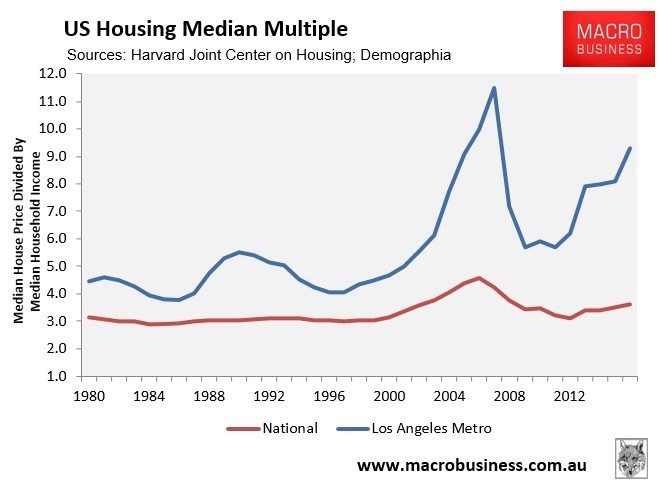 California has operated strict growth management ("smart growth") policies since the 1970s, whereas Los Angeles is also hemmed in to a degree by the ocean, mountains and the Mexican border to the south. This has cause housing supply to be unresponsive to changes in demand, with frequent boom and bust cycles and unaffordable housing the result.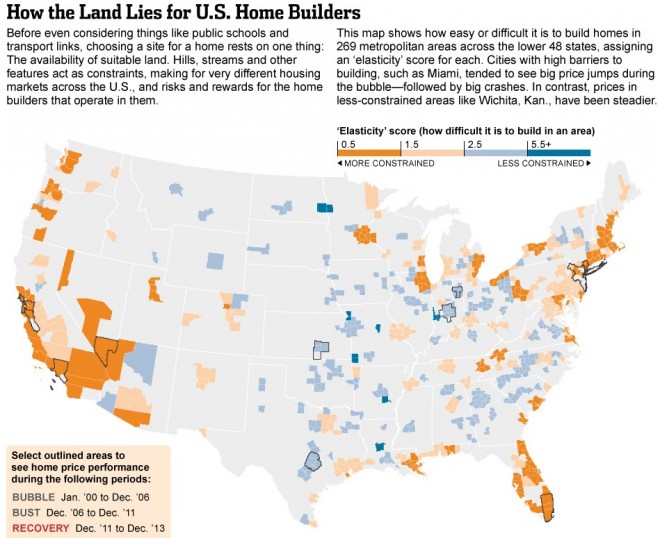 Now, Los Angeles residents are seeking to ban major developments, in a move that is certain to further stifle supply, increase price volatility, and make housing even less affordable. From the Wall Street Journal:
Voters in the second-largest U.S. city are considering a measure that could effectively halt major real-estate projects…

Many longtime residents have become resentful of new towers that cast shadows over their neighborhoods of single-family homes and push up rents…

Now some activists are pushing back with actions that threaten to grind housing production in some cities to a crawl… The moves threaten to further constrict a tight supply of housing…

In Los Angeles, residents in early March are set to vote on a ballot initiative that, if passed, would suspend for two years any development that requires a modification to the city's existing planning rules. Currently, such modifications are routine for new developments…

Despite complaints in Los Angeles about a deluge of development, housing construction now is at only a fraction of the rate of the mid-20th century, before strict zoning rules were put in place. From 1950 through 1959, about 250,000 units of new housing were added in the city of Los Angeles, according to an analysis of census data by advocacy group Abundant Housing LA. From 2010 to 2015, the figure was 25,000, though the city issued permits for about 50,000 units in roughly the same period…

Some officials and developers say that, if passed, no development will be permitted until all the plans are updated, which they say could take a decade. Others say the moratorium will run for two years or until the plans are updated…

Both supporters and opponents said Measure S has a good chance of passing.
The interesting thing about this is that "over-development" is really a symptom of the pressures from population growth, which itself is driven mostly by immigration. And yet Californian residents overwhelming supported (2-to-1) Hilary Clinton during the US Presidential Election, who was in favour of mass immigration, whereas Donald Trump is opposed.
It seems contradictory to be a supporter of mass immigration while at the same time decrying development, since they go hand-in-hand. If Californians want the population to continue to increase, then they must make room for all of the extra people, both via infill and greenfield development, as well as infrastructure investment.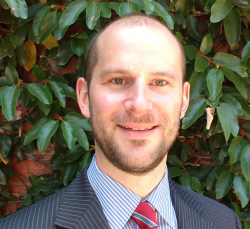 Latest posts by Unconventional Economist
(see all)