Let's recall former Labor leader, Mark Latham's, remarks last week calling for immigration levels to be cut in order to take the pressure off housing:
"[Housing affordability] is all about supply and demand. It's not rocket science…

[But] you've got to do something about demand. And whether we like it or not – and the two parties have got consensus about a Big Australia – the driver of housing demand in Sydney is immigration. The 200,000 a year plus immigration program – add to that the refugee program – that's the driver of demand. And unless you address that, you can have all of the housing bonds, press conferences and forums that you like – and sort of puffy stuff in the media – and you won't get a solution. So, break the consensus about Big Australia, slash the immigration program, drive down demand, and finally you will have a sensible solution to housing affordability".

"You won't have to spend as much on infrastructure funding because the place is not sprawling as much. And the other benefit you get is environmental sustainability. It's something The Greens used to talk about, but now they talk about 50,000 to 100,000 refugees – they are Big Australia as well".

"So, there is real room here for a sensible solution based on cuts to immigration".
Over the weekend, Fairfax columnist, Crispin Hull, entered the fray, also arguing that the main solution to making housing more affordable rests with winding-back Australia's mass immigration program:
The principal cause of housing unaffordability is population growth and the principal cause of that is high immigration. Immigration quotas are set by the federal government. The great majority of immigrants go to Sydney and Melbourne where the highest dwelling prices are to be found.

Yet premiers rarely if ever tell the feds to rein in the immigration quotas so they can have some hope of keeping up with demand for housing, schools, roads, hospitals and so on…

So let's first go to our property developer, the founder of Meriton, Australia's most prolific apartment developer, Harry Triguboff.

He was quoted in the Australian Financial Review late last year as dismissing concerns there might be an over-supply of apartments.

Triguboff was asked, "But might rents fall in Sydney and Brisbane when all the new apartments are completed in the next two years?"
He responded, "Then I will bring in more migrants."

Whoops, I must have got in wrong when I said above that the federal government sets the migrant quotas. Apparently, property developers set migrant targets in Australia. Or at least federal politicians are so beholden to them and their donations that, in effect, they determine migration quotas.
Advertisement
This site has never argued that excessive immigration is the sole cause of Australia's unaffordable housing. But it is hard to deny that it is a significant factor.
Since John Howard initially opened the immigration floodgates in 2003, Australia's population has grown at nearly 2.5 times the OECD average (see next chart).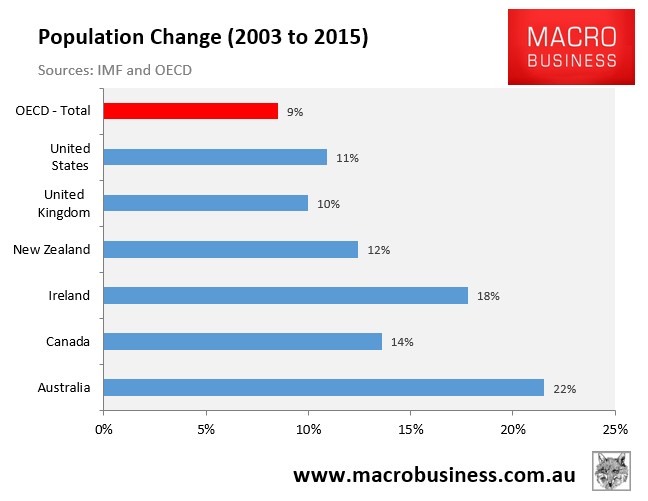 Advertisement
Most of these migrants have flooded into Melbourne and Sydney, where house price growth has also been the strongest and homes are most expensive: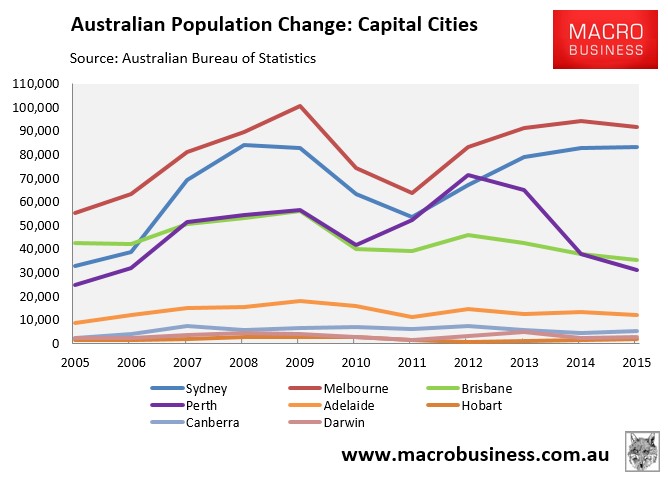 And because of mass immigration, Sydney's population is projected to grow by 87,000 people per year (1,650 people each week) to 6.4 million over the next 20-years – effectively adding another Perth to the city's population:
Advertisement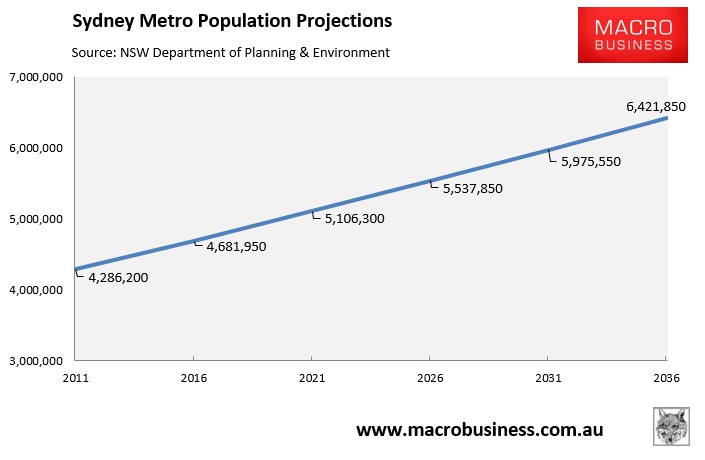 Whereas Melbourne's population is projected to balloon by 97,000 people per year (1,850 people each week) over the next 35 years to more than 8 million people: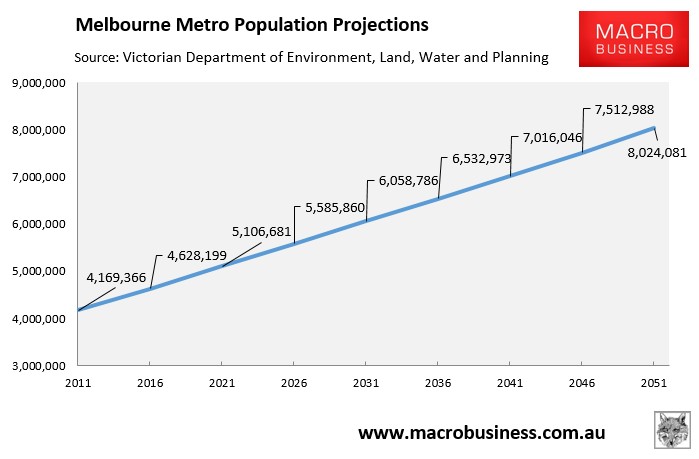 Advertisement
The Turnbull Government can bang on about boosting supply all it wants (without actually doing anything). But something needs to be done to stem demand, including the flood of new migrants inundating Sydney and Melbourne each and every year.
None of this is rocket science. So why won't our major political parties – the Coalition, Labor and the Greens – address the problem at its source and slash immigration to sensible and sustainable levels?
Advertisement