Mark Latham last night entered the housing affordability debate, questioning why politicians on both sides are ignoring the role of mass immigration in pushing-up home prices, which is shutting younger Australians out of the housing market. From Sky News:
"[Housing affordability] is all about supply and demand. It's not rocket science. The problem with extra supply in Sydney is the urban sprawl, the lack of infrastructure, the wretched traffic jams a million miles from the city centre, people struggling to get anywhere near for their schools, shops their employment.  So, supply has the problem of sprawl".

"[But] you've got to do something about demand. And whether we like it or not – and the two parties have got consensus about a Big Australia – the driver of housing demand in Sydney is immigration. The 200,000 a year plus immigration program – add to that the refugee program – that's the driver of demand. And unless you address that, you can have all of the housing bonds, press conferences and forums that you like – and sort of puffy stuff in the media – and you won't get a solution. So, break the consensus about Big Australia, slash the immigration program, drive down demand,  and finally you will have a sensible solution to housing affordability".

"You won't have to spend as much on infrastructure funding because the place is not sprawling as much. And the other benefit you get is environmental sustainability. It's something The Greens used to talk about, but now they talk about 50,000 to 100,000 refugees – they are Big Australia as well".

"So, there is real room here for a sensible solution based on cuts to immigration".
Well done Mark Latham.
Since John Howard initially opened the immigration floodgates in 2003, Australia's population has grown at nearly 2.5 times the OECD average (see next chart).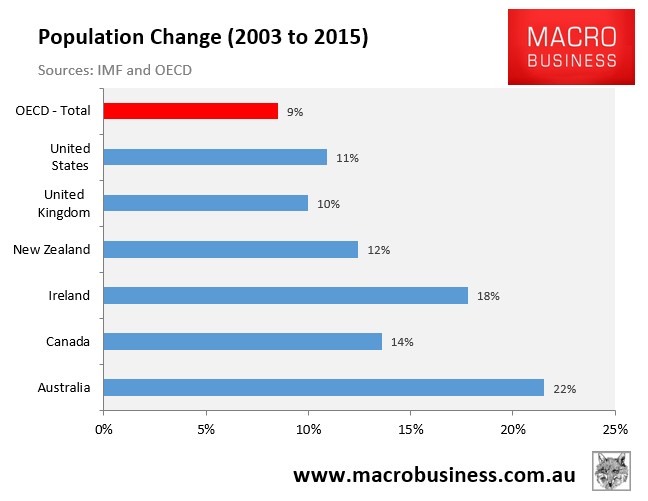 Sydney's population is also projected to rise by 85,000 people per year to 6.4 million over the next 20-years – effectively adding another Perth to the city's population: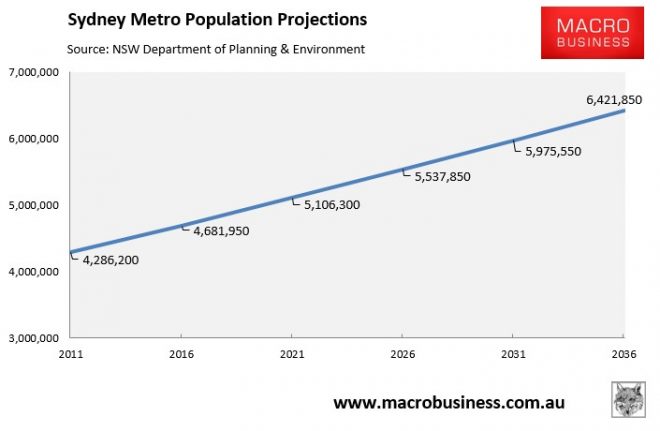 Melbourne's population is projected to balloon by nearly 75% over the next 35 years to more than 8 million people: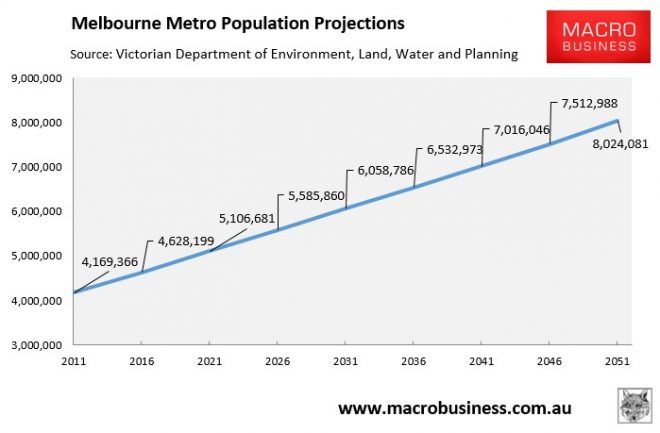 With the flood of new migrants projected to inundate Sydney and Melbourne, housing affordability will remain under immense pressure.
None of this is rocket science. So why are the three major political parties – the Coalition, Labor and the Greens – ignoring the population elephant?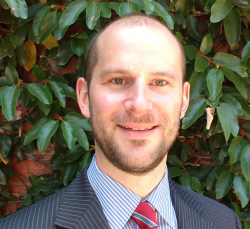 Latest posts by Unconventional Economist
(see all)