Back in July, the Victorian Department of Environment, Land, Water and Planning updated its population projections, which forecast huge growth in Victoria's population to 10.1 million by 2051, with Melbourne's population climbing to an insane 8.0 million by 2051 from 5.9 million as at June 2015: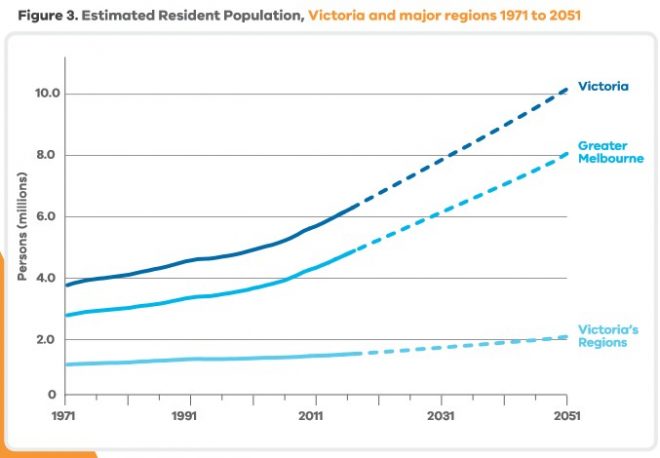 And the lion's share of this population growth is projected to come from net overseas migration (NOM), which is expected to ramp-up over time: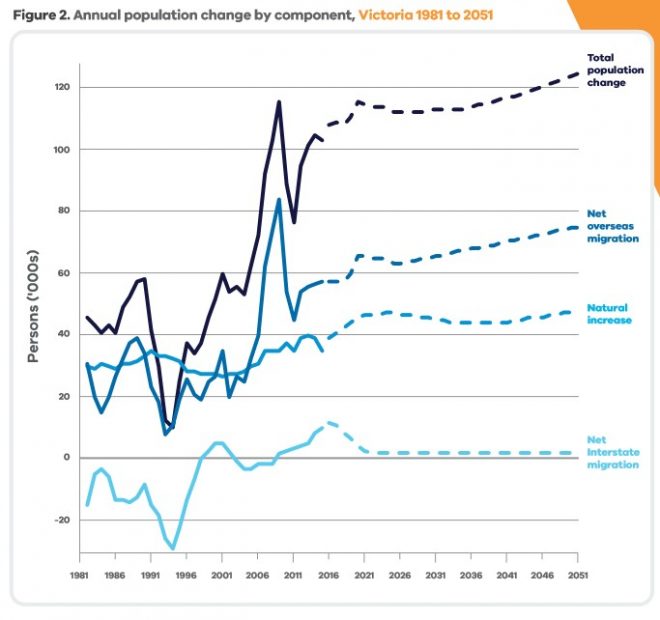 It is worth pointing out that in the 55 years from 1960, Victoria's population increased by 3.1 million from 2,888,290 in 1960 to 5,996,385 as at 2015, representing growth of 56,500 people per year.
Under the Department's projections, Victoria's population is projected to increase by 4.1 million to 10.1 million people in just 36 years, representing annual growth of 114,000 people per year – roughly double the prior period's annual intake.
Commenting on the results, Peter Seymour from the Metropolitan Planning Authority claimed that the rapid population projections does not mean that Melbourne's livability will be reduced:
"I think that Melbourne's doubled in population since the '60s and is probably a more liveable city now than it was in the 1960s," Mr Seymour said.

"Now all we've got to do is make sure in the 2050s we're a more liveable place than we are today."
Earlier this month, the New South Wales Department of Planning & Environment released their population projections, which forecast that the state's population would rise to 10.5 million by 2041 from 7.7 million as at 2016: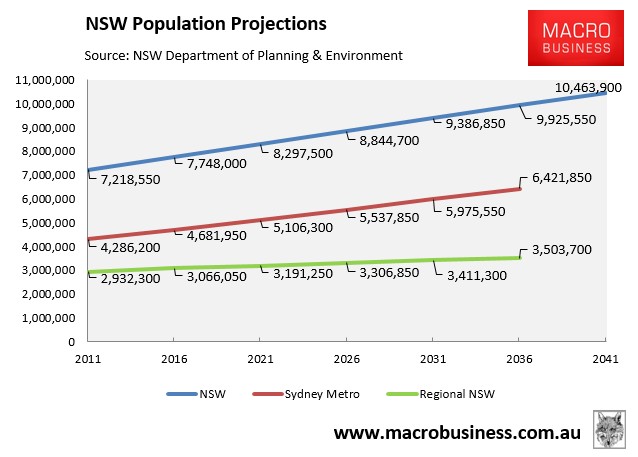 With an increasing share of this growth coming from net overseas migration (NOM), which is forecast to account for 69% of the state's population increase in the five years to 2041: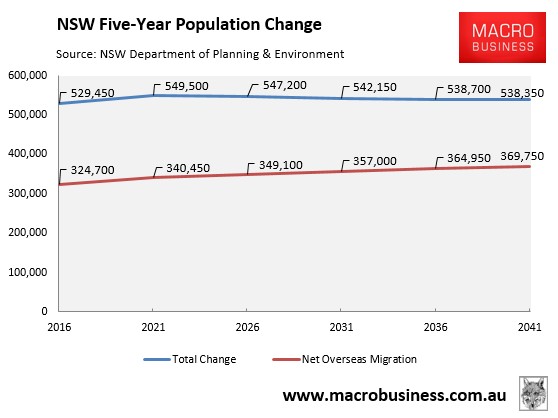 As shown above, Sydney is expected to account for most of the state's population increase.
The next chart shows the projected annual increases in population, with Sydney's population expected to rise by an average of 85,426 people per year over the next 20 years: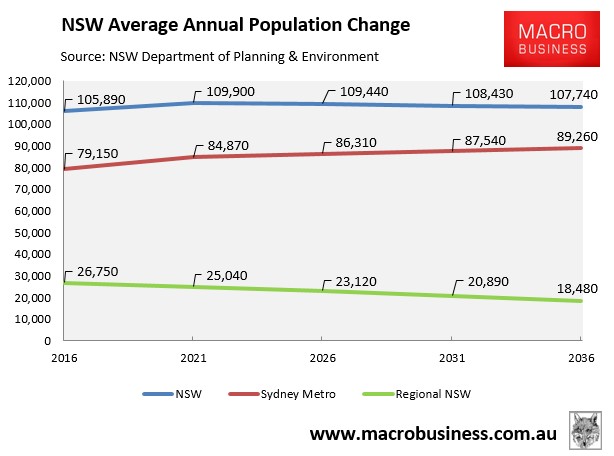 Commenting on the projections, Planning Minister Rob Stokes claimed they were a "symptom of Sydney's success", and "the growing pains of a great global city". He also said that Sydney faced a choice between "a Shanghai route or a Barcelona route in terms of the shape of our city".
KPMG's Bernard Salt recently published population forecasts of his own, which projected that the population's of Sydney and Melbourne could climb to 11 million by the end of the century:

I find these population projections truly horrifying. Sydney and Melbourne are already straining under 12 years of rapid population growth and are ceasing to function properly. So I hate to imagine how badly they would operate in the event that they roughly tripled in size. They would become a nightmare to live in.
Australia's population has already reached a sufficient scale and is now big enough to void the need for continued mass immigration. This way, we could begin to repair our infrastructure deficit and the strains caused by rapid population growth, not worsen them.
The key question policy makers must ask when considering a "Big Australia" agenda is: would it improve the living standards of the existing population? If the answer is "no" or even "ambiguous" then caution warrants cutting Australia's immigration intake to more sustainable levels. Immigration should not be used as a lever to artificially pump-prime economic activity for the benefit of big business and the property industry.
Do we really want our children and grandchildren to grow up in an Australia where most live in cramped apartments and a backyard is a luxury? Do we really want to raise battery kids rather than free range kids?
Where is the plan to cope with this population explosion, and why is it desirable? And how do our politicians propose that our big cities accommodate this never-ending flood of people without adversely impacting existing residents' living standards?
The case for a "Big Australia" has never been made, which is why Australia desperately needs to have a national discussion about population policy before the situation gets too far out of hand.
Leith van Onselen is Chief Economist at the MB Fund and MB Super. Leith is an economist and has previously worked at the Australian Treasury, Victorian Treasury and Goldman Sachs.
Latest posts by Unconventional Economist (see all)