The Foreign Investment Review Board (FIRB) has released its Annual Report for 2014-15, which registered another explosion of applications from foreigners to purchase Australian real estate.
According to FIRB, there was a 57% increase in real estate approvals in 2014-15 to just over 37,000 (see next chart).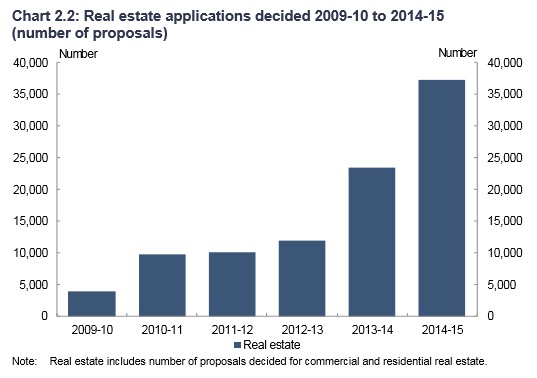 The number of real estate approvals for foreigners has more than tripled since 2012-13.
The lion's share of these were in the sub-$1 million category, almost all of which was residential (see below tables).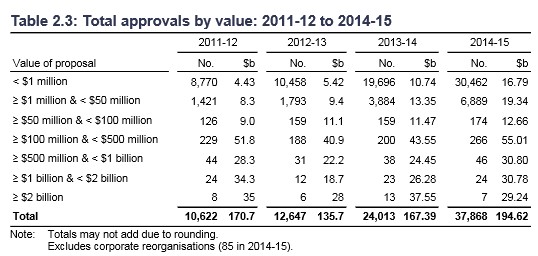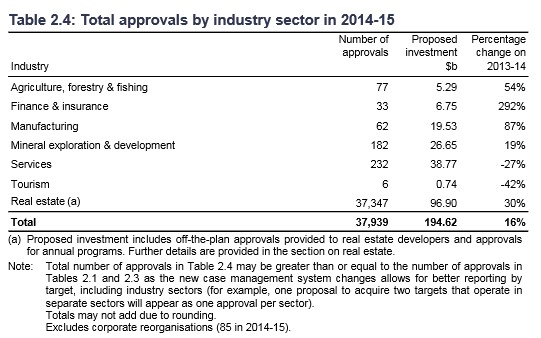 In dollar terms, foreign investment in real estate rose by 30% to $96.9 billion in 2014-15.
There was a 17% increase in foreign approvals for existing real estate, from 7,915 to 9,236, with an average value of $1,092,000 (see below table).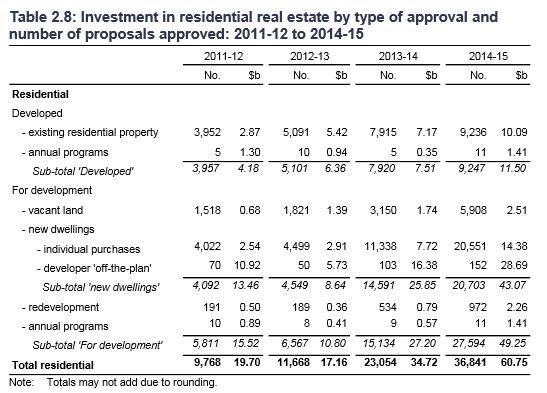 More encouragingly, since it at least adds to supply, foreign approvals for new dwellings jumped 42% to 20,703 in 2014-15, versus 14,591 in 2013-14.
Victoria and New South Wales (read Sydney and Melbourne) lead the charge, which is hardly surprising given they are also the two bubbliest real estate markets (see next table).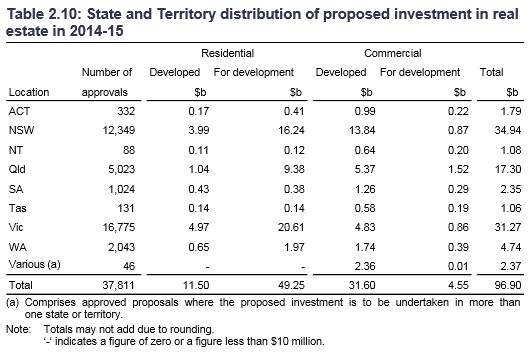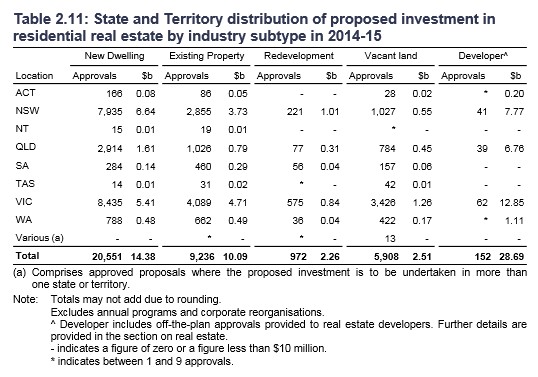 Not surprisingly, real estate investment from China exploded, nearly doubling to $24.3 billion in 2014-15 from $12,406 in 2013-14: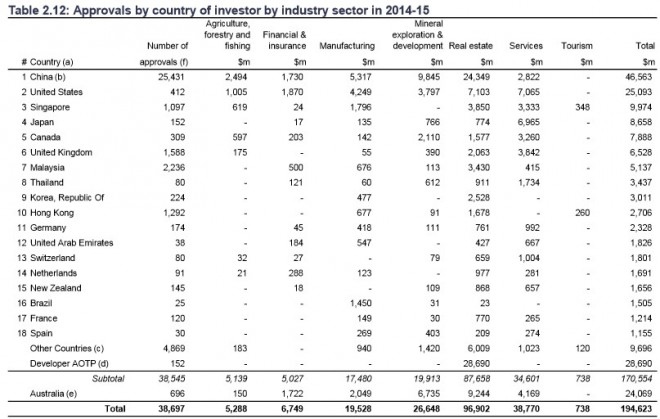 It is worth pointing out that this data likely significantly understates the true level of foreign investment into Australian real estate, particularly into existing dwellings.
As noted last year by the chair of the parliamentary inquiry into foreign real estate investment, Kelly O'Dwyer, the systems and data on foreign transactions is woefully inadequate and FIRB do not know the true levels:
"I regard the current internal processes at the Treasury and FIRB as a systems failure. Most concerning is that sanctions seem to be virtually non-existent. There have been no prosecutions since 2006 and no divestment orders since 2007. Suggestions by officials, that this is due to complete compliance with the rules is simply not credible. The data on foreign purchases of Australian houses and apartments is inadequate, making policy evaluations very difficult"…
The global regulator for money laundering, the Paris-based Financial Action Taskforce (FATF), has also identified Australian property as a haven for laundered funds, particularly from China, and has recommended that the Australian Government implement counter-measures to ensure that real estate agents, lawyers and accountants facilitating real estate transactions are captured by the regulatory net.
After much bluster initially from Treasurer Scott Morrison about cracking-down on illegal foreign purchases of Australian real estate, he has been deafeningly silent of late.
Time for another update on the ATO's surveillance/enforcement efforts, Mr Morrison. Or have these been put on ice?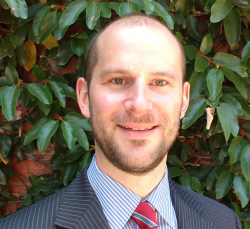 Latest posts by Unconventional Economist
(see all)