From Nick Radge at The Chartist comes this great chart highlighting why you should always have an exit point for selling stocks, and not just repeat the "but the low price = great value" mantra that many confuse with actual investing: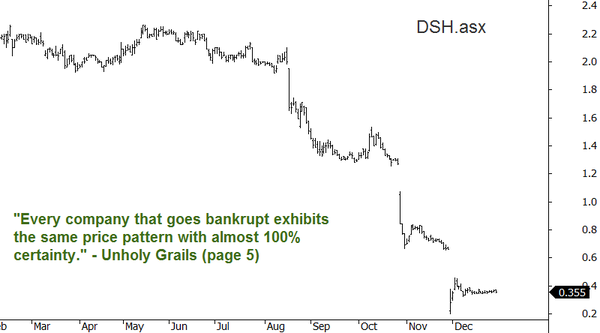 Dick Smith (DSH) is in the same sorry basket as HIH, Babcock and Brown, OneTel and ABC Learning. There was always a place to get out of the path of the wreckage, even with gap downs after announcements.
Your exit point on the downside should be known BEFORE you initiate a position. Cardinal rule of risk management and comes before working out what or when to buy.
By the way that quote comes from Nick's book "Unholy Grails" which I heartedly recommend, its in my top five investment books (and no, he doesn't pay me to say that, its just a damn good book).
Latest posts by Chris Becker
(see all)