In fact, Goldman Sachs says in a research note that US economic forecasters basically got everything wrong.
They expected that by March Federal Reserve chairman Janet Yellen would have announced the first US interest rate hike since 2006, and the first of three in 2015. The first and so far only rate rise came on December 16.

They thought Yellen would move early because the US economy would be accelerating to a 3 per cent annual growth rate, pushing inflation to a point where it needed to be contained. US growth for the year to December will come in at just more than 2 per cent. Inflation is about half a percentage point less than the Fed's ideal level of 2 per cent.

Because they under-estimated economic growth and the timing of interest rate rises, US economists also misread the world's biggest bond market.

The forecasting consensus was that longer-term US government bonds would follow Fed short-term rates up, with the 10-year bond rising by about three-quarters of a percentage point over the year to 3.1 per cent. It was yielding 2.23 per cent on Monday, the same as a year ago.

Goldman says US economists have overestimated US growth in 13 of the past 16 years, and the International Monetary Fund has also been a repeat offender.

Reality bit most Australian market economists on the bum, too. In a BusinessDay economic survey published on January 21, 25 Australian economists predicted on average that the Reserve Bank's cash rate would be unchanged at the end of the year. Less than two weeks later the central bank shocked the markets by cutting its cash rate from 2.5 per cent to 2.25 per cent. It lowered it again in May, to 2 per cent, and is maintaining a slight easing bias.
Its worse that that though. Let's have a look at the list and maybe rethink why you should be even listening to economists, particularly the "market" (i.e "professional" non-academic) variety.
The Business Day list comprises 25 economists, split into 13 market economists, 5 academic economists, 3 consultants (effectively economists not hired by banks) and 4 union/industry economists. Think about who is talking books here and there.
On that first RBA forecast, the "average" economist said unchanged, with only one standout – Tim Toohey at Goldman Sachs – and Bill Mitchell, both with an easing bias down to 2.25%. Big faux pas here bank economists. This is your raison de etre for being in employment. If you can't work out what the RBA is doing – and hence the major price signal to the entire economy – than why show up? This completely blew up their 10 year bond yield forecasts too, which I hope wasn't reflected in their client's portfolios…
A bit harsh? Let's look at another very important figure – terms of trade or TOT. A single optimist had a glib 1% rise, with most market/consulant economists reckoning around -4%, with Steve Keen the outlier at -10%.
Damn permabear got it right on the money as the TOT fell 10.6% over the year and continues to fall while the market economists praise the RBA and say full steam ahead for 2016!
Iron ore – you know that rusty mineral that powers almost the entire export industry and Australia's standard of living? Again, the optimism of the market economists ruled the herd here with a range between $US55 and $86 per tonne by year-end. Where did it finish?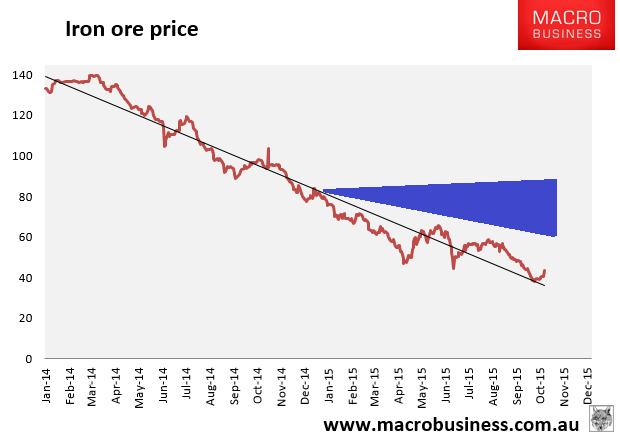 Just below $US40 per tonne. Do these guys need some new rulers? Simple trendline analysis and looking at the overall supply (a shit load coming on stream, almost all here in Australia, so not hard to work out) and demand (China is slowing its steel production – hello, this was well broadcast too) dynamic. Even a former ski instructor could do this. These are the same economists predicting a bottom in commodity prices this year…….
Still too harsh? Let's go even further into markets and look at the AUD. Again, most economists forget or downplay the importance of the dollar and its impact on the economy, but that doesn't stop them from making some pretty wild forecasts. I'm actually underplaying how bad they got it wrong in the "zone of guesswork" on the chart below, but to his credit Stephen Koukalas was the closest at 80c on the downside, where the average was 86 as at June 30, 2015: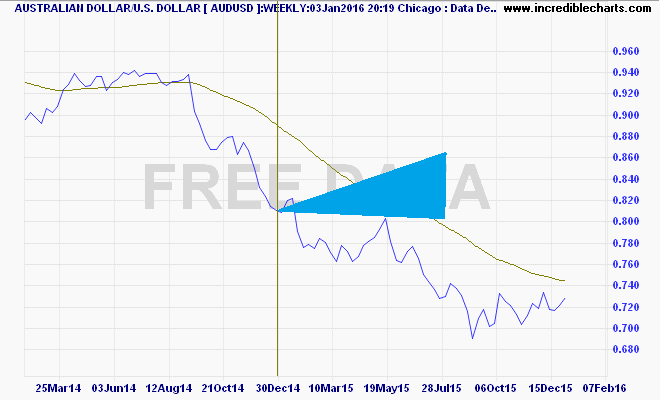 Actual result was 73 cents. Yes, this is harder work to do, but who in there right mind would predict anything with a 90+handle? Again, same economists predicting 80 cents plus for this year…
And stocks? Only one market economist was the outlier here at 5500 points for the ASX200, Stephen Walters at JP Morgan, while the rest where very precise at 5800-6100 points as at June 30, 2015. The reality?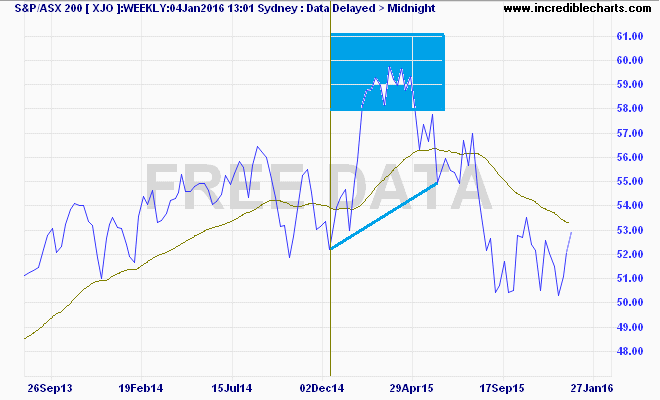 Well done Mr Walters – but also note that the housing industry guys got it right too, as well as the "always wrong" Steve Keen. Actually most of Steve's predictions are closer to the mark than anyone else, looking more closely down the list. Hmm. Did any of them predict a market hovering above the 5000 point level at the end of the year?
And finally, the most useless number to predict, GDP – which is not a measure of economic growth but has taken over that narrative, instead of GDP per capita or real disposable income.
Across all participants, the average forecast was 2.6%, with most market economists more bullish at around 3%, but the final result was 2.3% – again academics Steve Keen and Bill Mitchell – those who deride the GDP calculation the most, but actually have some understanding how it works – came the closest with 2% and 2.5% respectively.
I think there's two potential pitches to be made to a Bored Elon Musk here.
An app that tracks the forecasts of market economists over time and scores their predictions to reality, based on a confidence level?
A market mechanism – like an ETF or similar – so you can go short/long the above
Because you're probably going to make more money tracking how wrong market economists are compared to following their predictions.
As an addendum, The Kouk has posted some of his forecasts for 2016 which I've included a shortened version of below. Let's see how well he goes this year, being a little out of shape for 2015. Some bold bets there, especially on government bonds and stocks.
1. Real GDP growth in Australia will accelerate to around 3.25 per cent… There seems precious little chance that GDP growth will slip below 2 per cent at any stage in 2016.

2. Unemployment rate should stay at 6 per cent or lower for the early part of the year and edge down towards 5.5 per cent later in the year. In this scenario, wages growth is likely to pick up a little, perhaps towards an annual pace of 3 per cent as the labour market tightens.
3. Inflation is a dead duck – at least for the near term. Underlying inflation will rise above 2.5 per cent in the latter part of 2016.

4. monetary policy, RBA will leave interest rates at the current 2.0 per cent …. about the middle of the year. If, as seems likely, the unemployment rate edged down a little more and inflation edged up, the rate hiking cycle should start to be priced into the market during the June quarter. That would be my trade recommendation on the expectation that the cash rate will end 2016 at 2.5 per cent.

5. Commodity prices are set for a powerful lift. Iron ore could easily reach US$60 a tonne, with oil back above US$50 a barrel on the back of these trends. Gold to remain unattractive.

6. The Aussie dollar looks set to move higher. It is possible, if not likely, the AUD will hit US0.80 at some stage during the year.

7. Perhaps the easiest forecast to make is a rise in government bond yields. It would not be at all surprising if we see 3 yearyields in Australia spike above 3 per cent, the 10s approaching 4 per cent and the 20 year exceeding 4 per cent on a sustained basis.

8. Australian stocks should have a corker of a year. The ASX200 at 6,000 seems conservative.

9. House prices will edge lower. Most likely is a price fall of 5 to 10 per cent with the weakest areas being Melbourne and Sydney, with Canberra and Perth also set for some price weakness.
Latest posts by Chris Becker
(see all)