This story is an interesting way point in the MB thesis that the emerging markets and commodities bear market is going to conclude with a major default and debt crisis somewhere in the not too distant future. From Bloomberg:
Saudi Arabia is ordering a series of cost-cutting measures as the slide in oil prices weighs on the kingdom's budget, according to two people with knowledge of the matter.

The finance ministry told government departments not to contract any new projects and to freeze appointments and promotions in the fourth quarter, the people said, asking not to be identified because the information isn't public. It also banned the buying of vehicles or furniture, or agreeing any new property rentals and told officials to speed up the collection of revenue, they said.
Saudi is running enormous budget deficits: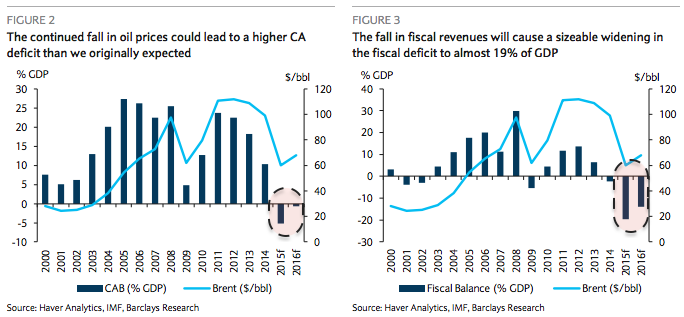 This is already depleting the Saudi's large stash of forex reserves: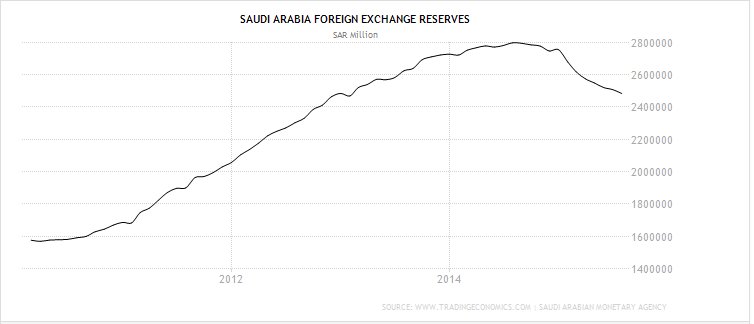 Saudi is already doing big secondary damage to global asset prices by pulling its recycled petrodollars back from equities, via FTAlphaville:
Nigel Sillitoe, chief executive of financial services market intelligence company Insight Discovery, said fund managers estimate that Sama has pulled out $50bn-$70bn over the past six months.

"The big question is when will they come back, because managers have been really quite reliant on Sama for business in recent years," he said.

Since the third quarter of 2014, Sama's reserves held in foreign securities have declined by $71bn, accounting for almost all of the $72.8bn reduction in overall overseas assets.

While some of this cash has been used to fund the deficit, these executives say the central bank is also seeking to reinvest into less risky, more liquid products.

"They are not comfortable with their exposure to global equities,"said another manager.Fund managers with strong ties to Gulf sovereign wealth funds, such as BlackRock, Franklin Templeton and Legal & General, have received redemption notices, according to people aware of the matter.
The point of this is not to point the finger at Saudi as a potential default candidate. Rather, it is to ask the question that if the world's cheapest and most voluminous oil producer can't make a buck, then how are the higher cost and more indebted producers, private and public, faring?
The Bank of England is more than wondering from the FT:
The Bank of England has asked British financial institutions to reveal their full exposure to commodity traders and falling prices of raw materials amid concerns over the impact of the oil and metals slump.

The Bank of England's Prudential Regulation Authority, which was set up in 2012 to ensure the "safety and soundness" of banks in the wake of the financial crisis, sent the requests to the UK's big banks in the past week, according to three people with direct knowledge of the matter.

It was not provoked by any immediate concerns of a default, a person familiar with the matter said, but it was checking that banks knew what their exposures were to individual commodity houses and that they had examined the wider knock-on effects if a large commodity trader was to collapse.
Of course they do. Hey, is that Elvis?