For several years now, I have been a passive observer of the Canadian economy and housing market, which has some striking similarities to Australia.
Both economies are commodity exporters. Both countries have experienced high rates of immigration. Both countries largely dodged the global recession that shocked the developed world. Both countries use the Westminster system of Government. Both are said to have world-beating banking systems. And both nations have amongst the developed world's most expensive housing, when measured and against incomes and rents.
With these factors in mind, it was interesting to watch the above video from The Globe and Mail examining Canadian housing affordability, where "the math doesn't add up".
According to the report, housing affordability has gotten so bad in Canada that it now takes around 90% of median pre-tax income to own a house in Vancouver and around 60% in Toronto, meaning that median income earners are effectively shut-out of all but the condo market, which is still unaffordable (see below table).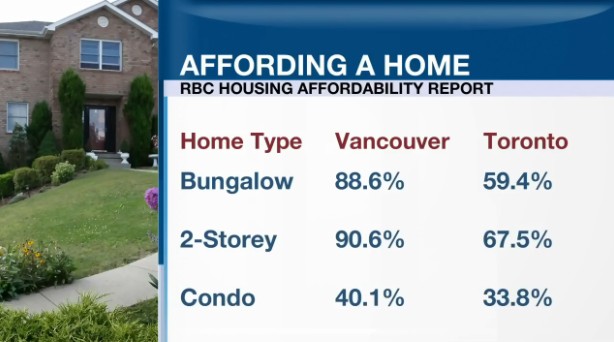 The Canadian mortgage broker featured on the video also notes that she is receiving "more and more" calls from recent buyers that cannot afford their mortgage payments and are seeking to refinance, but cannot do so because they have insufficient equity.
The mortgage broker also notes that she "truly believes that people will be in trouble" once interest rates normalise:
"Because once the interest rate go up, people will not be buying and that's going to slow down the market, and then the equity is not going to be there. When interest rates go up, payments go up, and people will start losing their homes. That's the reality that we have to expect".
It kind of reminds me of when On-the-Houses' (Residex's) analyst, Eliza Owen, described affordability in Sydney as "a tad ridiculous", in that "if the median household in Sydney were to purchase the median value house, they would be spending over 90% of their net income", with Melbourne not much better  (see below table).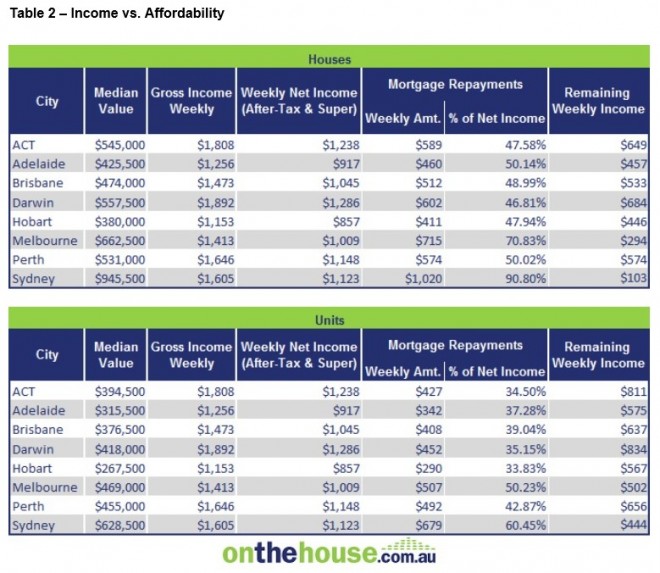 Substitute Vancouver for Sydney and Toronto for Melbourne, and the parallels are uncanny.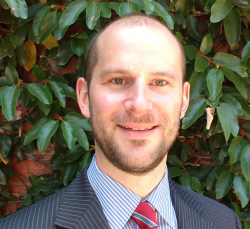 Latest posts by Unconventional Economist
(see all)