Former Reserve Bank of New Zealand (RBNZ) and New Zealand Treasury special adviser, Michael Reddell, has made some outstanding contributions over the years.
While working at the RBNZ last year, Reddell wrote a cracking paper questioning the merits of New Zealand's high immigration program, which appears to have crowded-out (through higher interest rates and a high average real exchange rate) other productive investment, lowering living standards in the process:
Over the last 50 years (and more) New Zealand's population has mostly grown materially faster than the populations of other advanced countries…

All else equal – and in particular for an unchanged savings rate – faster population growth (especially relative to that abroad) means that some other investment that would otherwise occur will tend to be crowded out to make way for the infrastructure (private and public) needs of the increased population. This is not some central planner's response, but how the market respond to the demand created by the additional population – it crowds out spending that is relatively more sensitive to changes in real interest and exchange rates. Typically, that will be business investment, especially that in the tradables sector.

In such a situation, the total capital stock will still be growing, perhaps quite materially, but the capital stock per capita, or per worker, will be growing less rapidly than it would otherwise have done…

After the period of very subdued population growth, New Zealand's population growth accelerated rapidly from the early 1990s and, relative to other advanced economies, the pace remains strong. Public policy played a decisive part in the change…

Immigration policy was markedly reshaped and liberalised in the late 1980s and early 1990s. In macroeconomic terms, the most important element of the change was the very substantial resulting increase in the net inflow of non-New Zealanders…

Taking the period as a whole, it is likely that the markedly increased net inflow of non-New Zealanders – a new wave entering each and every year – has extended and exaggerated the degree to which our average interest rates have exceeded those of other advanced economies. That, in turn, will have extended and exacerbated the persistent severe average overvaluation of the real exchange rate. In that sense, government policy has tended to directly, if inadvertently, stymie the rebalancing and adjustment that private citizens' choices would otherwise have brought about.

Had that net outflow experienced in the 1970s and 1980s continued over the last two decades, the resources that had to be devoted to the housing (and the other population-driven components of the capital stock) demands of a fairly rapidly rising population would have been free for other uses. Other things equal, we might have expected to have seen rather lower real interest rates and a lower real exchange rate. The prospects for "capital deepening", and for associated improvements in labour productivity and MFP, made possible by the other reforms and liberalisation of the late 80s and early 1990s, would have been materially enhanced…

Internationally, there is no evidence over the last century that countries with faster population growth, or greater inward migration, have achieved faster income or productivity growth than other countries…

Low population growth of the sort we saw in the late 1970s and 1980s would have provided a good platform to maximise the per capita income benefits of the wide-ranging reform programme, especially in a country with a modest savings rate. Instead, immigration policy reforms had the effect of sharply reaccelerating population growth, at just the time when the focus might more naturally have been on lifting per capita income rather than total GDP…

The indications that countries with faster population growth have in recent decades devoted fewer resources to non-housing investment and have seen less growth in multi-factor productivity are sobering. They provide another straw in the wind, suggesting caution about the merits of continuing large inward immigration to New Zealand for the time being…

Had the inflow of (well-chosen) non New Zealanders been kept to the aggregate levels seen in the 1980s, it is almost certain that over the last couple of decades New Zealand real interest rates would have been closer to those in the rest of the world, and the real exchange rate would have been materially lower. (House prices would have been lower, and) if real interest and exchange rates had been lower then per capita incomes would most likely have been materially higher…
With net migration into New Zealand hitting a record high 58,230 in the year to June 2015: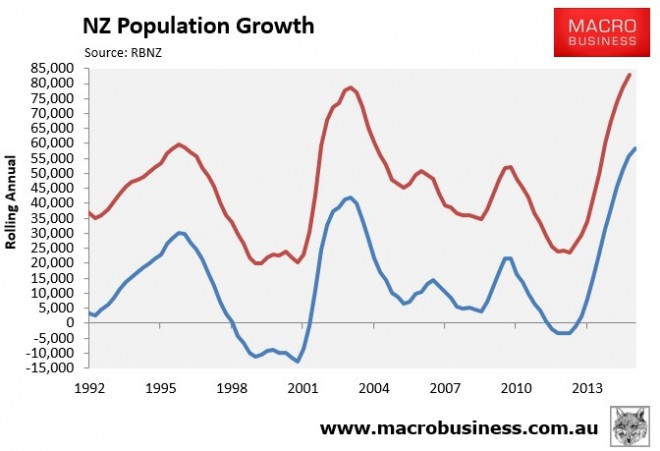 Reddell returned last month, penning an excellent post in the National Business Review (NBR) arguing that New Zealand's flawed high immigration policy is partly responsible for the country's high house prices, especially in Auckland:
House prices are a result of immigration blunders of our governments and "just a choice"…

Auckland house and land prices are expensive due to the collision of two sets of policies, he says. On the one hand is the central and local government laws, policies, attitudes and practices of bringing new houses to market. Coupled with this are the immigration policies that actively bring large numbers of people into the country every year.

Today the target level of non-citizen immigration is set by Immigration Minister Michael Woodhouse. New Zealand aims for 135,000-150,000 immigrants on a rolling three-year basis or 35,000 to 50,000 a year…

"We have average net inflow of non-citizens for the last 15 years of 40,000 people a year. By contrast, in the 1980s, that inflow was near 10,000…"

"Auckland prices are really crazy. What I mean by crazy is that they're an outcome of a very bad combination of policy choices. Probably no one would have signed up for that combination if the implications had been realised or communicated at the start but no one did – that was the blunder"…

"My proposition is that it's the blunders of our governments. Some pressures and relative price changes are unavoidable but unaffordable house prices are just a choice," Mr Reddell says…

Rapid population growth isn't necessarily a bad thing. Often it depends on the city and the policies controlling housing supply in that city. If immigration numbers are to continue rising in Auckland but the policies enabling speedy and affordable house construction aren't updated, then it's really no surprise the prices are at the current level.

And intensification isn't something many people want in New Zealand either…

"The counterexample for Auckland is Houston. In that city there are few regulatory supply restrictions. In 1979, the population of Houston was three million, last year it was 6.5 million. Guess what's happened to real house prices over that period? They've fallen".
This week, Reddell returned via Interest.co.nz, arguing that sky high house prices and plummeting affordability are what happens when land use restrictions run head-on into population pressures:
In New Zealand, urban areas cover only around 0.7 per cent of our land. And land used for agriculture is just not that expensive.

…in research published in 2007, Arthur Grimes and Andrew Aitken found that land just inside the Auckland Metropolitan Urban Limit was selling for 10 times the price of land just outside the limit. Even if we had a construction industry that was as efficient and productive as any in the world, our house (house plus land) prices would still be very high just because central and local government together have created artificial scarcity…

Land use restrictions appear to have become a much more serious constraint in the last 25 years…

Of course, there are land use restrictions in place in local authority areas all over the country. Councils – staff and councillors – seem to feel a need to plan and central government legislation allows them to do so.

But house prices in Auckland are four times those in Invercargill. That difference is really down to population growth differences.

In places where there is no population growth, land use restrictions still impose costs, but they don't have much impact on house and urban land prices. And where land use restrictions aren't very important, rapid population growth also won't do much to boost house and urban land prices. An example is the big US city of Houston, where there are few land use restrictions. Over the last 35 years, Houston's population has more than doubled while real house prices have actually fallen a little.

New Zealand's land use restrictions are similar, in effect, to those in a range of other Anglo countries. House and land prices are extraordinarily high in places as diverse as Auckland, Sydney, Melbourne, London, Vancouver, and San Francisco. In each of these places, the inability to easily bring new land to market and use it intensively for housing runs into the pressures of rising demand from a growing population.

When those two pressures collide, house prices rise…

High house prices in these cities… are just what happens when land use restrictions run head-on into population pressures…

Where does the population pressure arise from?.. around 25 years ago, New Zealand immigration policy was reformed to encourage a much larger annual net inflow of non-citizens. The current annual target, reconfirmed by Cabinet only last year, is around 45,000 to 50,000 permanent residence approvals each and every year. That is one of the largest rates of non-citizen immigration (as a share of population) of any advanced economy.

As one would expect, a disproportionate share of the migrants settle in our largest and most diverse city.

No one envisaged the impact on house prices when the land use restrictions became progressively more binding, or when the more expansive immigration policy was adopted.

With hindsight the contribution of these two directly contradictory sets of policies is pretty clear…

It is time for our government to confront that responsibility and to bring about change. If sufficient reform of land use restrictions is not possible – and the overseas precedents are not encouraging – the case for a significant reduction in the target rate of non-citizen immigration is pretty clear.
Once again, Reddell makes some excellent observations. If New Zealand (and Australia) are not going to run flexible land-use policies like Houston, then it makes absolutely no sense in maintaining a high rate of immigration. To do so not only adversely impacts housing affordability, but can destroy productivity growth and living standards, in addition to diluting a nation's fixed mineral endowment (in the case of Australia).
If only more policy advisers and economists would recognise the drawbacks of high immigration, and recommend against the current 'grow for growth's sake' approach adopted in the Antipodes.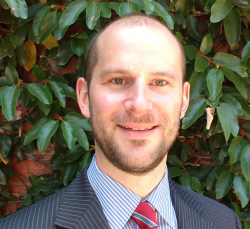 Latest posts by Unconventional Economist
(see all)