The iron ore war is moving fast and not in a good direction. I began this year with guesses of a $50 average for 2015 and $40 average for next year but events are moving swiftly beyond these numbers. The major factor is the extraordinary death throes of Fortescue Metals Group.
FMG is moving very fast on cost cutting and seems able to bamboozle significant but feeble-minded market players into believing that it is the victim of the nasty people at big iron. The Premier of WA Colin Barnett is one.
Another is Aboriginal outfit Gumala, from the AFR today:
Gumala Aboriginal Corporation, the second-largest indigenous corporation, blames Rio Tinto for helping create what it calls a "manufactured crisis" that threatens its income. A scathing review by the company of its recent dealings with Rio accuses the mining group of "institutional discrimination" and "disengagement".

"We believe this is a manufactured crisis," he said. "We have a perfect storm and it's our view that what this is creating is a destructive outcome for the sector, collateral damage for Aboriginal contractors, lower benefits to traditional owners and Western Australian potentially going to recession in the next 12 months."
Another is Jenifer Hewitt at the AFR, freshly returned from another FMG junket, who has become the voice of Andrew Forrest. Today she opines:
But it means Fortescue is determined to show the market it's around for the long term no matter what happens to the iron ore price or to other smaller Australian players.

Its quarterly results for the March quarter showed another big drop in costs and an estimate that its break even price, including interest payments, will be around $US41 a tonne by June and $US39 next financial year.  That's a lot lower than most analysts were anticipating.
What are the assumptions, Jen? What oil and Australian dollar forecasts? What does it mean for the price and the surplus?
I'll tell you. China is itself now forecasting a fall in steel production to 560 million tonnes by 2030 which, when you add exports, is total demand of 660mt. With the rise of scrap that will mean total steel production of around 400mt. That, in turn, is demand for 600mt of iron ore. If China sustains 200mt locally then it will need just 400mt in 2030 from the seaborne market. Last year China imported 872mt.
Halve the number if you like and it changes nothing. The game of iron ore is no longer about anything except a return to the traditional principle of the lowest marginal cost of production. It doesn't matter what anyone, anywhere does to slow that process down, it is going to happen anyway. Attempts to slow it will only make the price fall even further for even longer.
In the broader scheme of things, one MB reader summed it up nicely for Australia this week. The iron ore market is proceeding through the five stages of grief: denial, anger, depression, bargaining and acceptance. We appear to be still stuck in the first two.
If FMG is succeeding in building a beachhead of sympathy. Heaven knows what policy madness will be deployed on these sands. It could be WA blocking major miner expansions. It could be the Federal Government approving FMG equity partnerships with Chinese steel interests. It could be tax relief of some kind.
Whether it makes any sense long term will be swamped by the political need to be seen to be "doing something" even if all it does it drive iron ore prices lower for longer.
Which brings us to FMG's operational success. With marginal costs on the verge of falling to $26 per dry tonne – the point at which even a seized and bankrupt FMG would continue to produce iron ore – we'll have to see the spot price fall persistently into the mid-teens to drive it out of business.
It is the only producer expensive and large enough whose death could be meaningful to prices. BHP and RIO will still outdo it on costs, as Sam Walsh said last night, from Reuters:
"With iron ore now trading around $50 we have more to do to ensure that we maintain the margin between ourselves and the high-cost producers," Chief Executive Sam Walsh said.

"Being the lowest-cost producer is not about a competition, or a bid to secure bragging rights. Rather, it's fundamental to the health of our business."
Roy Hill will never close owing to Gina's loss of face and deep pockets. Vale is vulnerable but is a former state run business and is too big to fail.
So that's $16 as a base case just to threaten FMG's existence. And that's before we add such market factors as sentiment, shorters and tipping points. Iron ore in the teens for an enduring period – I'm talking years – is a distinct possibility.
One can't predict these things with any precision but when risk piles upon risk like this, what one can do is avoid the area altogether. Alas, that means Australia as much as it does big iron equities. Australia's terms of trade are in for a full historical reversion to mean: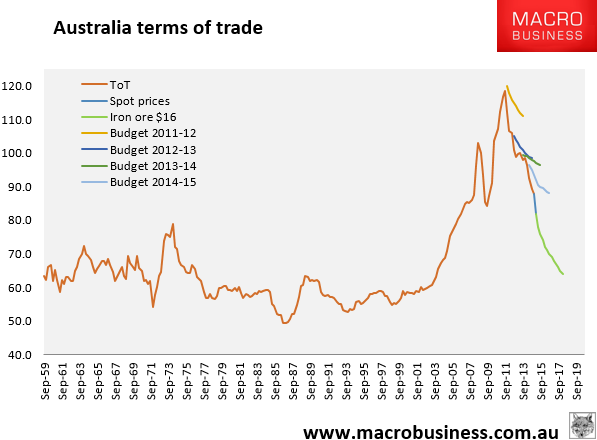 BHP and RIO are guilty of mal-investment, yes. But not on the scale of FMG, which is a peak of cycle ponzi borrower that the iron ore market could never sustain.
It would be cheaper for Australian tax-payers to buy it and shut it down.