Fresh from Atlas Iron: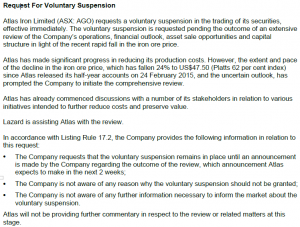 Good luck with that! From the AFR:
Smaller producers, including some higher cost Australian miners, want to continue with deals based on longer-term averages of prices, looking to hedge against further falls in the market.

But buyers in the world's largest consumer of iron ore are having none of it, with many Chinese mills demanding cargoes priced as close as possible to their delivery date.

"Pricing moves around with the steel mills. It used to be all based on a monthly average. Now you find the steel mills and traders perhaps trying to anticipate low points and suggesting quotation periods of maybe two weeks," said Morgan Ball, chief executive of Australian iron ore miner BC Iron Ltd.
And here is that nice little interactive from UBS and The Australian showing who is next: