From David Bassanese:
If you think the current rout in iron ore prices is bad enough, I have some potentially troubling news for you: by long-run historical standards, prices still appear relatively high.

The implicit assumption from both the Federal Government and commodity analysts in recent years was that "this time is different". Almost everyone conceded that commodity prices would fall from their stratospheric heights at some stage, but most thought strong underlying demand from China would keep prices much higher than their previous historical average.

…But if this time is not different, the terms of trade could fall a lot further. And there would be a very real risk iron prices keep falling – potentially to $US25-30/tonne, or a sufficiently low "crisis" level that eventually forces more producers to cut back production.  The sad historical reality is that it is the marginal cost of production – not the level of demand – that ultimately determines the long run price for most commodities.
Much the article is useless comparisons of government forecasts but the conclusion is right. Recall the 100 year chart of real prices: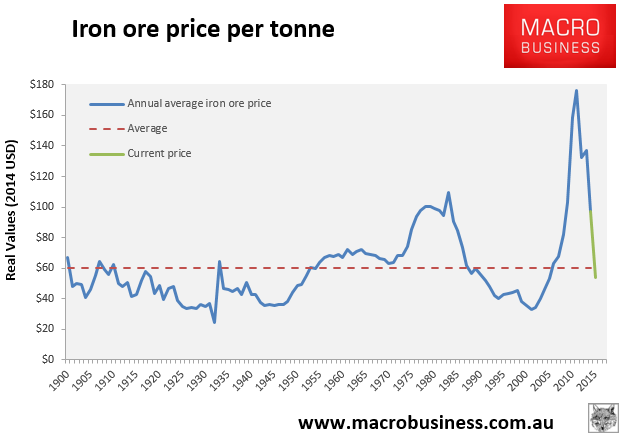 The low in the Depression was $25 and post-Japan was $32 but these are annual averages. Prices fell much further in between.