It's time to update the terms of trade chart given the crash underway in bulk commodities: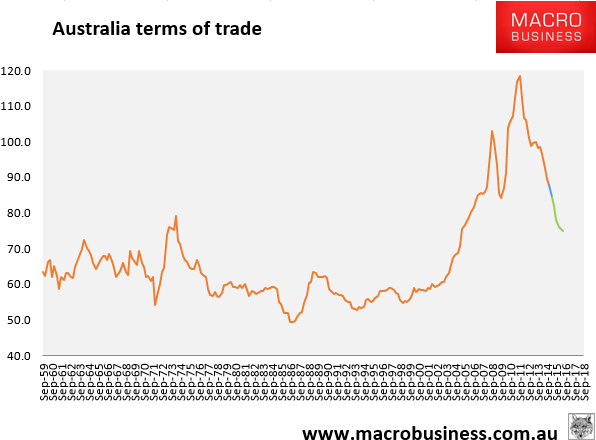 The blue line is my estimate of where we are after the first quarter. The green line is where we are going as iron ore slides to $40 and the two coals drop below $50 and $95 respectively over the next year or so. The crash dwarfs the GFC but it has at least not yet caused any seizure for the banks.
That is largely because so far this crash has been localised to Australia (and a few other commodity exporters), and global liquidity is so abundant that there is no pressure at all on funding markets for banks anywhere (except Greece). The CBA CDS price (a good proxy for the cost of offshore money) is at 58bps and remains dislocated from Australia's terms of trade shock: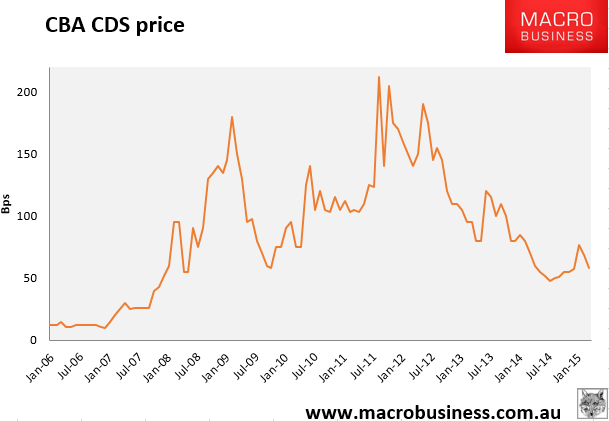 And so the banks can keep lending into the housing bubble with abandon.
But bad loans will come. The Budget assumptions are falling apart. Income is getting pounded via tumbling corporate profits and a steepening mining capex cliff that will hit the labour market even harder than expected and eventually the share prices of big iron are going to break down, hitting household confidence hard.
Interest rates will keep falling but unless the dollar can be pushed below 60 cents pronto then what is already a severe income recession will turn into the real thing.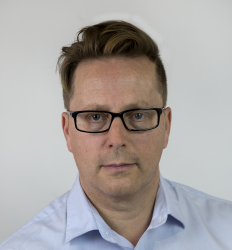 Latest posts by David Llewellyn-Smith
(see all)