Some years ago I described what was coming in the iron ore market as "blood flowing through the gullies of the Pilbara". We're still a long way from that but the first trickles are beginning to run. The Twiggy Forrest's outburst two days ago calling for a iron ore cartel has generated fantastic quote after quote from industry insiders. It began thus:
At a business dinner in Shanghai on Tuesday night, Mr Forrest, founder of the fourth biggest iron ore exporter, Fortescue Metals Group, said he was "absolutely happy to cap my production right now" at 180 million tonnes.

He said the other major players, Rio Tinto, BHP Billiton and Brazil's Vale should also cap their production "and we'll find the iron ore price goes straight back up to US$70, US$80, US$90."
The ACCC and government fired back:
"Attempting to cap pricing, or fix pricing, even making the attempt is illegal," Mr Sims told the ABC's Business Editor Peter Ryan.

"We need to examine very closely what was said but what I've heard on this morning's [ABC program] AM does raise very serious concerns," he said.

…Mr Hockey said "we're not very supportive of cartels at all".

"It's important that we continue to believe, as we always have as Liberals, in free markets".
Yesterday afternoon RIO CEO Sam Walsh popped a vein:
"I don't know what Andrew was thinking," Mr Walsh said to a packed mining industry lunch on Thursday.

"I think the comments are absolute nonsense, I'm not sure if Andrew actually sought legal comment before."

"It is essential that we foster Australian industry…that is internationally competitive, and is not being propped up by tariffs or artificial means. That is not a way to run this great country. We have the wherewithal to be competitive with our mining, and to try to artificially prop it up with some harebrained scheme, that is just physically not going to do it."
And overnight, the great Australian consensus machine coughed up more with Gina Rinehart slamming Mr Forrest:
Mrs Rinehart, the nation's richest person, rejects the call. "There is nothing Australia can do about price other than be ready for it, and from an Australian perspective that means driving down our costs," Hancock executive director, and Mrs Rinehart's right-hand man, Tad Watroba, said yesterday from Hong Kong.

…"In a free market, it's up to each individual producer to decide how much they will produce in the current market circumstance — competition laws in Australia make it illegal to collude to rig pricing."
Th Chinese have piled in:
The China Iron and Steel Association serves as the lobby group for Chinese steel mills, and deputy secretary Li Xinchuang said the seaborne iron ore industry was too diverse for Mr Forrest's idea to actually work.

"If Australia controls [exports], maybe other countries like Brazil will come in very quickly," he said.

"I don't think it can work."

When asked if Chinese steel mills were troubled by Mr Forrest's comments, Mr Li said;

"I don't think anybody cares too much. We have other choices, not only from mines from Australia, so I don't think it is a good suggestion," he said.
And the big iron lobby:
The former chairman of the Minerals Council and now chief executive of diversified miner MMG, Andrew Michelmore, said miners had to respect market forces.

"Everything should be done via free trade, we must allow the market to operate," he said.
Even Colin Barnett has turned shy:
Speaking in Perth after Mr Forrest made his comments, Mr Barnett said that while the major iron ore companies were flooding the market and forcing the price down, they should not collude to pull back production.

"They shouldn't act together, that wold be illegal but I think they would be sensible to be supplying the amount of iron ore to meet current demand," he said.
So, act illegally legally then, perhaps via a political ventriloquist. Comrade Colin shouldn't worry, he'll get his cartel, though not the one he wants…
In truth, the big dirt business is too capital intensive and scale-dependent for anything other than an oligopoly. But the economics of oversupply are such that that does not really matter in terms of pricing power for extended periods. The history of the dirt business shows long-term high ownership concentration in conjunction with oversupply and weak prices. Only for brief and spectacular flowerings do we see abundant competition, ironically during high price episodes, and they pass like rain on the Pilbara mountainside: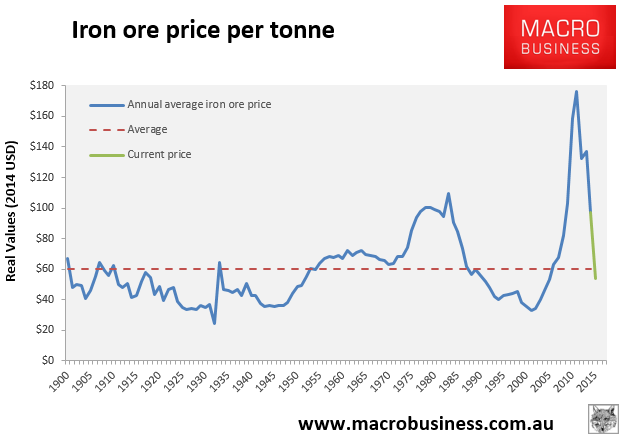 What is really at stake in the growing argy bargy is who owns the cartel in the future. Andrew and Gina want in but there is no saying either will get a pass.
My guess is that what is coming in China has not yet entered the darkest dreams of our industry titans. By 2030, Chinese steel demand is likely to be in the vicinity of 700 million tonnes per annum, down 20% from today. Moreover, the scrap market will constitute 300mt of that, leaving China's total seaborne iron ore demand at roughly 666mt (assuming its entire mining industry is wiped out) versus today's 900mt (and forecasts of 1 billion tonnes plus).
And so, scale and low costs are now the only play in town. If you can't produce dirt across the long cycle below $30 per tonne then you're a pretender and probably a ponzi-miner.
Andrew Forrest's only hope is Chinese ownership. The same may also apply ultimately to Roy Hill. That way, imported labour, communist subsidised capital and transfer pricing can keep you alive, at least until the Beijing Politburo is confident that the big three are structurally unable to gouge.
All of this bluster about free markets is a harbinger of the opposite as the iron crash of the century sweeps towards the Pilbara.