The…ahem…shortsightedness of Glenn Stevens' comments last year that macro-prudential controls on high risk mortgage lending were "dreaded" and the "latest fad" has, once again, been exposed with a new working paper from the International Monetary Fund (IMF) which evaluates evidence from 119 countries over the 2000-13 period and finds that macro-prudential policies are generally effective, although they tend to be more beneficial in developing nations:
We find that macroprudential policies are used more frequently in emerging economies, with especially foreign exchange related policies used more intensively. Borrower-based policies are used more in advanced countries. We find that policies are generally associated with reductions in the growth rate in credit, with a weaker association in more developed and more financially open economies, and can have some impact on growth in house prices… We do find evidence of some asymmetric impacts in that policies work better in the boom than in the bust phase of a financial cycle.

Taken together, the results suggest that macroprudential policies can have a significant effect on credit developments.
The growth of macro-prudential measures across both developed and developing economies is shown in the below IMF chart: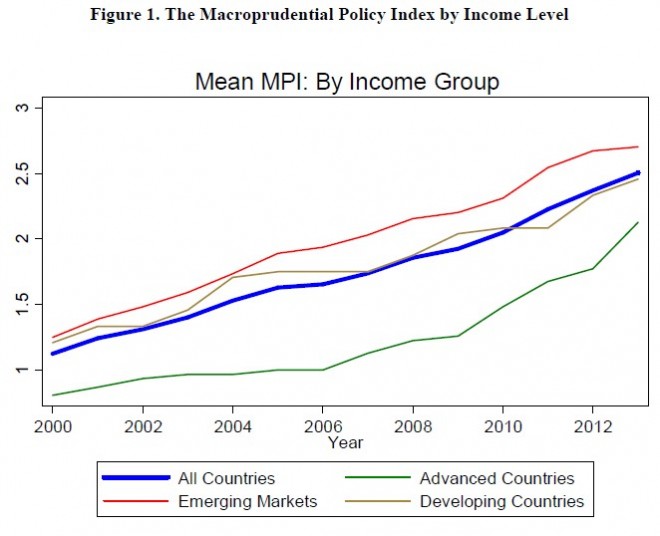 As to macro-prudential's effectiveness, the IMF finds:
…a one standard deviation change in the MPI index, reduces credit growth by some 2.2 percentage points. This is a large effect, equivalent to about 1/4th the standard deviation in credit growth (9.04) for advanced economies. The economic effect is even larger for emerging markets…
The IMF working paper also finds that borrower-based measures, such as caps on loan-to-value ratios (LVRs) and debt-to-income rations, are generally found to be negatively related to credit growth. And while the impact is greater in developing (closed) economies, it remains significant in advanced economies as well:
…we find that caps on loan-to-value ratios (LTV_CAP), a borrower-based measure, are strongly associated in developing countries with lower overall credit growth, but also with less household credit in all countries. Debt to income (DTI) limits are important as well, especially for curtailing growth in household credit in both advanced and emerging markets…

Taken together, these results suggest that borrower-based measures have some impact for most type of countries, while foreign currency related measures are more effective for emerging markets. On the whole, this suggests that there appears to be scope for targeted macroprudential policies such as LTV and DTI ratios in advanced economies and foreign currency related policies in emerging markets. These are important findings especially given the at times adverse effects for overall financial and economic stability of real estate developments in advanced countries and of international capital flows for emerging markets.
The IMF's results, of course, follow those from the Bank for International Settlements (BIS), which last week released a working paper of its own supporting macro-prudential measures.
Take note Capt Glenn and Wayne Byers. Your opposition to transparent macro-prudential controls is looking more foolish by the day.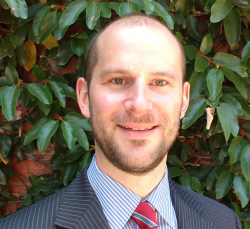 Latest posts by Unconventional Economist
(see all)