by Paul D. Egan & Philip Soos
Australia's private debt dynamics have been thoroughly explored elsewhere, but less well understood is the country's position relative to the OECD and BRIC nations. Thankfully, the Bank for International Settlements (BIS) provides a useful database of unconsolidated household, non-financial business and total sector debts to enable a meaningful comparison.
The difference between consolidated and unconsolidated debts is an important consideration. The former constitutes debt that is netted out within the sector, and only records debts owed to other sectors, while the latter is the actual debt a sector owes, irrespective of to whom. Unconsolidated debts are typically larger than consolidated debts.
Caution must be taken when using measures of consolidated debts as it assumes intra-sector solvency; an assumption the Global Financial Crisis (GFC) revealed to be precarious. Consolidated debts disguise the risk of intra-sector debts that can metastasise and threaten financial stability.
In retrospect, Ireland, Spain and the US are three countries that clearly experienced debt-financed housing bubbles, thus providing a useful benchmark for comparison. Australia's household debt to GDP ratio is clearly higher than both Spain and the US at their peaks, and remains only slightly below Ireland's peak.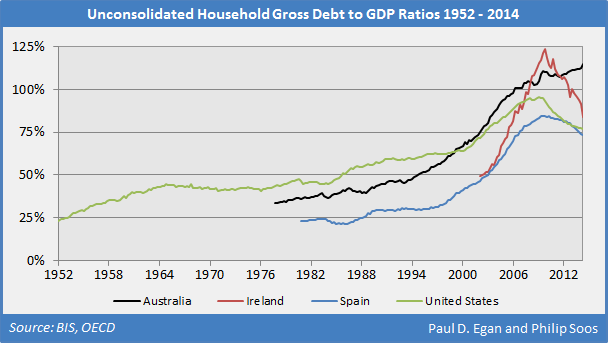 In the BIS dataset comprising 34 nations, Australia has the unenviable status of ranking fourth-highest, only below that of Denmark, Switzerland and the Netherlands. Ironically, the pathology of financial capitalism drove the world's leading social democratic state into accumulating the largest household debt ratio, peaking at close to 140 per cent in Q2 2009.
Advertisement
A range of factors may have boosted the income flows of Danish households and enabled such accumulation: a low unemployment rate relative to the Eurozone nations, very low income inequality, the world's highest minimum wage, and a generous social welfare system.
As of Q2 2014 (the latest available BIS data), the Netherlands is just 0.3 per cent higher than Australia. As the former deleverages, Australia should rank third-highest by the next quarter. The ratios have remained stubbornly high in both Denmark and the Netherlands despite deleveraging, as their weak economies have resulted in falling nominal GDP (the denominator).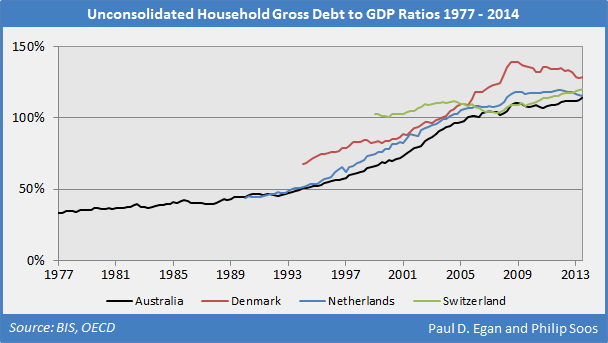 Advertisement