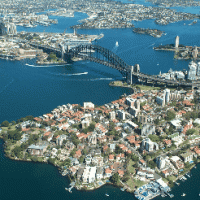 For several years now, I have argued that Sydney housing offers relatively good value from an investment perspective. This was based upon the view that Sydney housing was relatively undervalued following an extended period of under-performance over the second half of the 2000s, as well as tighter supply and generally stronger fundamentals than the other major capitals.
The situation has changed materially over the past 18 months, however, following the 22% surge in Sydney house prices over that period, driven by unprecedented demand from property investors. This has seen Sydney's price premium relative to other capitals move back to its longer-term average, in turn eroding its value from an investment perspective.
This report revisits the Sydney housing market and finds that while the upswing in prices likely has further to run, valuations are clearly entering the danger zone, presenting a highly risky proposition for both prospective housing investors and first home buyers alike.
The evolution of Sydney house prices
The below charts track detached house and unit prices in Sydney, as reported by the four main housing data providers: the Australian Bureau of Statistics (ABS); Australian Property Monitors (APM); RP Data-Rismark; and Residex, as well as a composite measure, which is the average of these indices.
Residex has the longest running house and unit price series for Sydney, dating back to the late-1970s, whereas APM's is relatively new.
Despite minor variations, all four series have tracked each other fairly closely: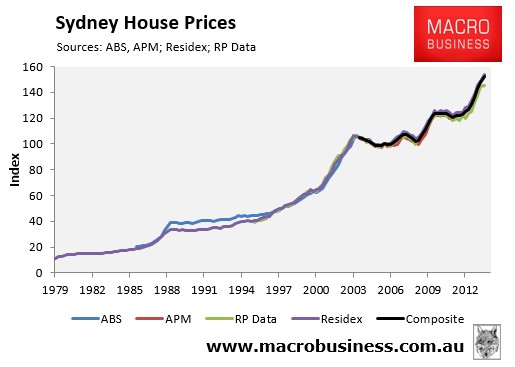 The June quarter price results for Sydney showed the housing market growing at a feverish pace. The ABS (16.5%), APM (17.6%), RP Data (16.5%) and Residex (14.7%) all recorded exceptionally strong growth in the year to June 2014, with prices now also 22.6% above their September 2010 peak when averaged out across the four data providers.
Sydney unit prices have also surged, with the ABS (14.1%), APM (13.2%), RP Data (11.8%) and Residex (13.3%) all recording strong growth in the year to June 2014, with values up 23.2% since since September 2010 when averaged out across the four data providers (see next chart).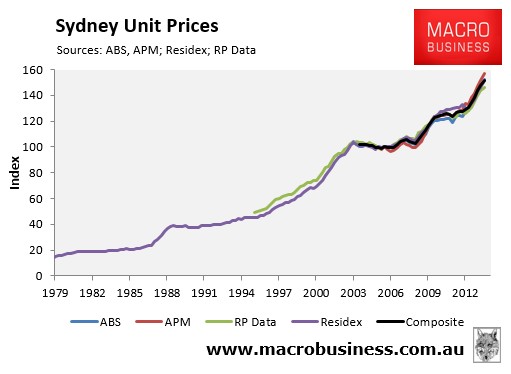 When adjusted for inflation, however, Sydney house prices have only recently surpassed the late-2003 "bubble" peak, breaking through the sideways trend that was in place for nearly a decade (see next chart).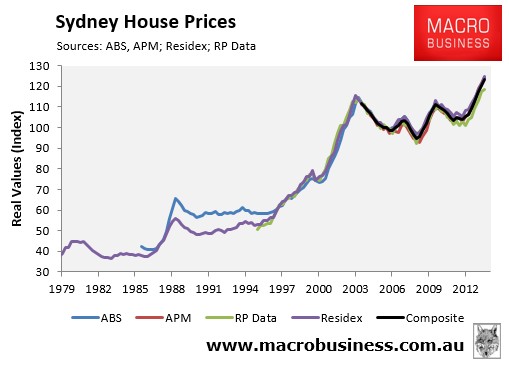 Sydney unit prices are arguably even more inflated, tracking well above the late-2003 "bubble" peak in real terms (see next chart).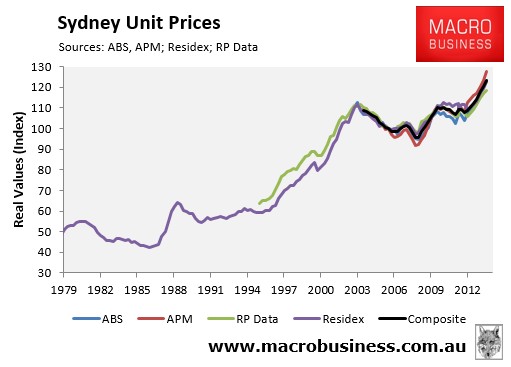 Price momentum strong but slowing
The most recent annual results showed that Sydney housing market was growing at a fast rate, although price growth appears to have peaked. As at June 2014, annual price growth was 16.3% (houses) and 13.1% (units) when averaged-out across the four data providers (see next chart).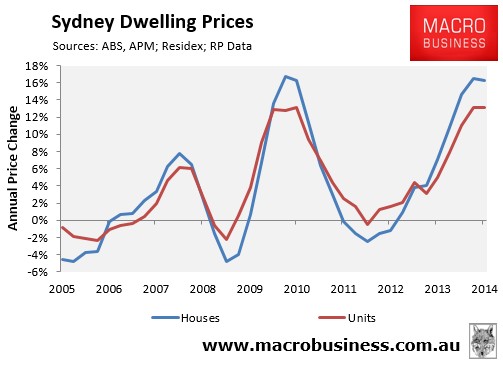 More importantly, the single best short-term indicator for house prices – housing finance commitments – appears to have peaked which, given past strong correlations, suggests that Sydney house price growth will moderate over the year ahead, albeit from a high level (see next chart).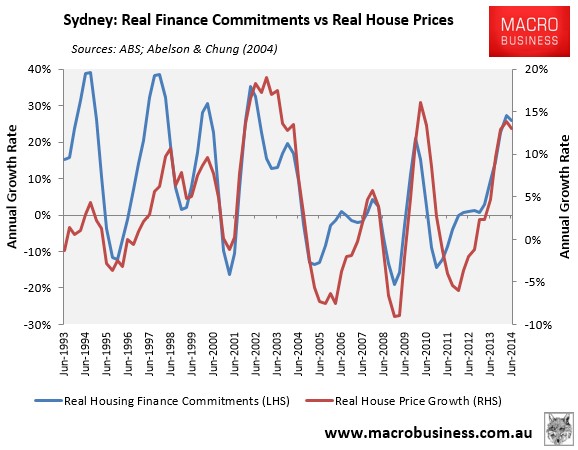 Investment case has weakened materially
Since the mid-2000s, Sydney housing underperformed the other capitals, which saw its median house price relative to the other capital fall to levels not seen since the late-1970s. However, with the rapid house price growth experienced over the past 18 months, Sydney housing's premium has returned to long-run norms, materially weakening the investment case (see next chart).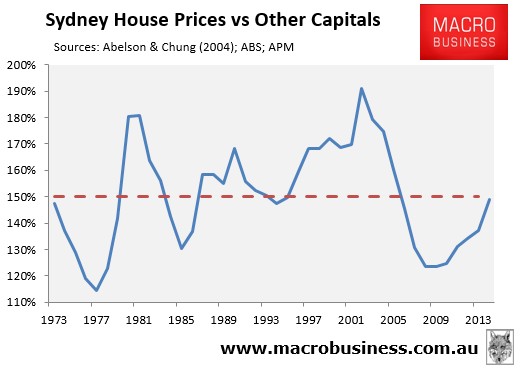 It's important to note that the above chart does not infer that Sydney housing is 'fairly valued', since it is our strong view that Australian housing as a whole is severely overvalued. Rather, what it illustrates is that the level of overvaluation in Sydney is the same as the nation as a whole – the first time this has occurred since 2006.
After a decade of under building, construction levels in New South Wales (read Sydney) are finally on the rise, which other things equal also worsens the investment case in Sydney housing (see next chart).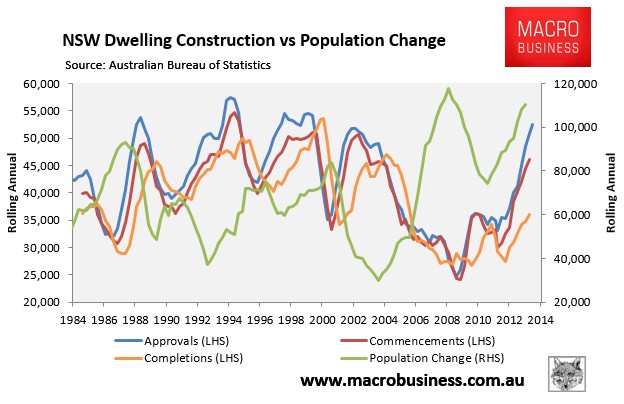 It should be noted, however, that dwelling construction in Sydney remains fairly weak in population-adjusted terms, particularly in the detached house segment, which reduces the risk of a bona fide housing surplus developing (see below charts).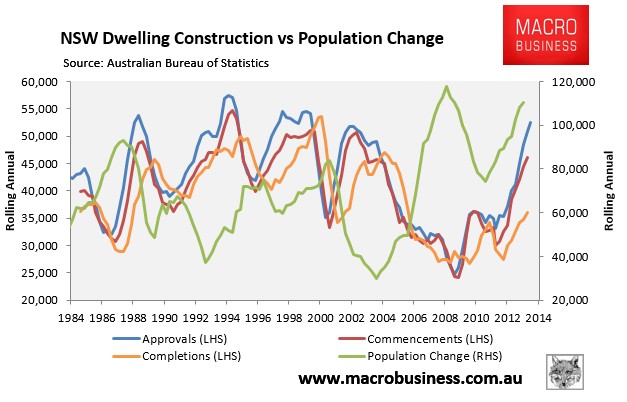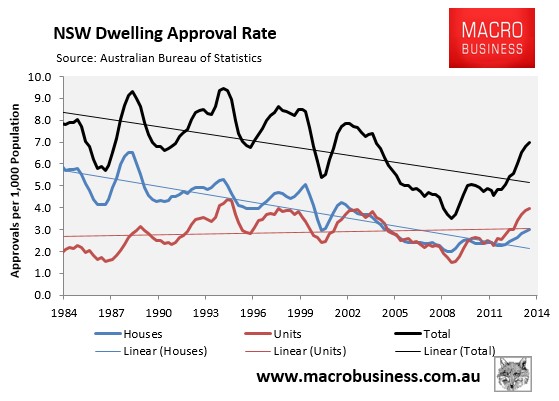 Reflecting this, Sydney's rental vacancy rate is well below the other capitals, although it has risen from the depths of 2010 and should rise further once the spate of dwellings currently under construction are completed (see next chart).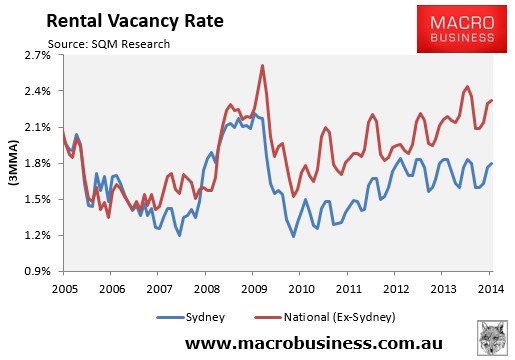 Reflecting the lower vacancies, rental growth in Sydney has also out-performed the other capitals (see below charts).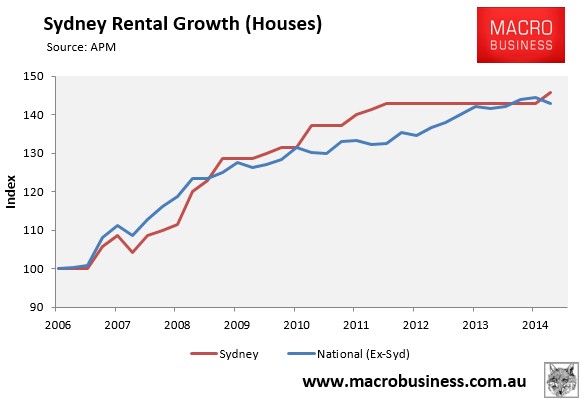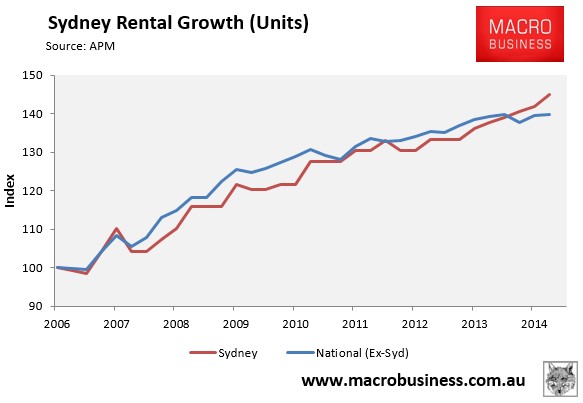 However, because rents have grown at a far slower pace than dwelling prices, Sydney gross rental yields have fallen to well below the other major capitals, reducing the appeal to yield conscious investors (see next chart).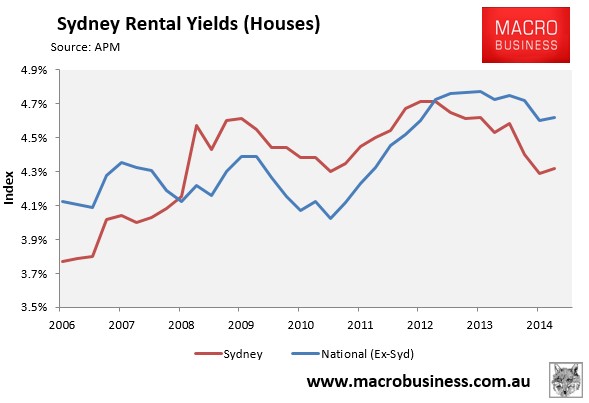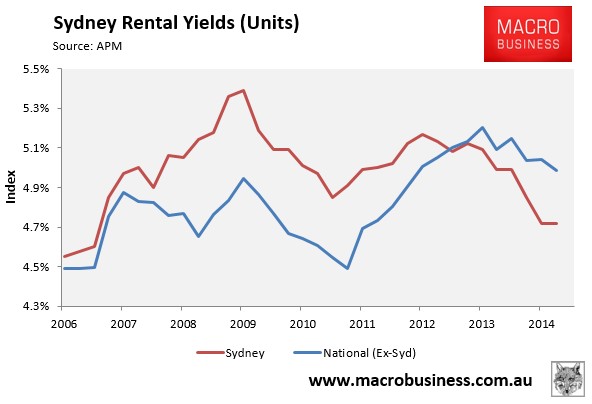 Economy relatively strong, but too reliant on housing
After a decade of under performance, New South Wales' (read Sydney's) economy is now the toast of the nation, achieving by far the strongest growth in State Final Demand in the year to June 2014, clocking in at 6.0% annual growth versus only 1.9% for the nation as a whole (see below charts).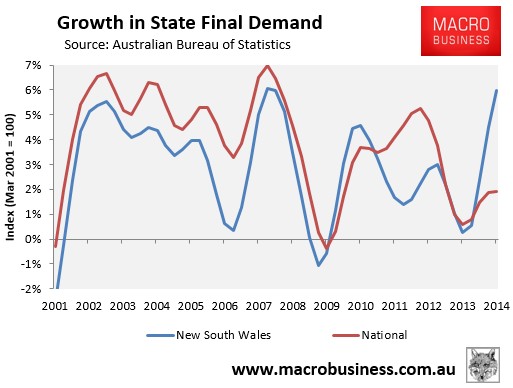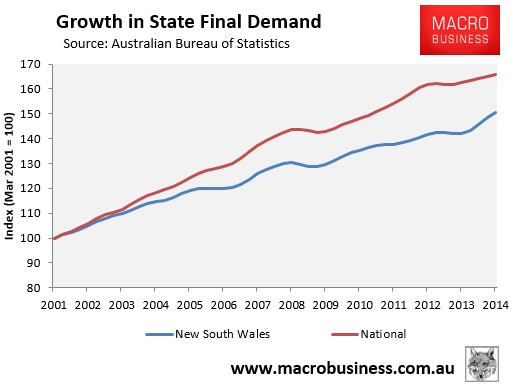 New South Wales' employment market is also relatively strong, with the state's unemployment rate sitting at a 5.8% in August versus 6.2% nationally (see next chart).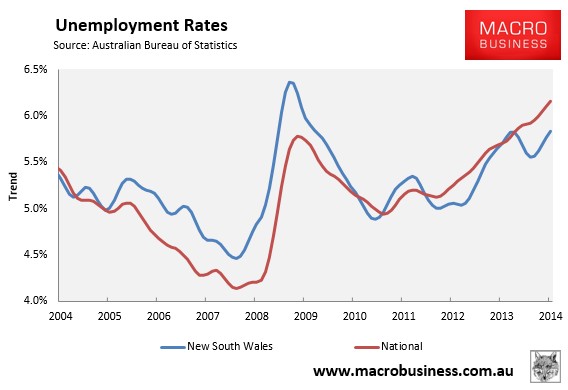 Full-time jobs growth in New South Wales has also been relatively strong recently, growing by 1.7% in the year to August 2014 compared with 0.9% growth nationally (see next chart).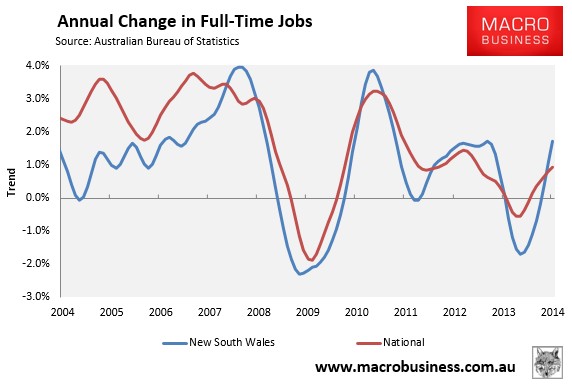 However, the average number of hours worked in New South Wales (0.8%) was below the national average (1.2%) in the year to August, although it is trending up strongly (see next chart).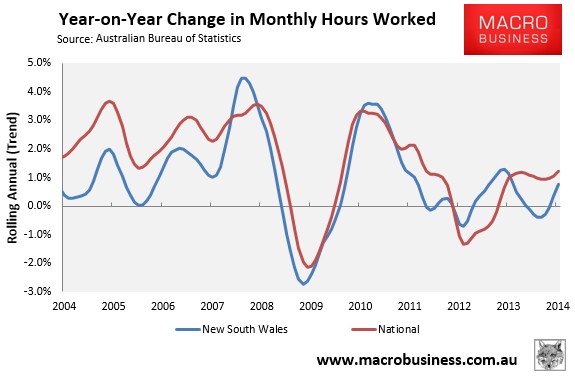 While the aggregates are strong, the detail is less convincing, with the recent strength in Sydney seemingly driven by the dwelling construction mini-boom and rising house prices, rather than something more broad-based.
As shown by the next chart, which maps employment by industry in the year to May 2014, the growth in jobs has been driven by construction and to a lesser extent real estate, which together added 61,700 jobs over the year: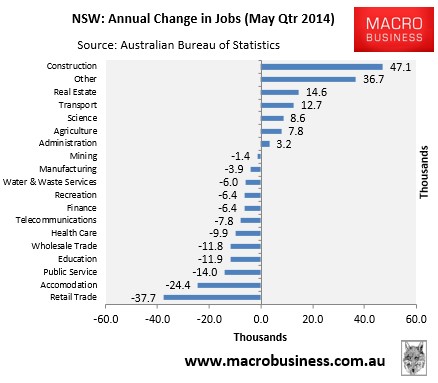 The implication of this for Sydney's housing market is two-fold.
First, when the current construction cycle runs its course, it would be expected to weaken employment growth across Sydney, potentially raising unemployment.
Second, and perhaps more importantly, the rising employment and growth related to housing will likely weaken future prices and rents as the flow of new supply competes with the existing housing stock, bringing with it an earlier end to the price boom and potentially sowing the seeds of a downturn.
The nature of demand is highly speculative
As noted many times before on this site, Sydney housing demand is being driven primarily by investors, with the latest ABS housing finance statistics showing near parabolic growth in the value of investor finance commitments over the past year, with the proportion of loans going to investors also hitting a record 55.1% of total loans (excluding refinances) in the year to July 2014 (see next chart).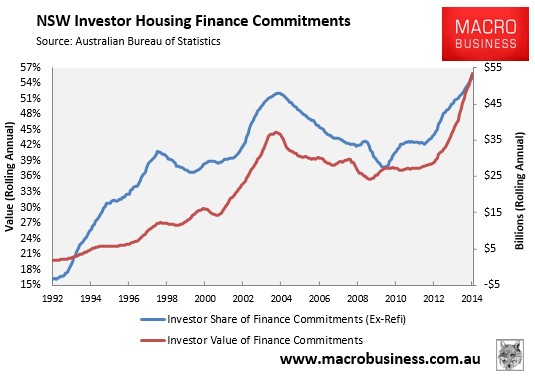 This level of investor demand has easily surpassed the early-2004 peak – a period commonly associated with Sydney housing being in a "bubble" – which saw investor mortgage demand hit a relatively sedate 52.1% of total mortgage commitments (excluding refinancings).
It would be fair to conclude that the current make-up of Sydney mortgage demand is not conducive to sustainable house price growth. Investors, whose decision to purchase property are based on weighing-up alternative investment returns, are more likely to be fickle and cut-and-run as soon as conditions change, or more profitable opportunities are presented elsewhere. This places Sydney housing on a more fragile footing than if demand was driven primarily by owner-occupiers, who tend to buy into housing for the longer-term.
Bottom-line:
While Sydney housing is likely to be well supported in the short-term, propelled along by positive sentiment and intense investor activity, it appears to be accelerating into trouble.
The extreme investor participation, combined with the mini construction boom and a local economy geared towards housing, is a dangerous combination that may already have sown the seeds of a future correction.
Viewed together, these factors make gearing-up into Sydney property an increasingly risky proposition despite favourable short-term momentum. And with valuations becoming more stretched by the day, driven by feverish investor demand, the risk of correction sometime in the near future is arguably even greater now than it was during the 2003-04 Sydney housing "bubble".