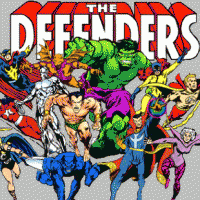 The RBA's head of financial stability, Luci Ellis, has delivered a long-winded speech today, which is effectively another thinly veiled defence of Australia's exorbitant housing costs.
According to Ellis, Australia's cities are low density and supposedly geographically constrained, which in part justifies our high housing values:
If buildings are fixed in place, their arrangements in space will change only slowly. So we come to the observation I made at this conference last year, that Australia's cities are unusually low-density (Graph 3). Only New Zealand comes close. This low density is all the more remarkable given that many of the cities in both countries are geographically constrained. They cannot expand in all directions: oceans, mountains and national parks block some sides. As we will see, both the low density and the geographic constraints matter for the dynamics of this market, and thus they could matter for financial stability.
I fail to this as an adequate defence. Australia has a relatively small population of only 23 million people, or roughly 1/14th that of the United States. Moreover, none of Australia's cities are large by global standards. In fact, Greater Sydney (population 4.4 million) would only just scrape into the top 10 of largest urban areas in the United States. Yet our residential land prices are absurd by global standards, running well above most other countries where land supply is genuinely scarce (rather than made scarce through regulation and lack of infrastructure provision).
Ms Ellis also claims that the concentration of jobs in the inner city, as well as rising commute times, has forced-up inner city housing costs, driving-up over all capital city house prices in the process:
…survey data suggest that average commute times have risen since 2006 in at least some cities. That choice between space, place and price can be made a little less stark either by bringing the jobs to the people, or by bringing the people to the jobs. It is clear from the graphs I have just shown that Australia isn't doing much of the first response…

The cumulation of individual decisions and government policies over many years has given us comparatively low-density cities that create large price premiums for the most convenient districts in those cities. If prices rise beyond people's comfort levels, it is not always feasible or attractive for households to respond by voting with their feet, and moving to cheaper areas – especially if that means moving out of a state capital and further away from work…
Sure, while homes with a positional advantage will always demand a price premium, how does Ms Ellis explain the massive escalation of land values on the fringe of Australia's cities? Surely if demand for outer suburban homes is falling in a relative sense, then fringe land values should not still be escalating.
Yet, the latest HIA-RP Data Residential Land Report showed that fringe land prices continue to rise, with the weighted median fringe land price hitting a record $207,000 as at December 2013 ($326,000 at the capital city level) implying that it is land prices that comprises the majority of the cost of newly constructed housing: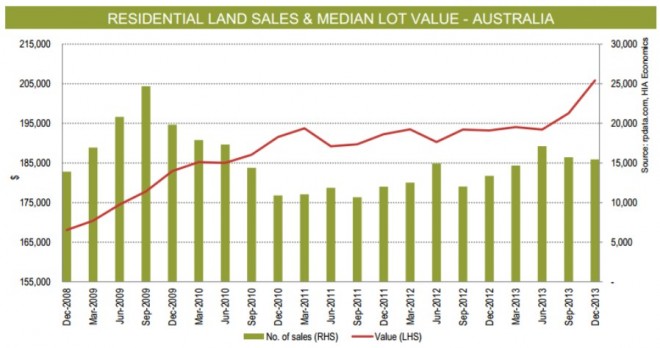 In a similar vein, data from RP Data shows that vacant land prices per square metre have risen by an incredible 564% over the past 20 years: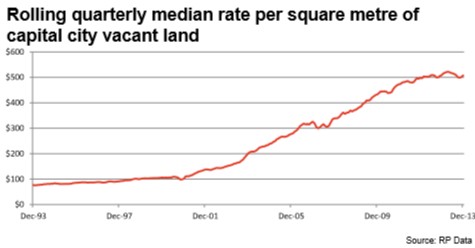 Hence, it is difficult to reconcile Ms Ellis' view that Australia's exorbitant housing values are predominantly demand driven, with constraints on the supply-side equally, if not more, pervasive.
Oddly, the RBA's former head of economics, Anthony Richards, made these same supply-side observations during testimony in 2008:
…supply-side factors should have a much greater influence on prices towards the fringes of cities, where land is less scarce and accounts for a smaller proportion of the total dwelling price. In principle, the price of housing there should be close to its marginal cost, determined as the sum of the cost of new housing construction, land development costs, and the cost of raw land. And in the absence of any restrictions on supply, the price of raw land on the fringes should be tied reasonably closely to its value in alternative uses, such as agriculture. So unless there has been a marked increase in the value of this land when used for other purposes, the availability of additional land towards the edges of our cities should have limited increases in the cost of housing there…

So if we are looking for explanations why housing is not as affordable as we might like, it may be necessary to look at factors on the supply side as well. One obvious place to start is the cost of land for building new houses near the edges of our cities…

There are no doubt a number of factors that could be contributing to the observed level of land prices… One factor that has been widely mentioned is the existence of various constraints on land development, including growth corridors and boundaries. Another factor that has been mentioned is the existence of a range of government charges, including developer levies or infrastructure charges. More broadly, concerns have also been expressed that zoning policies and building approval processes have hampered in-fill development closer to the city centres.

Both economic theory and international evidence suggest that housing prices can be boosted by land usage policies (which can create artificial scarcity of residential-zoned land), problems with the complexity of the development process (which creates rents), and the fees and charges imposed on development. Accordingly, the fact that higher prices for housing have not resulted in a more significant supply response could be a reflection of various supply-side costs that have represented a wedge in the cost of bringing new housing to market.

…the fact is that real price increases in the outer suburbs have been quite large as well.
To her credit, Ms Ellis did warn that prolonged rapid housing growth is likely to be a thing of the past, with prices more likely to cycle around income growth, with periods of price falls also more likely:
As we have said many times in the past, the 15 years or so to about 2005 saw housing prices rise noticeably faster than incomes. This was in large part a transition to a new equilibrium of lower inflation and interest rates, and thus higher debt and housing prices relative to incomes. That transition is over now. Housing prices are therefore going to be cycling around a slower trend than they did in the past. There will be more periods where prices are falling a little in absolute terms.

At an individual level, this means that there is less scope for rising markets to cover over your mistake if you fall in love with a property and overpay for it. At an aggregate level, it means there is little room for another round of property exuberance of the type we saw just over a decade ago, in 2002 and 2003.
Nevertheless, unlike her counterparts in the Reserve Bank of New Zealand, whom are renowned for frank and fearless assessments, nowhere did Ellis explicitly admit that Australian housing is overvalued or stress the risks to financial stability arising from Australia's high household debt and a potential house price correction.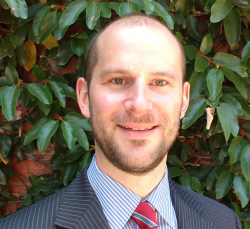 Latest posts by Unconventional Economist
(see all)