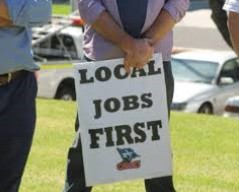 I noted last month how the Abbott Government had announced a review of 457 visas for ­temporary foreign skilled workers, which looked as if it would reopen a visa loophole that would allow employers to hire an unlimited number of foreign workers under a temporary working visa, potentially opening the system to widespread rorting.
I also argued that the efficacy of relaxing 457 visa requirements was questionable, given: 1) the latest Department of Employment's labour shortages report claimed that "skill shortages continued to abate" and employers in 2013 "generally filled their vacancies with ease and had large fields of applicants from whom to choose"; and 2) unemployment is at the highest level in 10 years and likely to deteriorate further, whereas the labour force participation rate is falling (suggesting hidden employment), and there is substantial under-employment.
Today, The Australian has reported that 457 visas for the hospitality industry are set to be relaxed to fast-track thousands more foreign chefs, cooks, waiters and bar staff:
The department is evaluating an industry request to fast-track thousands more foreign chefs and cooks on temporary work visas.

Separately, the department is considering lowering the existing requirement for 457 visa workers to have "functional ­English'', as part of a government-ordered inquiry into the temporary work scheme.

Restaurant and Catering Australia chief executive John Hart yesterday revealed the hospitality industry wants the agreement to extend 457 visas to cover waiters and bar staff, as well as skilled chefs and managers.

The industry also wants to waive English language requirements and axe the $53,900 minimum salary…
The hospitality industry is a key pathway to employment for unskilled and unemployed Australians, as well as university students seeking part-time work. Relaxing 457 visa requirements for hospitality could remove this pathway, while at the same time undermining local workers' pay and conditions. It is a retrograde step that risks creating an underclass of working poor and long-term unemployed, while at the same time keeping the throttle on population growth and capital's share of profits.