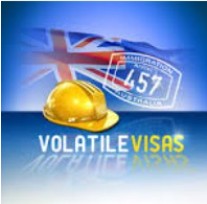 I noted a few weeks back how the Abbott Government had announced a review of 457 visas for ­temporary foreign skilled workers, which looked as if it would unwind conditions enacted by the former Labor Government, such as the requirement that a job must be advertised locally before a 457 visa is issued.
Now Fairfax is reporting that the Abbott Government has quietly reopened a visa loophole that will allow employers to hire an unlimited number of foreign workers under a temporary working visa, potentially opening the system to widespread rorting:
In the Coalition's bid to remove all "red tape" from the 457 skilled migrant visa, employers will not be penalised or scrutinised if they hire more foreign staff than they applied for.

Before the loophole was closed in 2013 by the Labor government, companies in the mining, construction and IT industries were knowingly hiring hundreds more foreign workers than they had applied for…

A discussion paper in 2012 also found there was no restriction to the number of 457 workers a company could nominate once a sponsorship is approved.
The Coalition's liberalisation of 457 visas is curious on a number of levels.
First, as noted in the Department of Employment's latest labour shortages report, "skill shortages continued to abate" and employers in 2013 "generally filled their vacancies with ease and had large fields of applicants from whom to choose" (see next chart).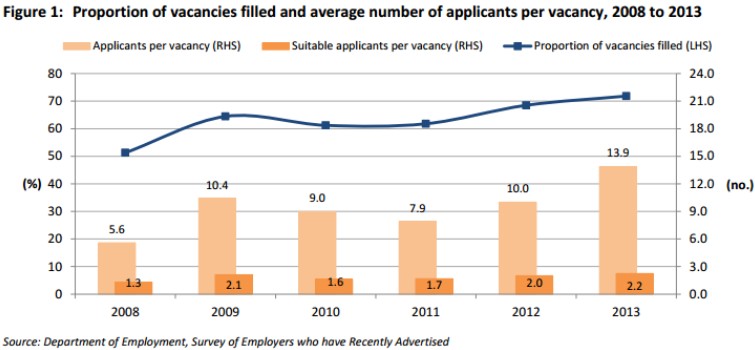 Second, unemployment is at the highest level in 10 years and likely to deteriorate further. In addition, the labour force participation rate is falling (suggesting hidden employment), and there is substantial under-employment (see below charts).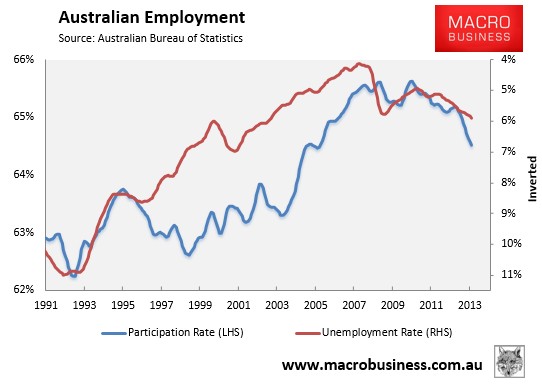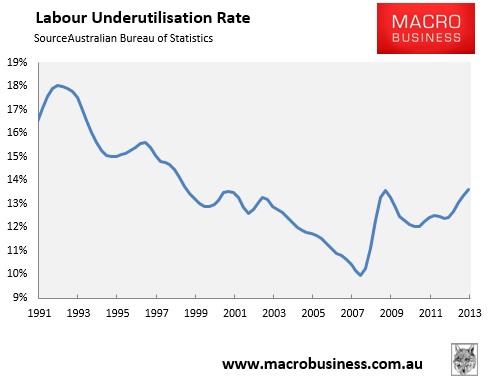 With the mining investment boom set to unwind over the next few years, along with the closure of the local car industry, labour surpluses are only likely to increase.
Clearly, based on the data, there are few genuine skills shortages, undermining the need for 457 visas at all.
Therefore, the Coalition's loosening of 457 visa requirements looks like another measure aimed squarely at undermining local workers' pay and conditions, while at the same time keeping the throttle on population growth and capital's share of profits.