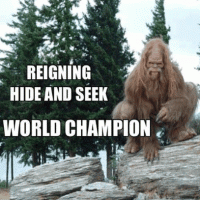 The SMH has published an interesting snippet illuminating how some foreign purchasers of Australian residential property side-step the Foreign Investment Review Board (FIRB) by using family members already residing in Australia to buy properties on their behalf:
Buyer's agent Shane Clinton of Buying Houses Australia says overseas buyers often side-step requirements that they only buy new property by purchasing established dwellings in the name of already established family members.

"The significant investor visa has taken a while to get traction, it's building now, but it means that to date 99 per cent of my clients have been buying outside the recommended visa guidelines," he said.

In Mosman, where more than 30 per cent of prestige sales last year were to buyers from China, McGrath agent Michael Coombs said of the eight sales he made to Chinese buyers in the past six months, three were to visa holders and five were purchased in the names of a family member."
According to the above quotes, foreign purchases of pre-existing homes through family members looks to be substantial, raising doubts over whether the reported 5,091 existing homes sold in 2012-13 (valued at $5.42 billion) is anywhere near accurate (see below table).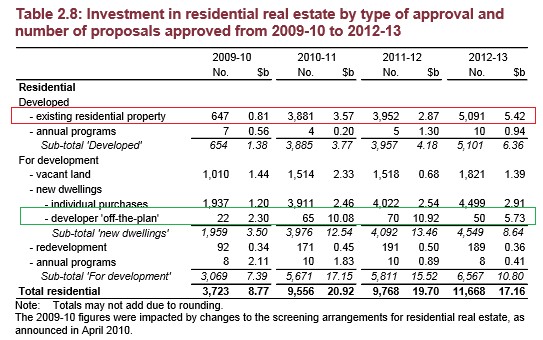 Unfortunately, there seems to be little that can be done to regulate foreign purchases through family members residing in Australia, since there is no easy way for FIRB to ascertain that such sales have taken place.
As such, the best way of ameliorating the price impacts caused by foreign investment is to free-up the supply process, so that the extra demand from foreigners (whether for new or pre-existing dwellings) leads to a large increase in dwelling construction, not just higher prices.
As noted correctly by MacroBusiness reader, Pfh007 yesterday:
If the market for housing was not dysfunctional there would be little or no interest from foreign buyers.

Holding an illiquid asset in a foreign jurisdiction with a lot of aggravation (tenants) to earn your rental yield is not attractive to most investors.

The fact that there is so much interest from foreign buyers is a big fat yellow canary.

Fix the distortions on the supply and demand side and the foreign interest will evaporate.
So while the Government's inquiry into foreign real estate investment should certainly review the efficacy of purchasing pre-existing dwellings, it's important to not lose sight of Australia's other policies that have made foreign investment in residential real estate attractive in the first place, along with the need to implement a broad-based land tax to discourage homes from being kept vacant.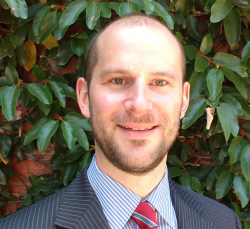 Latest posts by Unconventional Economist
(see all)