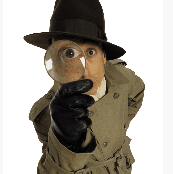 Reports have emerged over the weekend that the Government will launch an investigation into the impact of foreign purchases of residential property, and whether foreign buyers are being property regulated. From The Telegraph:
Chaired by Victorian MP Kelly O'Dwyer, the parliamentary inquiry will hold public hearings in real estate hot spots including Sydney and Melbourne.

"We need more homes, so foreign investment that increases the number of homes available is a good thing, particularly where it is housing for first-home buyers,'' she said.

"That is the objective of current policy, but we need to examine what is happening on the ground.

"The great Australian dream to own your own home is hard enough to achieve on two incomes, with years of savings and a large mortgage.

"We need to make sure that we aren't making it more difficult — which is why we are going to examine the facts in our inquiry.''

…there are concerns the Foreign Investment Review Board lacks the manpower to police the rules, with the latest data suggesting investment in existing properties by foreign investors is growing. There are also concerns that rules requiring temporary residents to sell Australian properties when they leave are not being policed.

The terms of reference for the inquiry will ask the committee to investigate whether the current rules are adequate and if existing laws are being enforced.
This is a great move by the Government.
Data surrounding foreign investment in Australian real estate is woeful. The data that is publicly available is tardy and opaque. And when a journalist does try and gain more useful statistics on the extent of foreign property buying, they encounter huge roadblocks, with the data treated as if it was some kind of state secret (see here and here).
Enforcement of the foreign ownership rules seems equally inadequate. As the mythical Chodley Wontok found out when testing the efficacy of FIRB's approval processes using bogus visa and passport information, the purported checks and balances in the system designed to prevent foreigners from purchasing pre-existing homes failed dismally, suggesting the rules are little more than window dressing.
An inquiry into foreign property buying will hopefully provide some transparency to the system and identify holes in monitoring and enforcement processes. It will also provide a platform to debate the efficacy of allowing foreign nationals to buy pre-existing dwellings, whose purchases have grown strongly over the past four years to $5.42 billion (5,091 properties) in 2012-13 (see below table) – placing an increased burden on younger Australians struggling to buy their own home.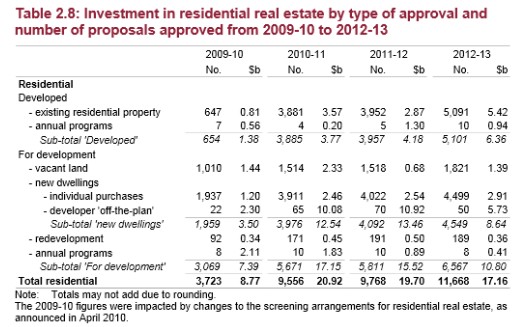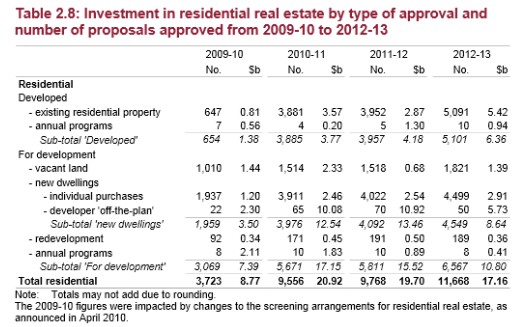 Already, the property industry seems to be gearing-up to oppose changes to foreign purchasing arrangements. According to The Australian today, Colliers International has released a report highlighting the "wealth effect" and increased consumption gained from foreign property investment:
"The impact of offshore investors on the residential market has a flow-on effect for the retail sector via increased demand and prices for housing. Increasing residential property values impact on how wealthy consumers feel and in turn their propensity to spend".
In a similar vein, the head of the Property Council, Peter Verwer, claims that foreign investment in real estate is "crucial" to Australia's growth and that the Parliamentary Inquiry would distract attention from "fundamental issues surrounding supply".
While the lion's share of the blame for Australia's unaffordable housing rests on distorted tax policies (e.g. negative gearing) and the myriad of constraints on housing supply implemented by state and local governments, this does not mean that the system around foreign investment – particularly as it pertains to pre-existing dwellings (putting upward pressure on demand and prices) – should not also be examined.