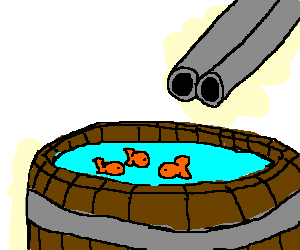 Regular readers will know that I view foreign investment in residential property and more generally as a positive. However, that does not mean that promised screens and protections of said property purchases should not be thorough and effective.
Instead, according to reader Gunnamatta, they are neither. Indeed Gunnamatta has, in the past few days, tested the efficacy of FIRB's approvals process via a pseudonym called Mr Chodley Wontok and has exposed the FIRB process as flimsy at best.
Mr Wontok recently applied for FIRB permission to buy a pre-existing residential property in Melbourne for $598k (it must have been a long way out!).
Mr Wontok is nominally from Russia but has no passport or visa simply because he does not exist. Nonetheless, Mr Wontok applied to FIRB using bogus versions of all of the above, including a fabricated permanent residency visa. To his amazement, within 48 hours he  received the following missive in reply: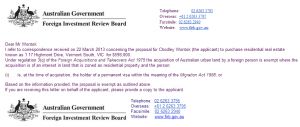 Mr Wontok is now armed with an official communication from the FIRB confirming that as a permanent resident he is able to purchase any property he so chooses. He can present this missive to a vendor or real estate agent and off he goes. Then again, maybe he won't need even that, according to Gunnamatta:
In the last year I have been told more than once by real estate agents, and more than once by foreign purchasers of Australian residential property, that the system is a joke and that in some areas foreign purchases of residential real estate are a significant factor in local prices.  I have been told that the system has a 99.9% self-compliance rate – and as one Macrobusiness commentator asked last week 'how credible is that?  I have been told that no party in the real estate process (certainly not real estate agents or property vendors) would ask to see permission or approval or evidence that a foreign buyer or potential buyer of Australian real estate had entered into the process such as it is, and that there is no review process.
So it currently appears that the issue of foreign purchases of Australian residential real estate is one which the relevant regulatory authority does not treat particularly seriously, and one where for wider political reasons there needs to be seen to be a process, but for other reasons there needs to be a process so feeble as to be barely a process at all.

Pursuing this issue is not about race or pro or anti-immigration or population policy, although no doubt they will be factors for some.  Pursuing the issue is about clearly identifying the impact that foreign purchases of Australian residential real estate has on existing Australians looking to enter the market, the function of price in that market as a balance between supply and demand, and the extent to which a greater or lesser degree of foreign purchases of Australian residential real estate discriminates against their interests in favour of those who have mortgages or already own Australian residential real estate, particularly in terms of the very significant numbers of market participants who own more than one property and have accrued significant debt to do so.
It would seem that we have a political/administrative system that has decided that we aren't mature enough to discuss the issue, and that some fibs about the existence of a process, what that process does, and the accountability of that process, are preferable.
Returning to Mr Wontok, at some stage, who knows, he may be found out and lose his dough. But it's not obvious how. There do not seem to be any further checks and and balances in the system to catch him, even when he sells. Perhaps this is why in 2010 the then Rudd government announced a 'crackdown' on foreign purchases of Australian real estate, including  a 'dob in' line for the public to report suspected instances of foreigners illegally buying Australian real estate and a 'crackdown' on the process.
While this accumulated evidence does not suggest that the FIRB is lax in its assessment of honest applications from foreign residents to buy residential property, it does show just how easy it is for the less scrupulous (or more risk tolerant) to get around the approval system.
Indeed, the system, if we can call it that, is akin to the honesty box left next to a lonely basket of tomatoes on a deserted country road.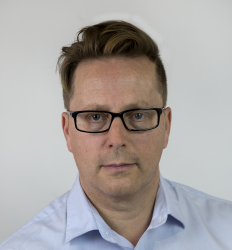 Latest posts by Houses and Holes
(see all)