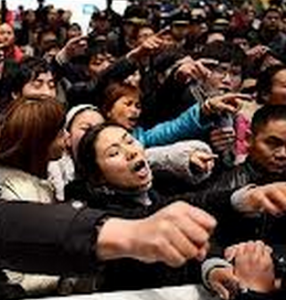 From Bloomie comes another one of those stories:
Tina Ford, an Australian public servant, said she could hardly believe it when her three-bedroom apartment sold this month for A$1 million ($877,000) at an auction in which all 16 registered bidders were ethnic Chinese.

"I'm over the moon, I'm gobsmacked," said Ford, 53, adding that she "would have been ecstatic with A$940,000" and didn't expect to double what she had paid 14 years ago for her third-floor unit with a balcony 11 kilometers (7 miles) from downtown Sydney in the suburb of Chatswood. "I suspect that overseas investment, Chinese or otherwise, is certainly pushing prices up, but from a vendor's perspective, I'm ecstatic."

Such buying by locally resident Chinese and those from mainland China is inflating housing bubbles in and around Sydney, where prices in some suburbs have surged as much as 27 percent in the past year. That's almost three times faster than the overall market.
I grew up in Chatswood. It's a Chinese hot spot. The story goes on:
On visits to several home auctions in Sydney's sprawling suburbs, a dozen or more registered bidders, all of them Asian, could be seen vying for each property…"Anecdotally, Chinese buying has been a material driver of new-apartment purchasing activity in the last 12 to 18 months," Scott Ryall, head of Australia research at CLSA Asia-Pacific Markets in Sydney, wrote in a report in September. "This is a significant potential tailwind for Australian property prices."

By law, non-resident foreigners can only buy new homes, with exceptions to buy existing properties granted on a case-by-case basis.

While many Chinese immigrants buying in Australia pay cash, they take out mortgages for second or third properties to take advantage of tax rules, said Ray Chan, managing director of Sydney-based real estate broker Henson Properties, 95 percent of whose clients are from China. Owners can claim tax deductions if expenses, including mortgage payments, are greater than their investments' rental income.

The distinction between purchases by mainland Chinese and by Chinese who have already immigrated to Australia is blurry. Chen Youmea, 42, bought a two-bedroom unit under construction in Sydney in 2011 while she and her family were still living in China's eastern Zhejiang province, near Shanghai. They moved to Australia in 2012, and within six months bought another three-bedroom apartment in the inner-city suburb of Pyrmont.

"Chinese people, we don't want to rent," she said. "We want to fulfill the dream of our own home."
But what kind of nation (or should I say "city") doesn't sell to its own children first?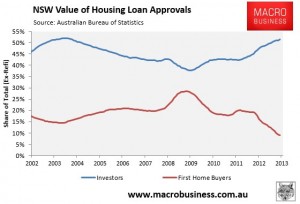 Back to Bloomie:
Some buyers are finding themselves squeezed out. In a showroom in the nondescript suburb of Macquarie Park in October, architect Warwick Mann and his father didn't register for the sale of one- and two-bedroom apartments listed for almost A$1 million and found themselves trying to get attention from agents busily catering to scores of Asian buyers.

"They're not interested in selling to us," said the younger Mann, 51, who said his retiree father, looking for a new home, lost his temper and left.
There is much more at the story and it is not easy to remain calm.