See the latest Australian dollar analysis here: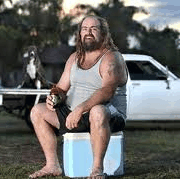 I used to be a beer drinking Aussie bloke. When I was 18 and a "poor student", I would only drink Powers Ice or Tooheys Red. Not because they were good, but because I could by a 30-can block for around $22 (in 1996 dollars).
Gradually, as my part-time shifts increased at Target, I upgraded to VB (or "Vitamin B" as it was affectionately known), which remained my bear of choice until my mid-20s, after which I upgraded to a variety of other beers: Carlton Dry, XXXX, Tooheys Extra Dry, and Tooheys Old.
In my early-30s, my tastes changed again, when I began drinking a variety of upper market beers: Santiago (South American beer from ALDI); Bud; Millers; Cascade; Boags – pretty much whatever was on special.
Now in my mid-30s, I barely drink beer at all. Instead Gin & Tonic has become my beverage of choice, along with the odd Pimms. Being a fitness fanatic, the quantity of alcohol that I consume has also fallen considerably. Basically, I have become soft in my older age, even though I can still out-box most 20-year olds.
It seems I am not alone in my softness. Research released by Commsec shows that beer consumption in Australia has hit a 66-year low, with the apparent consumption of alcohol consumed in the form of beer falling from 4.31 litres of pure alcohol per person (aged 15 years or more) to 4.14 litres in 2011/12. Consumption of full-strength
beer fell from 3.55 litres to 3.41 litres; mid strength was steady at 0.57 litres; and low strength fell from 0.19 litres to 0.16 litres.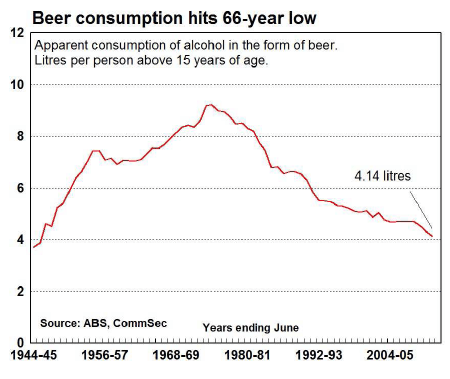 The fall in the consumption of beer has been partly offset by wine consumption, which rose from 3.79 litres to 3.80 litres per person in 2011/12, with an increase in
white wine consumption offsetting falls in "other" wines (ports, sherry etc).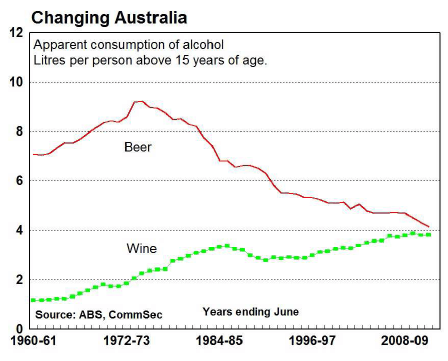 Consumption of alcohol in the form of spirits fell from 2.05 litres to a 10-year low of 1.95 litres with spirits down from a record high of 1.34 litres to 1.26 litres while "ready to drink" eased from 0.71 litres to a record low of 0.68 litres.
Meanwhile, cider consumption continues to rise. The consumption of alcohol in the form of cider rose from 0.15 litres to 0.17 litres in 2011/12. Four years ago cider consumption was a third of current levels.
Overall, total apparent consumption of alcohol fell for the fifth straight year, down from 10.30 litres of pure alcohol per person to a 10-year low of 10.05 litres per person. As a standard drink consists of 12.5 mls of pure alcohol, this is equivalent to an average of 2.2 standard drinks per day per person aged 15 years and over.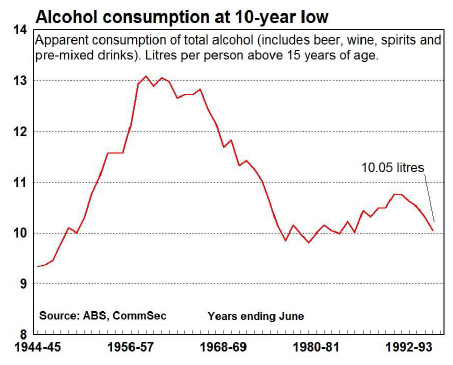 According to Commsec's chief economist, Craig James:
These aren't new trends. But the important thing is that the trends are continuing. Aussies don't drink beer like they used to – that is, in the same quantities. Today it is more about quality rather than quantity. Wine is frequently the alcoholic drink of choice, with wine consumption poised to overtake beer consumption in coming years. And overall, Aussies are drinking less – for the 10th straight year alcohol consumption has fallen.

The reasons for the changes over the year are many. Random breath testing, immigration, greater variety in leisure pursuits, increases in income and wealth, diet, lifestyle – all these factors and more explain why Aussies are drinking less beer, more wine and drinking less alcohol more generally.

Reduced alcohol consumption is positive from many social standpoints. But it has implications for government coffers in terms of excise revenue. It has implications for liquor retailers, cafes, restaurants, clubs and the major supermarkets – Coles and Woolworths. Price is only part of the buying consideration; but rather it is the price/quality trade-off.

The trends don't look like reversing any time soon. Gen Y has less interest in drinking for drinking sake despite the occasional media report to the contrary. And Gen X and Baby Boomers have become more responsible, have greater focus on health and have higher incomes enabling focus on quality over quantity.
Leith van Onselen is Chief Economist at the MB Fund and MB Super. Leith has previously worked at the Australian Treasury, Victorian Treasury and Goldman Sachs.
Latest posts by Leith van Onselen (see all)