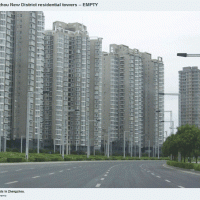 Much has been reported in Western media (and on this site) about China's ghost cities, which have regularly been cited as prime examples of China's unsustainable construction-led economy.
Over the past four years, dozens of videos and reports have been produced about these ghost developments, the most famous of which is probably Ordos in inner Mongolia, or the Great China Mall.
These kind of malinvestments – projects that cost billions of dollars but provide little economic return – have the potential to become a millstone for China's banks and economy going forward, subtracting from its growth potential.
With the real estate market accounting for around 10% of China's GDP growth, and affecting many related industries, there remains the ever-present risk that construction and sales could ultimately grind to a halt, crimping local government land sale receipts and dragging China into a sharp recession.
CLSA analyst, Nicole Wong, has just returned from a detailed tour of China, and she does not believe that China's ghost cities are as bad as commonly thought. In particular, the situation whereby cities are built now and occupied later is commonplace in China. As apartments are typically built as concrete shells, requiring buyers to fit them out themselves, they necessarily take a long time to get filled. Moreover, residents often wait until infrastructure and amenities are fully completed before moving in.
From the Wall Street Journal:
…new Chinese apartments are typically sold as virtual concrete shells that buyers must outfit, installing everything from showers to flooring to kitchen sinks to make them move-in ready. Accordingly, Ms. Wong notes, many such "ghost" developments take awhile to gain traction—especially as it's often the sale of the land they're sitting on that allows the city to fund subsequent facilities and transportation links that will eventually help make them mature neighborhoods.

"When buildings are first completed they are actually not that habitable, so it takes a long time before most people want to move in," Ms. Wong said.

In a report on her findings, Ms. Wong notes that buildings completed between 2008-11 in Zhengzhou, Ordos and Wenzhou—often cited as instances of an overly frothy property market—have typically seen tenants move in over a three-year period…

Still, while the spectral quality of some "ghost cities" may be fleeting, other white-elephant developments built in cities with smaller populations, such as northeastern Tieling or Inner Mongolia's Ordos, are likely to continue struggling.
Ms Wong's analysis is most likely correct. Some cities that have been labelled ghosts probably are not, whereas others, like Ordos, will remain so.
Indeed, in 2011 I reported findings from Demographia's Wendell Cox (here and here), who undertook a study tour of China. Cox found that Zhengzhou New District, which was reportedly at the time "China's biggest ghost city, complete with entire blocks of totally empty accommodation", was actually inhabited and alive with activity. Ditto Hunan, which was reportedly a ghost city twice the size of Los Angeles. Again Cox found it alive and kicking.
On the other hand, SBS Dateline visited various reported ghost developments in 2011, showing them all lying vacant. Two years later, Dateline returned to these same developments and found nothing much had changed – they were still vacant – suggesting they are genuine ghosts. It also uncovered more developments being undertaken with questionable motives.
Overall, it's safe to assume that the China ghost city phenomenon is probably overplayed in the media. While there are genuine cases of malinvestment, there are also some legitimate developments that have been wrongly labelled ghosts as well.