Please find above a cracking interview between Interest.co.nz's Gareth Vaughan and John Bolton, principal of Squirrel Mortgage Brokers, discussing the Auckland housing market.
As readers might recall, last week Auckland's stratified median house price hit $600,000 for the first ever time, according to the Real Estate Institute of New Zealand, following 16% price growth in the year to March 2013 (see below chart).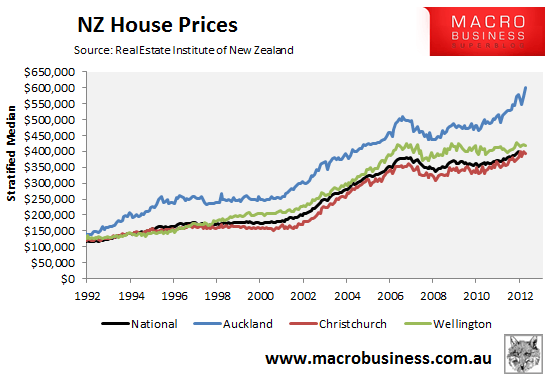 According to the above Interest.co.nz interview, all the elements of a house price bubble appear to be in play in Auckland, including:
1) Perceived housing shortgage:
"I think the story that there's a shortage of property in Auckland is pretty much believed by everyone now. That creates a pretty compelling story around why prices are going up. What has happened with vendors is with the shortage of listings they're basically getting promised the earth by (real estate) agents and I guess with what they've seen in the market over the last three to six months that has certainly been the reality. So the expectations for vendors are very high."

"Buyers have probably been through a process over the last year of constantly having to revise their expectations. Either they're buying a lesser property or they're having to borrow more. And I guess they've accepted that because they've believed the underlying story"…

"With everything going to auction pretty much the buyer's going to be the nutter in the room… We've got plenty of clients that are going to four or five auctions and just not even getting close to being able to buy property."
2) Negatively geared investors increasingly chasing capital growth over yield:
"It has given them [investors] enough leverage to drop back into the market and buy another one. [But] I'm surprised how low the yields are generally on the properties that investors are buying. We're seeing investors buying with 5% yields, which [are] cashflow negative"…

"That traditional kiwi investor who is all about capital growth and not too focused on cashflow is back in the market"…

"I'm probably getting a little bit more nervous about this market now, and with my property investor hat on, with the exposure that I've got, I'm actually probably starting to de-risk at the moment because my feel is that this is actually becoming a riskier market and that gets me a bit more nervous"
3) Hot Asian money:
"We particularly see it with a lot of young Asians that have been over here studying at some point, and have probably got residency and are not necessarily working, getting large deposits out of in particular China. So as far as any surveys are concerned it's actually New Zealand residents that are buying but the money's very much coming from overseas"…

"I had a young woman this week who was looking to buy a property in Onehunga for around NZ$900,000. She was in a position to put a NZ$350k deposit down."

"She wasn't working so initial thought was 'well, sorry' that ain't going to work. She clearly couldn't borrow that much money. But the reality is she had another NZ$600,000 on term deposit which we could use as additional security. And so for the bank that became a no-brainer because essentially there was enough cash there to take out the entire mortgage. That's actually surprisingly common. We see that a lot with our younger Asian buyers. Very large deposits coming from overseas, support from family, and that's allowing them to buy up property in Auckland."
As noted last week, the Auckland housing situation highlights the need for the central government to redouble efforts to free-up land supply and planning constraints, as well as the RBNZ to implement macroprudential controls on mortgage lending.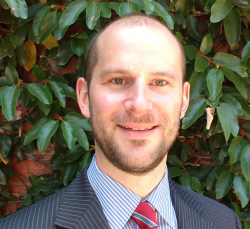 Latest posts by Leith van Onselen
(see all)