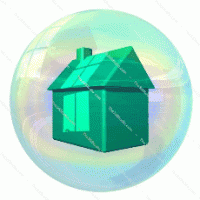 It's a sad day for younger non-home owning New Zealanders, with stratified median house prices hitting in excess of $400,000 nationally and $600,000 in Auckland for the first ever time in March, according to data released today by the Real Estate Institute of New Zealand (REINZ).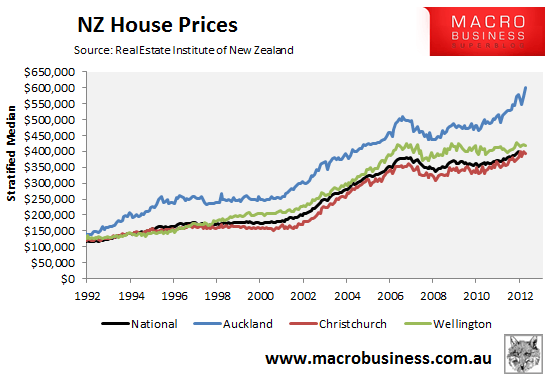 Nationally, New Zealand house prices rose by nearly 9% in the year to March 2013 to be 7% above their November 2007 peak. Prices in New Zealand's largest city, Auckland, surged by 16% in the year to March 2013 to be 18% above their July 2007 peak. This was followed by New Zealand's second biggest city, Christchurch, where prices rose by 7% over the year to be 8% above peak. By contrast, prices in the capital, Wellington, rose by only 3% in the year to March, but remained -1% below their September 2007 peak.
According to Interest.co.nz:
The Real Estate Institute said the number of houses sold, 8128, was the highest level for a month since May 2007, with the number of sales up 23% on February 2013…

REINZ chief executive Helen O'Sullivan, says price levels in Auckland and Canterbury are having a disproportionate impact on the national picture and potentially skewing perceptions of the overall market.

"Analysis by REINZ shows that 90% of the increase in the median price between March 2012 and March 2013 of $30,000 came from just two regions, Auckland and Canterbury/Westland. Together these two regions represent 52% of national house sales, indicating that the remaining 10% of the increase came from the remaining 10 regions which cover 84% of New Zealand geographically.

"There's a real danger that the Auckland housing market is mistaken for the New Zealand housing market, and that regulatory decisions will be made on the assumption that conditions in Auckland and Canterbury are replicated across the rest of the country"…

"Supply shortages in Auckland and Christchurch continue to be the main factor in those two markets, resulting in double digit price increases and new record prices, while the number of days to sell reaches near record lows. Across the rest of the country while activity is picking up, price gains are far more modest. To illustrate this, five regions, representing 24% of sales in March recorded annual price increases of less than 1.0%."
The surging housing market, particularly in Auckland and Christchurch, highlights the need for the Government to redouble efforts to free-up land supply and planning constraints, as well as for the RBNZ to implement macroprudential controls on mortgage lending.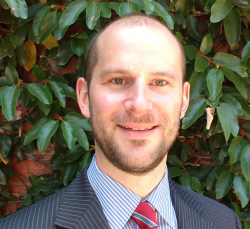 Latest posts by Unconventional Economist
(see all)