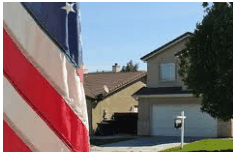 The US housing recovery continued overnight with the release of Commerce Department data for the month of December showing housing starts rebounding to their highest level since June 2008, lifting to a seasonally-adjusted annual rate of 954,000 dwellings. This represented a 37% lift on December 2011 levels when housing starts were running at 697,000 units, and is 77% above December 2010 when construction slumped to only 539,000 housing starts.
Data from Trulia reveals that the bounce in housing starts was driven mostly by the supply-responsive markets of Texas and the Carolina's (see below table):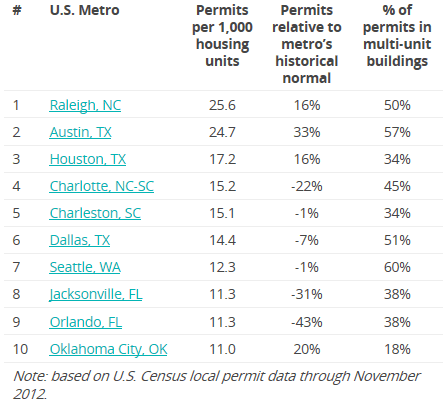 While the lift in overall dwelling starts in December appears spectacular, it's important to note that the annual level of housing starts in the US remains some -35% below  the 50-year average, and overall dwelling construction remains highly depressed (see below chart).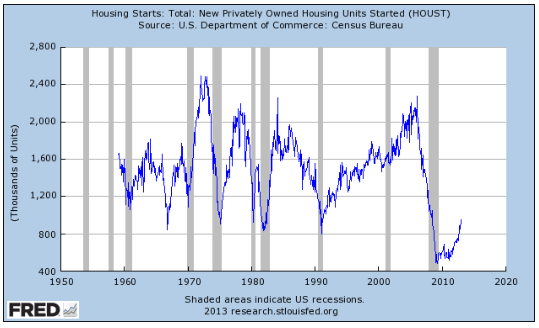 Moreover, it appears to be a jobless recovery, with US housing construction jobs actually falling by -1.2% over the year to December 2012 and hovering near 20-year lows (see next chart).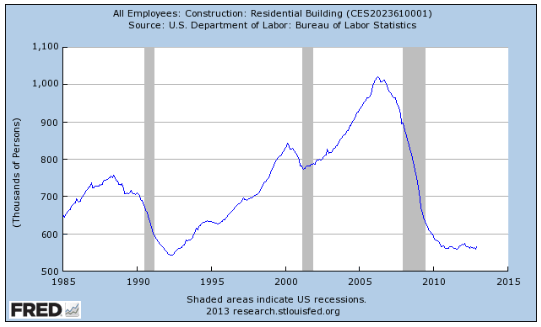 Part of the reason for the lack of rebound in construction employment is that the surge in housing starts has been driven by multi-unit (apartment) construction rather than detached houses, which tend to be less labour-intensive (see next chart). Indeed, in 2012, 31% of new home starts were in multi-unit buildings, as opposed to single-family homes, which represents the highest share in the last twenty years, during which time multi-unit buildings accounted for only 20% of new home starts.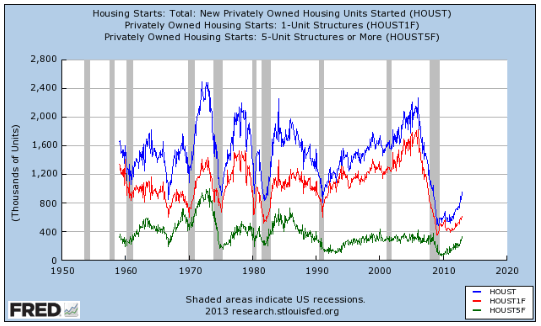 Despite the tentativeness of the recovery, US housing construction looks set to rise further. US house prices have rebounded 5% since their January 2012 lows, although they remain -30% below their peak, according to the 20-city Case-Shiller index (see next chart).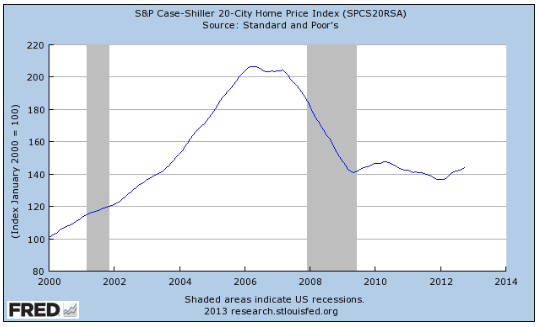 Moreover, official unemployment is also falling, down -2.1% over the past three years to 7.8% as at December 2012 (see next chart).
With any luck, the improvement in the US labour market will lift the rate of household formation, thereby stimulating further housing demand. According to the Bank of America, the rate of household formation in the US roughly halved in the wake of the Global Financial Crisis, as the deteriorating economy caused a big rise in shared (group) accommodation in an attempt to save on housing costs (see next chart).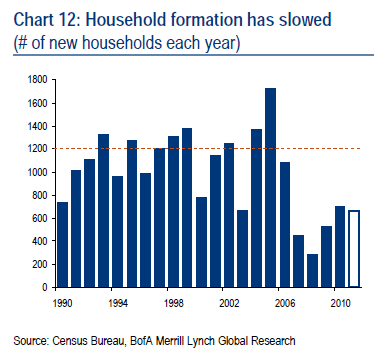 A sustained improvement in the rate of household formation will be critical in determining the strength and sustainability of the US housing recovery.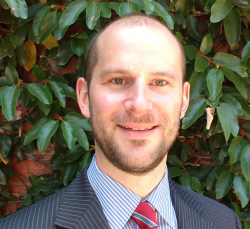 Latest posts by Leith van Onselen
(see all)