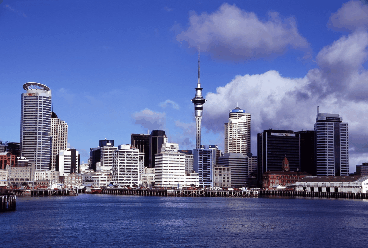 The release of the 9th Annual Demographia International Housing Affordability Survey on Monday appears to have caused a political storm in New Zealand. This year's Survey was particularly controversial in New Zealand for two reasons.
Not only did it show deteriorating housing affordability, as measured by a worsening of New Zealand's 'median multiple' (median house price divided by gross annual median household income), but the foreword of the Survey was written by none other than New Zealand's Finance Minister, Bill English, who had some stern words to say about the state of housing affordability in New Zealand, brought about largely by the strangulation of supply:
"Housing affordability is an important focus for the New Zealand Government . Last year's New Zealand Productivity Commission report on housing affordability, relying in part on Demographia affordability data, showed a substantial worsening in housing affordability in New Zealand in the last thirty years…

In its response to the Productivity Commission, the Government agreed with the Commission's analysis that supply side factors explain the deterioration in New Zealand's housing affordability.

The Government's response to the Commission's report concentrated on land supply, infrastructure provision, costs and delays due to regulatory processes, and improving construction sector productivity…

It costs too much and takes too long to build a house in New Zealand. Land has been made artificially scarce by regulation that locks up land for development. This regulation has made land supply unresponsive to demand. When demand shocks occur, as they did in the mid-2000s in New Zealand and around the world, much of that shock translates to higher prices rather than more houses. It simply takes too long to make new land available for development.

We may be seeing the beginning of a repeat of the mid-2000s demand shock. As interest rates stay below historic norms, expectations are shifting that these rates are here to stay. As a result, demand for real assets has increased, observed in booming equities markets in 2012. Demand for real estate is also increasing, with the median house price in Auckland recently exceeding the highs of 2007.

Costs of other housing inputs contribute to New Zealand's affordability problem. Building materials cost more in New Zealand than neighbouring Australia. The structure of infrastructure financing, and the timing levies are to be paid, raises the market price for housing. Appeals under the Resource. Management Act, New Zealand's land use regulation, can hold up developments and city planning for a decade or more in some cases. Time is money because development is risky…
Advertisement
Certainly, the affordability situation in New Zealand has, once again, started to deteriorate, with house prices in New Zealand's two major markets – Auckland and Christchurch – rising strongly over the past two years (see next chart).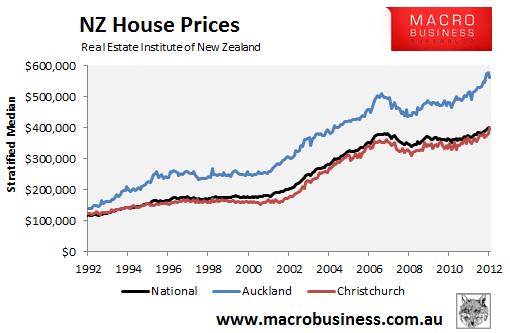 In late 2009, the Reserve Bank of New Zealand dropped the official cash rate to just 2.5%, where it has remained ever since. In turn, the discount variable mortgage rate has fallen to just 5.45%, which has fueled a sharp rise in mortgage finance commitments and house prices (see below charts)
Advertisement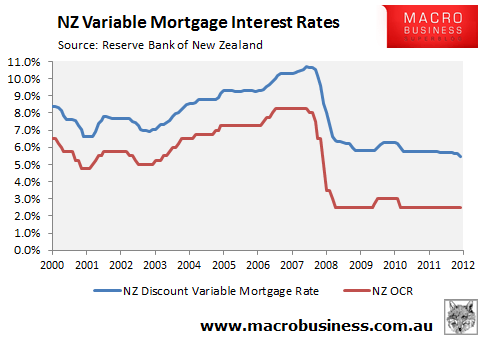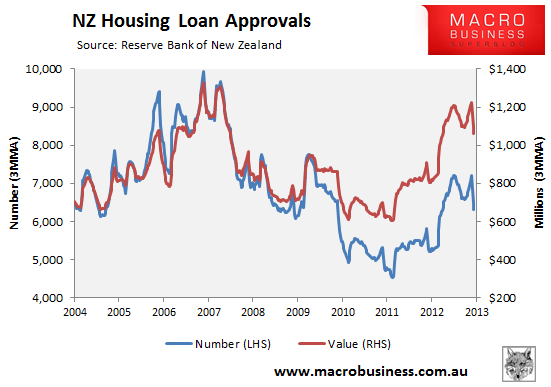 At the same time as credit demand has been rising, the supply situation in New Zealand has also deteriorated. The February 2011 Canterbury earthquakes wiped‑out more than 10,000 homes in Christchurch, New Zealand's second largest city, adding to the already tight housing supply.
Advertisement
Meanwhile, in New Zealand's largest city – Auckland – the Council has moved to tighten the city's already highly restrictive urban growth boundary (called the "Metropolitan Urban Limit" or MUL) into an even tighter "Rural Urban Boundary" that would effectively ban development outside of the rural-urban line and limit the area in which development could take place (see here and here for details).
The Productivity Commission's Final Report into housing affordability, released last year, was scathing of land-use planning in New Zealand, citing a body of evidence showing that strict policies of urban containment and slow development approval times had adversely affected the rate of new home construction and housing affordability in New Zealand.
In particular, the Productivity Commission's Report noted that the land value of housing had risen significantly, particularly in Auckland, with land-use constraints a key driver of this escalation (see next chart).
Advertisement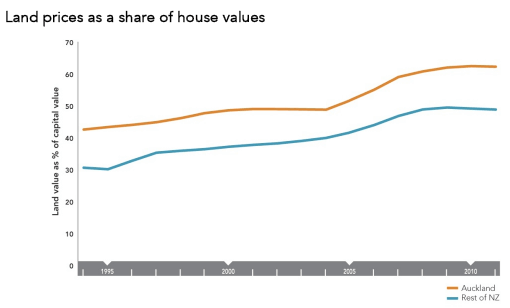 Moreover, the Productivity Commission report showed that the cost of new housing blocks had escalated in real terms, particularly in Auckland: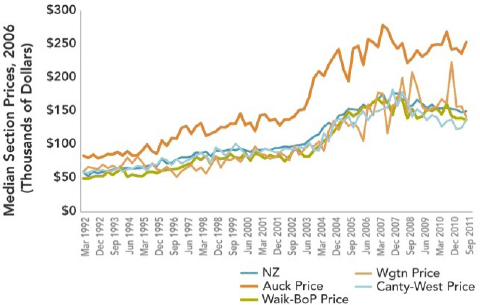 Advertisement
And that the land price escalation has occurred at the same time as the number of sections sold has plummeted: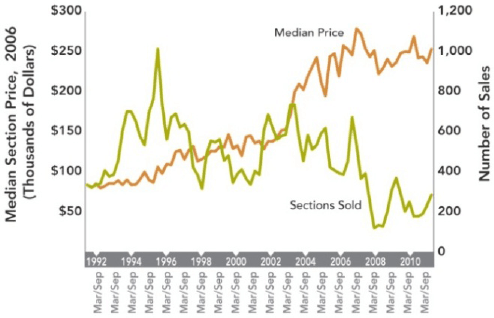 The release of the Demographia Survey on Monday appears to have brought New Zealand's housing affordability problems into the limelight.
Advertisement
Yesterday, in response to the study, the New Zealand Prime Minister announced a reshuffle of Cabinet, assigning Nick Smith to housing in an attempt to improve affordability. The Government has also threatened to take planning control from local councils if they do not improve the supply situation, with the Auckland Council, in particular, in its sites.
For its part, the Auckland Council is holding firm to its Plan to tighten the city's growth boundary, stating that it doesn't "agree with the unplanned wholesale release of land which is going to cost the ratepayers a fortune to service".
Meanwhile, the Opposition Labour Party has promissed to build 100,000 basic homes for first-home buyers, focusing on Auckland, over 10 years, in order to relieve the supply situation and improve affordability.
Advertisement
It looks like housing affordability is, once again, gearing up as a hot political issue in New Zealand.