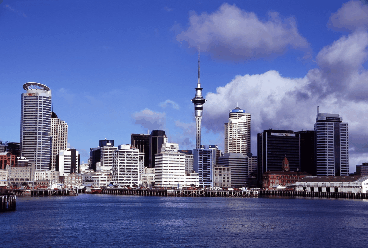 I wrote last year about the ridiculous housing policy being employed in Auckland, whereby the Auckland Council was seeking to tighten the city's already highly restrictive urban growth boundary (called the "Metropolitan Urban Limit" or MUL) into an even tighter "Rural Urban Boundary" that would effectively ban development outside of the rural-urban line and limit the area in which development could take place. The plan also set a target that 75% of all development over the next 30 years – 400,000 dwellings to accommodate an additional 1 million people – would take place within the existing built-up area (i.e. "brownfield development"), meaning that Auckland would predominantly need to build up rather than out.
Auckland is a small city by international standards. Sydney, for instance, is nearly 1,700 square kilometres in size – three times larger than Auckland, which is only 530 square kilometres. Melbourne, which is nearly 2,100 square kilometres in size is nearly four times as large as Auckland, whereas Los Angeles at 4,300 square kilometres is nearly eight times the size of Auckland (see below google maps images).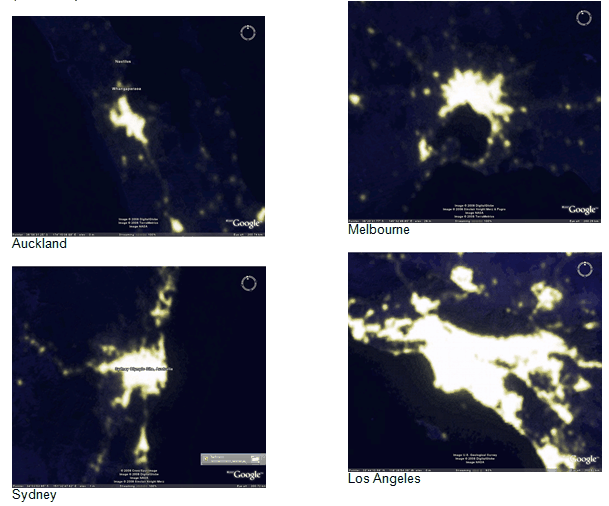 Advertisement
The point is, there is no urgency to restrict the growth of Auckland. Further, nearly all of all Auckland's regional rural land is unproductive as it is held as life style blocks which are in effect super low density urban residential lots appropriate for subdivision.
The supply-side squeeze from the pre-existing MUL, combined with rising demand, has already pushed Auckland's median house price to nearly $550,000 according to the Real Estate Institute of New Zealand – well above the national median of $385,000 (see below chart), and there is the risk that the ongoing tightening of supply could exacerbate the situation, depriving an entire generation of affordable housing.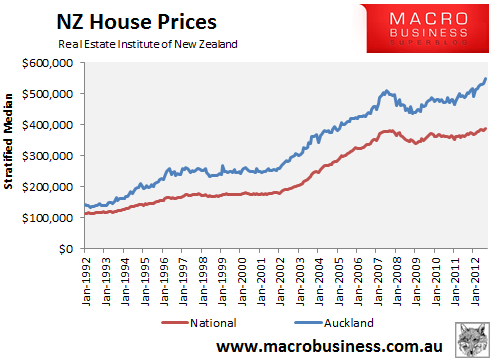 Advertisement
Industry insiders also seem highly sceptical about whether the Council's goal of building 400,000 dwellings over the next 30-year is achievable, given that pre-existing home owners (NIMBYs) are highly likely to resist change:
Former McConnell Property CEO Martin Udale tells Orsman that 50,000 to 80,000 houses would have to be demolished in Auckland to create the space needed to build 300,000 of those 400,000 homes in higher density developments within the city boundaries.

Mr Udale, who now heads Essentia Consulting Group, said one of the biggest risks for the unitary plan was holding political leaders' feet to the fire. "We can't allow the politicians to hide behind community nimbyism and the cave dwellers," he said. The unitary plan had to make widespread infill development easy with provision for height – "this town has a phobia about height".
Moreover, there are doubts that the NZ construction industry is even in the position to build the homes required under the Auckland Council's plan, as well as whether the Council would provide the necessary housing-related infrastructure:
Advertisement
Todd Property, owned by Wellington-based Todd Corporation, manages the development of major subdivisions in Auckland, including the Long Bay community on the North Shore, Stonefields at the base of Mt Wellington and Ormiston in South Auckland.

He told a Property Council conference that these projects had orders for 5,000 houses within the next eight to 10 years, which represented just five per cent of the council's projected required housing supply.

"This is despite us being one of the largest providers. The matter of scale is the biggest issue facing Auckland," said Donnelly.

The housing development industry needed to shift from its cottage size to something larger in scale, he said…

He questioned whether developers should trust Auckland Council to deliver infrastructure for large scale housing developments, given the council's failure in this area…

The council's 30-year unitary plan anticipates between 55 and 60 per cent of houses being attached rather than stand-alone, compared to 20 per cent over the past 10 years.

But Donnelly doesn't believe the market would deliver this sort of housing because it required operators with major scale. As it stood, the greatest demand in the market was for three to four bedroom houses and he doubted the mass market's appetite for smaller dwellings.

Consumer preferences don't necessarily reflect changing demographic trends such as the ageing population and the change in family structures, he said…

Auckland Council's chief executive Doug McKay… conceded a lot of the region's intensified development to date had been "rubbish" under the current development regime and the council wanted to do better with any future infill housing.
I hope for New Zealand's sake that sanity prevails and the Auckland Council's restrictive urban planning policies are thrown out and replaced with a more responsive market-oriented planning system. Otherwise, the cycle of unaffordable housing will continue, locking generations of New Zealanders into sub-standard living arrangements and depriving them of economic opportunity.
Note: for background on the Auckland housing market, see my previous post: Auckland embrases unaffordable housing.
Advertisement
Twitter: Leith van Onselen. Leith is the Chief Economist of Macro Investor, Australia's independent investment newsletter covering trades, stocks, property and yield. Click for a free 21 day trial.