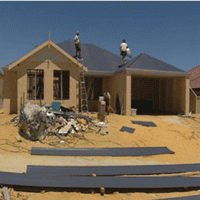 Yesterday's unexpected fall in the Westpac-Melbourne Institute Consumer Sentiment Index, from 104.3 in November to 100.0 in December (see below chart), has dealt a potential blow to the RBA's plans for housing construction to fill the void as the mining boom unwinds.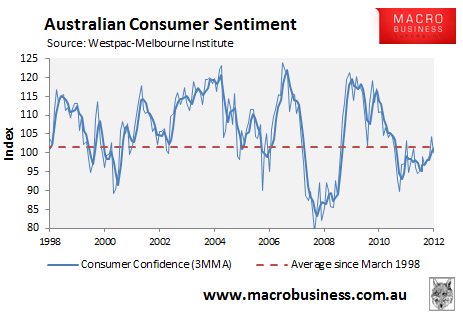 As discussed by Houses & Holes yesterday, there is a strong correlation between the Consumer Sentiment Index and both real house prices and housing finance approvals. More importantly from the RBA's perspective, however, there is also a very strong correlation between the Consumer Sentiment Index and dwelling approvals: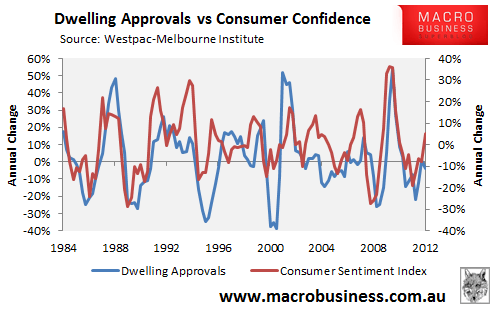 While one month is not enough, we can observe that the Consumer Sentiment Index is now at a lower level than when interest rates were first cut by 0.25% in November 2011, which runs counter to the four prior interest rate-cutting cycles commencing in 1990, 1996, 2001 and 2008 (see next chart).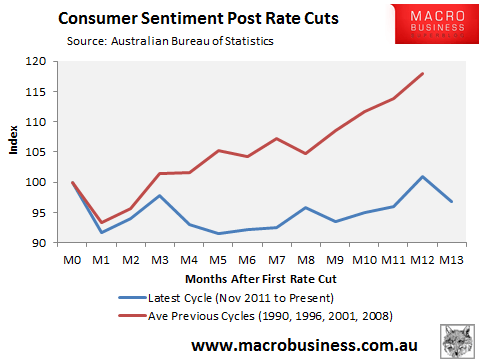 There is at least a gentle up trend in place from around 9 months ago, but consumer's weak response to the latest round of interest rate cuts is further indication that monetary policy has lost much of its potency, and suggests that the RBA is indeed 'pushing on a string'.
Twitter: Leith van Onselen. He is the Chief Economist of Macro Investor, Australia's independent investment newsletter covering trades, stocks, property and yield. Click for a free 21 day trial.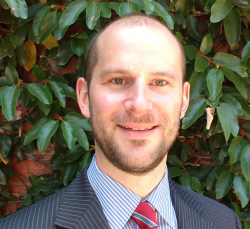 Latest posts by Leith van Onselen
(see all)