If you're still wondering why I'm bearish iron ore in the medium term, here it is in a chart from the AFR's ongoing (and very good, whoops!) mining conference blog: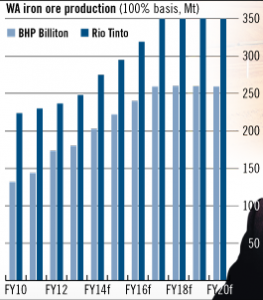 This is the locked in expansion plans of Rio and BHP. Combined with plateauing Chinese demand. That is BHP and Rio only.  What do you think is going to happen to the price?
David Llewellyn-Smith is Chief Strategist at the MB Fund and MB Super. David is the founding publisher and editor of MacroBusiness and was the founding publisher and global economy editor of The Diplomat, the Asia Pacific's leading geo-politics and economics portal.

He is also a former gold trader and economic commentator at The Sydney Morning Herald, The Age, the ABC and Business Spectator. He is the co-author of The Great Crash of 2008 with Ross Garnaut and was the editor of the second Garnaut Climate Change Review.
Latest posts by David Llewellyn-Smith (see all)