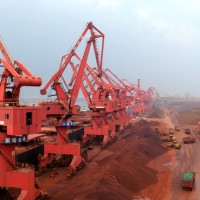 Missed this earlier. I have warned that the assumption by Australian miners, sell-side analysts and government – pretty much everybody – that the Chinese will lie down and let foreign imports displace local ore production is just a little naive. And now we have the proof. From the AFR (h/t NM):
China is looking to halve the tax rate paid by its domestic iron ore producers in an effort to maintain local supply and drive down the prices received by Australian and Brazilian miners.

…To maintain domestic production the Chinese government is now considering halving the 25 per cent tax rate paid by miners, the state-run China Securities Journal says.

"That would feed straight through to lower prices," said Ian Roper, the Shanghai-based commodities analyst with CLSA. "It will help at the margins to make Chinese iron ore producers a bit more competitive."

Xu Xiangchun, chief information officer at consulting firm Mysteel, said the tax cut could be implemented in two to three months.

"The government has been investigating policies to help the mining industry since the beginning of this year," he said.

"They don't want China to be overly reliant on imported iron ore."
This is a big deal and will not help the iron ore rally now or the $120 price floor theory in the future.
David Llewellyn-Smith is Chief Strategist at the MB Fund and MB Super. David is the founding publisher and editor of MacroBusiness and was the founding publisher and global economy editor of The Diplomat, the Asia Pacific's leading geo-politics and economics portal.

He is also a former gold trader and economic commentator at The Sydney Morning Herald, The Age, the ABC and Business Spectator. He is the co-author of The Great Crash of 2008 with Ross Garnaut and was the editor of the second Garnaut Climate Change Review.
Latest posts by David Llewellyn-Smith (see all)