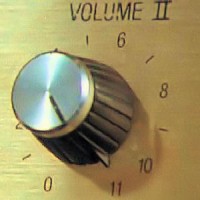 UPDATE: AFR is reporting that "ASIC has confirmed it has launched an investigation into trading in David Jones's shares and disclosure issues relating to an abandoned takeover approach".
As mentioned in yesterday's ASX Shares Daily, there has been an unravelling debacle over the recent "mystery" takeover bid and subsequent withdrawal for embattled retailer, David Jones (DJS).
From the AFR:
EB Private Equity has withdrawn its $1.65 billion bid for David Jones, citing recent publicity around its proposal for scuttling the plan.

In a statement to the Australian Securities Exchange, David Jones said it had received a letter from EB Private Equity withdrawing its bid, which pushed the retailer's shares up by 15 per cent on Friday.

"The EBPE letter states that recent publicity around its proposal has made it difficult to proceed," David Jones said.
Well, I'm glad shareholders got the chance to exit a little richer!?!?
Anyways, at Macro Investor we predicted just this in Monday's edition:
The takeover offer changes the dynamic of a possible trade immensely, and given the mystery that surrounds the offer it increases the risk potential of a major setback in the price. While the technical price action confirms the falling wedge pattern, the gap due to a dubious takeover bid merely injects another immeasurable risk factor.

This trade is best left alone, but should be monitored for a pullback that does not go below the previous trend, which would confirm support of a new bull trend.
Which is what has transpired, with shareholders realising the fog was not clearing at all, but likely pumped up by a smoke machine borrowed from Spinal Tap, as the share price fell over 10% and right back below the previous trend line: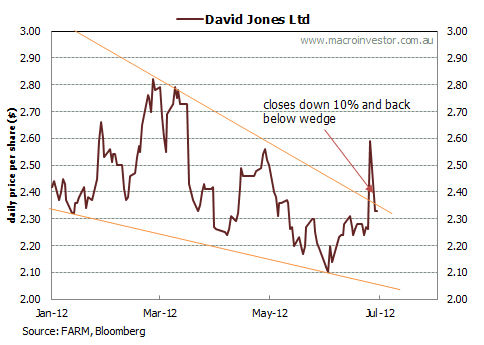 The boffins at ASIC will be busy dissecting each and every trade leading up to yesterday, for sure. And the timing of the offer right at the end of the financial year has left a foul stench to boot.
For those interested in a longer term view, instead of this rambunctious trading, David Jones was valued in the 2nd pre-launch edition of Macro Investor – here's the current valuation and the forecast estimate: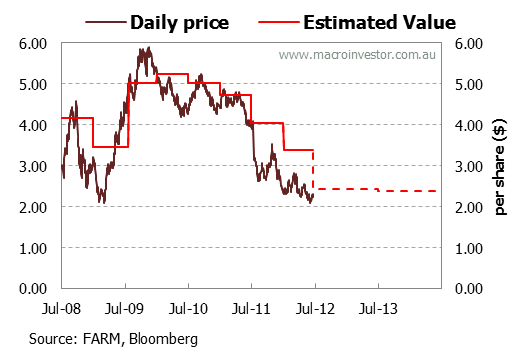 For a 21 day free trial, register at Macro Investor which has launched with a special 20% discount offer for MacroBusiness readers that brings the price down to $385 until the end of July '12.
Latest posts by Chris Becker
(see all)