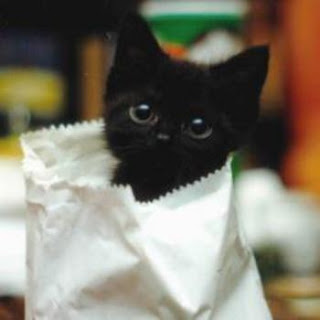 By Chris Becker
In case you've wondering what we've been up to these last few months, we've launched the premium "Macro Investor" newsletter. And that's where you'll find the former Trading Week – but it has turned into much, much more, published Monday morning first thing alongside each edition of Macro Investor. Click here for a look see at the inaugural edition.
One of the concerns we had in building Macro Investor was the perception that our loyal readers here at MacroBusiness would be put off and think a downturn in quality and content was inevitable. Not so – in fact, as you'll see with the revamped ASX Shares Daily, and as we up our coverage of markets, superannuation and investing, its going to get better – and stay free.
Enough spruiking, let's get on with it!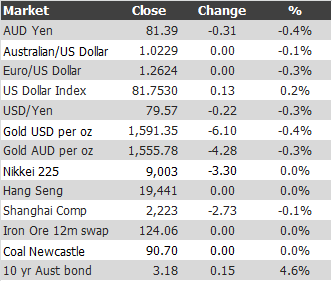 As you can see in the table opposite, most Asian markets saw gains today, continuining the risk on moves from Friday night – what a night too!
The ASX200 jumped nearly 1% to 4133 points, it did not close above short term resistance at 4140 points, as seen on the daily chart below.
There was some intraday selling on the bourse (not helped by David Jones (DJS) undergoing some weird machinations with a takeover offer – more on that tomorrow).
Not also I've marked the Macro Investor medium term system short/tight signals, plus the KC Signal from 1st May that signalled a possible top: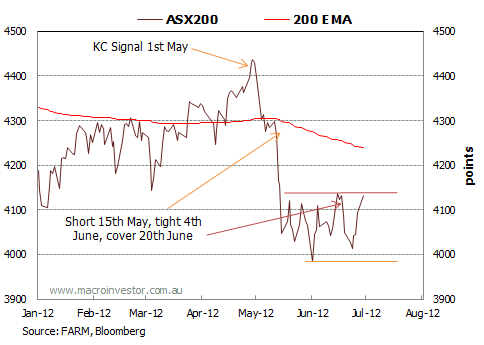 Other Asian equity markets did even better with the Nikkei 225 up 1.5%, contining a very strong bounce, whilst the Hang Seng also saw some big gains, up 2% but yet to clear the recent high. I favour the latter to be honest in terms of a sustained bounce. Mainland Chinese markets were less ebullient, with the  Shanghai Comp up 1.3%: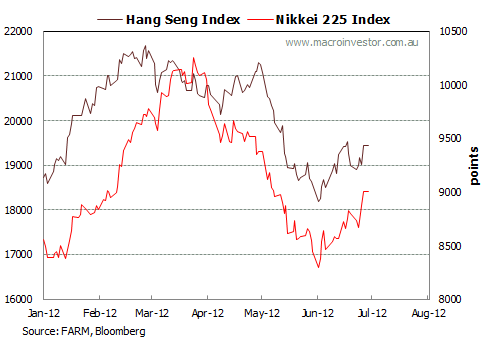 On currency markets, the Aussie shot up and hit resistance at 1.025 against the USD, and requires a break above that key level to continue this rally: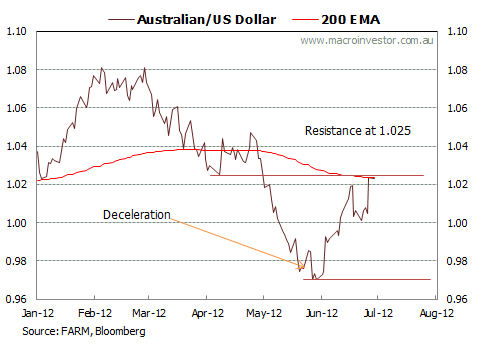 Meanwhile, the Euro/USD cross has slipped back slightly, failing to get above the 50 day moving average currently at 1.2663, with the US Dollar Index (DXY) holding on for now.
Gold jumped almost 3% on Friday night but has steadied in the Asian session, currently at $1597USD,  whilst in AUD terms, it is flat at $1555AUD per ounce. I'm watching coal and iron ore at the moment, usually good proxies for a return to risk and as the chart below shows, there's been some bids forthcoming in both commodities in recent days that may signal a bottom: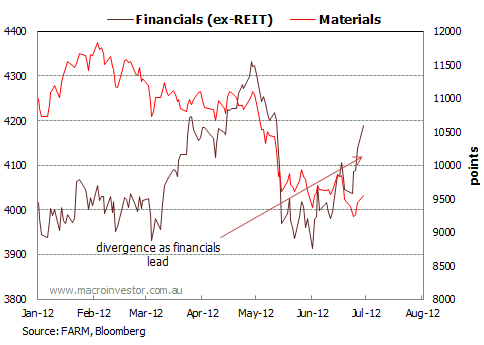 In the debt markets today,  Aussie 10 year yields jumped 6 basis points, with the generic yield at 3.06%, just below resistance at 3.2% as an ascending bullish triangle is forming on the daily chart: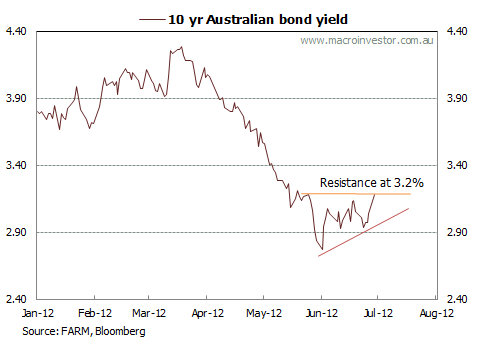 Australian Stocks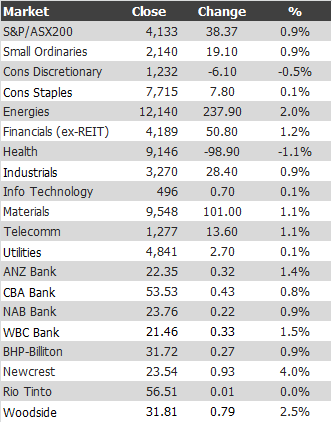 Are we going to see the miners catch up or is this just because the European banking system situation is sorting out any last niggles that our banks are fine and dandy? Whatever the reason, the lack of performance from both is what is keeping our local bourse down compared to other Asian markets, where better opportunities lie, IMO.
Tonight
Here comes the PMI's! It's going to be a busy week as we analyse these first here at MacroBusiness before forming our investment thesis at Macro Investor (where a full wrap of data is available each and every week). Tonight we get the German, UK and US manufacturing PMI's, along with the EMU unemployment rate. Later tonight, the all important ISM Manufacturing index will print, which will be watched by everyone.
Don't miss the overnight market updates by my colleague Greg McKenna, in MacroBusiness Morning.
Til then, you can find me on Twitter here.
Disclaimer: The content on this blog should not be taken as investment advice. All site content, including advertisements, shall not be construed as a recommendation, no matter how much it seems to make sense, to buy or sell any security or financial instrument, or to participate in any particular trading or investment strategy. The authors have no position in any company or advertiser reference unless explicitly specified. Any action that you take as a result of information, analysis, or advertisement on this site is ultimately your responsibility. Consult someone who claims to have a qualification before making any investment decisions.
Latest posts by Chris Becker
(see all)