By Chris Becker
Macquarie Group (MQG) – the Silver Donut – the Millionaires Factory – whatever you want to call it, is the the best risk proxy to announce if the ASX200 is having a bull market or not: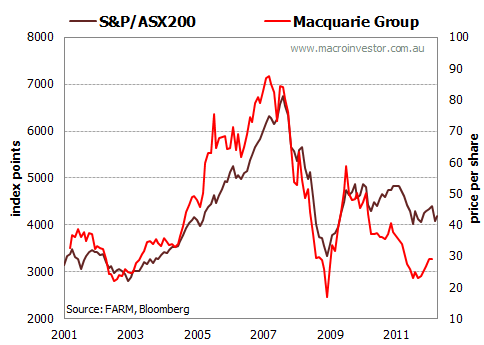 Today the Donut Factory announced that its securities unit will likely post a second consecutive yearly loss as it euphemistically says "Europe's debt crisis dents investor appetite for trading and share sales". From Bloomberg:
Macquarie reiterated a forecast that the group's result will improve from the prior 12 months. "The securities group is suffering," Chief Executive Officer Nicholas Moore said on a conference call with reporters. "You know the drought will turn, but you don't know when." Describing the market as "very, very tough," Moore said he's not expecting the European crisis to improve any time soon.
MQG posted a nearly $200 million loss last financial year – why? Its main driver is the meta markets – deals, takeovers, IPO's, structured investments, retail investors leveraging up to buy stocks off institutional investors who are selling etc etc ad nauseam. MQG is profitable in a bull market and then hugely profitable in a classic Minskian "ponzi bull" market.
But when those conditions don't exist, the group struggles, and this affects their valuation. FARM (Macro Investor's proprietary database and investment tool) current estimate is $22.16 moving to $22.88 per share for 2013.
Consensus forecast estimates for next year and further out are hugely ebullient, and in my opinion, delusional, at $2.61 per share for 2013 and $3.38 per share for 2014, instead FARM has calculated modest growth from $2.10 currently to $2.20 and $2.30 per share: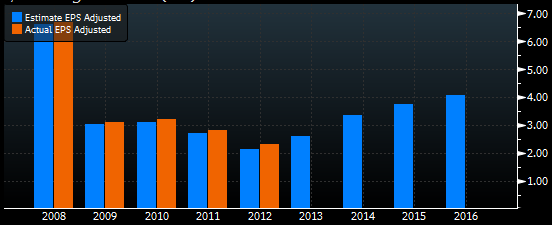 Beyond the fundamentals, both the market condition (as measured by our proprietary risk indicator) is bearish and the medium term technical setup had also moved to a classic short setup, which is why we suggested such a trade in MQG in last week's edition of Macro Investor:
The millionaire factory remains out of favour in the bear market and is setting itself up for a short.
A breakout price movement from January has stalled and the stock is now forming a head and shoulders pattern.
Any break below $25 could see the silver doughnut fall sharply to $20, forming in our view, a tasty short.
Which was triggered on the 18th of July at $24.98 and as of 11.30 this morning, MQG is trading at $23.66 per share. Yes, we're makin' bacon: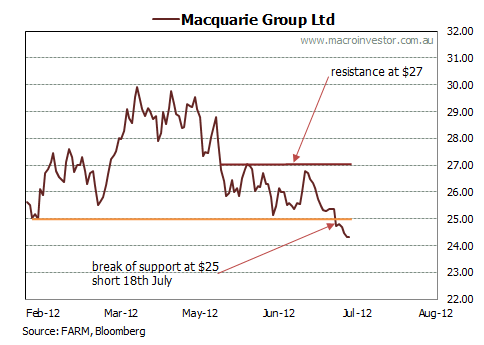 As explained in the trade report, risk management is tight on such a trade but it appears for now the fundamentals are supporting the price view, ie. a big squishy boot on top of the Donut Factory, not grubby hands of every man wanting to buy stocks.
Chris Becker is an investment strategist at Macro Investor, Australia's independent investment newsletter covering stocks, trades, property and fixed interest. Each week Macro Investor publishes tables on the top ten most undervalued and overvalued stocks on the ASX. A free 21-day trial is available at the site. You can follow Chris on Twitter.

Disclaimer: The content on this blog should not be taken as investment advice. All site content, including advertisements, shall not be construed as a recommendation, no matter how much it seems to make sense, to buy or sell any security or financial instrument, or to participate in any particular trading or investment strategy. The authors have no position in any company or advertiser reference unless explicitly specified. Any action that you take as a result of information, analysis, or advertisement on this site is ultimately your responsibility. Consult someone who claims to have a qualification before making any investment decisions.
Latest posts by Chris Becker
(see all)