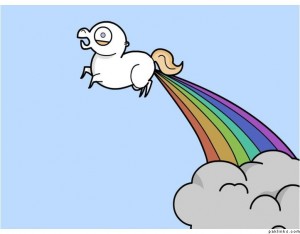 By Chris Becker
These daily updates need to be placed in context with the longer trends and drivers amidst the overall technical picture, so head to Macro Investor for a free trial. Former "Trading Week" readers will find it reborn as "Technicals", published 8.30am each Monday morning.
Unicorns and rainbows on the ASX today and if that's all you heard on the radio on your drive home (I love telecommuting!) you could be forgiven for thinking everything is fine. It aint – although the ASX200 closed up over 30 points or 0.56% to 4105 points these gains were not extended to other equity markets in Asia – and its those markets that matter, not the daily noise on the ASX200. Check out my more detailed technical analysis of the ASX 200 after the wrap at the bottom of this post.
The Nikkei 225 was flat at 8724 points alongside the Hang Seng down 2/5ths of bugger all, but the real mover was the Shanghai Comp – down 1.74% to 2147 points, just – just – above its January lows at 2145 points. These losses were across the board on mainland China – which is not buying the "there's a stimulus a-coming" meme – or maybe they are really caught in a speculative funk? Commodity prices are on the up, so this divergence is strange to say the least…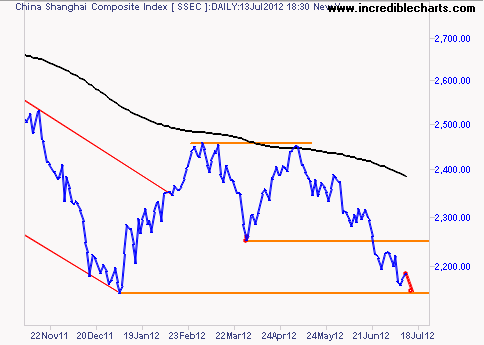 On currency markets, the Aussie remains just below resistance and is stuck between its 200 day moving average and the series of higher lows on its small bounce from the June low (btw this chart looks a LOT like the house/dwelling price/noise chart going around the grounds at the moment doesn't it?) For the time being, the Macro Investor Technicals system (my former position system) has no entry signal: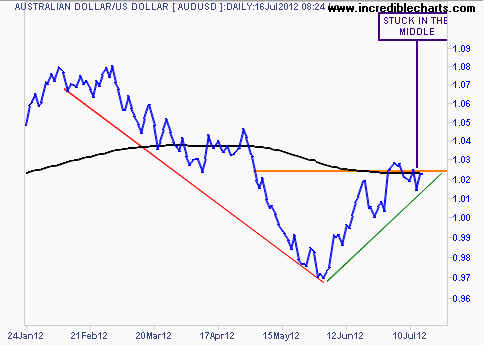 The Euro/USD cross is finding a short term bottom just above 1.22, and indeed looks oversold on the daily charts. MI subscribers will know I've identified a possible pattern trade on the longer term charts for this cross, and we are still short for now….but risk management rules are starting to tighten.
As for the US Dollar Index (DXY) anti-dollar gold (USD)  paradox – whats going on? The former looks extended, but if it can maintain the air up there at 83 points, momentum should continue, as gold remains under enormous pressure (ask Newcrest shareholders how much pressure) and continues to slip sideways, now at $1587USD, whilst in  AUD terms, its finding some short term strength and is at $1556AUD per ounce. The weekly chart of the AUD gold price is illustrative – it remains in a dominant uptrend with strong support around $1530AUD per ounce: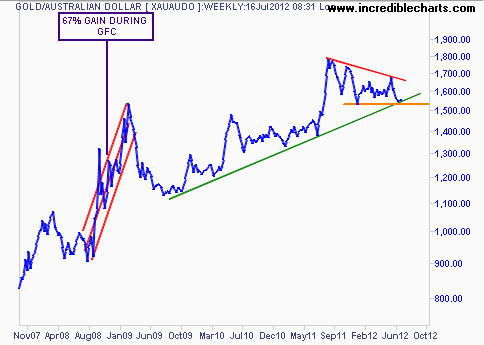 I said before that the sideways weakness looks like cracking into outright falls if it closes below $1526AUD – we are keeping a very close eye on gold in AUD terms, as this is a hedge within both our model portfolios. If you can't work out why, check out the caption in the chart above at what happened to gold in AUD terms during a monetary and liquidity crisis….
Aussie 10 year bonds were up 2.5 points to 2.91% today… I still remember when there was a 5 in front of the yield, so maybe the big spread between the ASX200 dividend yield and the bond yield might be because the latter is overvalued, not the former undervalued?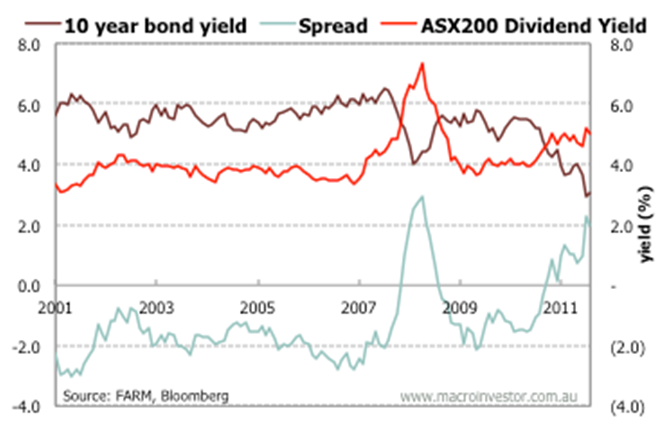 Australian Stocks
What a day – so much going on, what with Seven West Media (SWM) going hat in hand to market to say, in their best Jaja Binx voice "we so sorry, we so wanna more of your money to pay off allze debt wea have" – i.e half a billion dollars because they cocked up their WAN merger…..I do remember a certain analyst covering this at the time and getting sprayed by Stokes PR crew: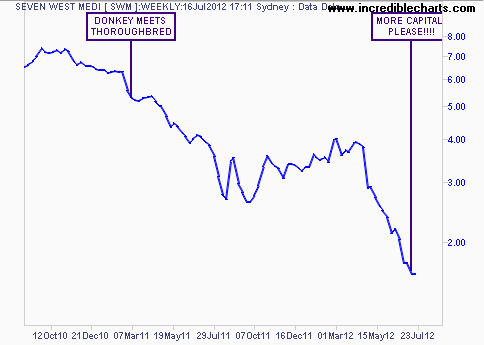 The big mover in the ASX8 (the big four miners and big four banks) was Newcrest (NCM) again – but this time up 1.6% as gold continues to flounder at these prices.
For KC Signal watchers, guess what – Wesfarmers (WES) just went ballistic today – only up 1.2% but the pattern and technicals suggest this could lose momentum fast. Apparently this is because workers picketing outside a Melbourne Coles warehouse say they will lose their court fight. I guess that's a good enough story for it, but maybe its just a big momentum play as the insto's keep cycling out of discretionaries and into staple stocks? Woolworths (WOW) seems to be losing momentum too and looks like stalling at current prices: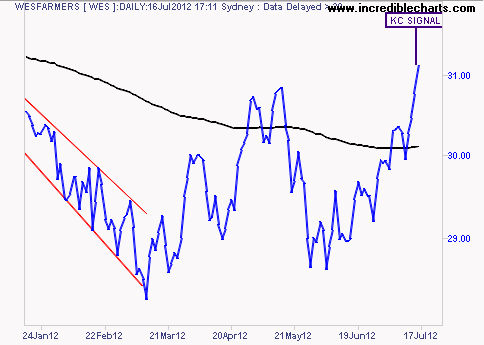 Megabank remains in an uptrend, mostly but I do note that the short term patterns have an air of reversal about them currently, as if they are running out of steam. On to the index – again my inner Bob Dylan is saying "no reason to get excited" as the ASX200 remains stuck in a short term trading range between 4040 and 4140 although there has been a series of higher lows, which bodes well for the bulls.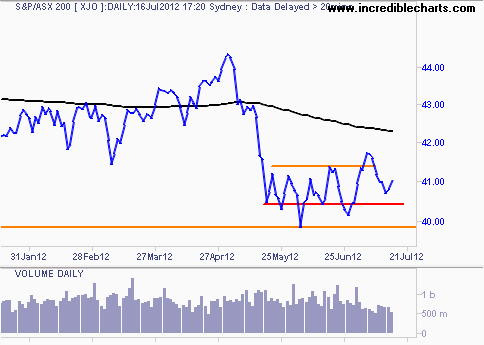 Needs a big break over the latter to get any momentum going, and maybe this will come from the resource sector? I'm not sure – I still think we need a rally in Chinese stocks before the commodity complex gets moving, even though soft commodities are going ga ga for a variety of reasons (sugar, corn, wheat etc)
Don't miss the overnight market updates by my colleague Greg McKenna, in MacroBusiness Morning.
You can also find me rambling on Twitter here (and unlike some commentators, I'll actually reply, if you ask nicely!)
Disclaimer: The content on this blog should not be taken as investment advice. All site content, including advertisements, shall not be construed as a recommendation, no matter how much it seems to make sense, to buy or sell any security or financial instrument, or to participate in any particular trading or investment strategy. The authors have no position in any company or advertiser reference unless explicitly specified. Any action that you take as a result of information, analysis, or advertisement on this site is ultimately your responsibility. Consult someone who claims to have a qualification before making any investment decisions.
Latest posts by Chris Becker
(see all)