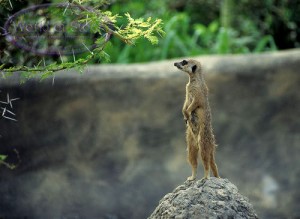 By Chris Becker
These daily updates need to be placed in context with the longer trends and drivers amidst the overall technical picture, so head to Macro Investor for a free trial. Former "Trading Week" readers will find it reborn as "Technicals", published 8am each Monday morning.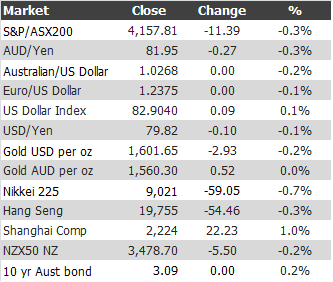 Today the meerkats stood up and down watching for danger as markets around Asia bopped up and down but with no clear direction. Again, the ASX200 dropped on the open and then dragged itself out of a midday hole and finally closed down 11 points or 0.3% to 4157 points. Everyone is waiting for the non-farm payrolls from the US tonight to see which way risk will go. Check out my analysis of the ASX 200 after the wrap at the bottom of the post.
The New Zealand NZ50 finished slightly down, again with no clear signal, whilst the Nikkei 225 actually slipped 0.7%, hitting the 200 day moving average and looking like every other risk equity market around the globe – pausing, with a possible top forming. The Hang Seng was down 0.3% but the  Shanghai Comp actually bounced over 1% this afternoon, but still bouncing along in a bear market.
On currency markets, the Aussie remains flat, still battling with resistance and the 200 day moving average. We are covering currencies more thoroughly in Macro Investor in Monday's edition, whilst the Euro/USD cross after getting caned last night continues to stay in the doldrums.
Meanwhile the battle between the world's currency and anti-currency continues, with the US Dollar Index (DXY) holding the upper hand again, just below 83 points, whilst gold (USD)  was flat again throughout the Asian session, now at $1602USD.
In AUD terms, today was much better than last night, where it was hammered, and is currently at $1559AUD per ounce as the sideways weakness continues.
In the debt markets today,  Aussie 10 year yields were pretty much unchanged, currently at 3.088%, the yield curve remaining sharply inverted.
Australian Stocks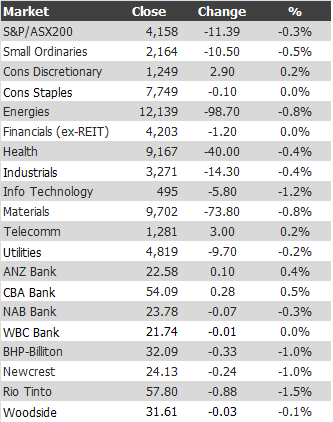 Tonight
Its not so quiet tonight, with official US employment numbers – non farm payrolls – being watched by every insto and trader around the world. This will determine the short term moves to come ahead in the next couple of weeks, after the ECB's decision to cut rates to zero and the BOE to extend QE.  Don't miss the overnight market updates on Monday by my colleague Greg McKenna, in MacroBusiness Morning.  You can find me on Twitter here.
As I said at the top, I do a full technical analysis of all major macro markets each week called "Technicals" at Macro Investor, which used to be "Trading Week". Even if you're not a trader, this gives you an insight into how world markets are travelling, since our stock, debt and housing markets (still mainly financed by European banks and Chinese resource demand) follow the rest of the world.
In our first week since publishing MI, we've had enormous interest, overwhelming actually, and signups are accelerating. Many thanks, and apologies if I haven't been able to respond to your emails promptly.
Disclaimer: The content on this blog should not be taken as investment advice. All site content, including advertisements, shall not be construed as a recommendation, no matter how much it seems to make sense, to buy or sell any security or financial instrument, or to participate in any particular trading or investment strategy. The authors have no position in any company or advertiser reference unless explicitly specified. Any action that you take as a result of information, analysis, or advertisement on this site is ultimately your responsibility. Consult someone who claims to have a qualification before making any investment decisions.
Latest posts by Chris Becker
(see all)