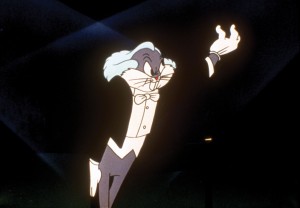 By Chris Becker
These daily updates need to be placed in context with the longer trends and drivers amidst the overall technical picture, so head to Macro Investor for a free trial. Former "Trading Week" readers will find it reborn as "Technicals", published 8am each Monday morning.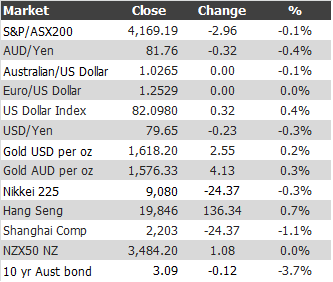 Some days the market needs a conductor to bring it out of its low G note funk – and that's what we got today as the ASX200 dragged itself out of a midday hole and finally closed down 3 points or 0.1% to 4169 points. With no American markets to "call a tune", it was to be expected that today would rest on its own laurels. Can I mix up any more metaphors? Check out my analysis after the wrap at the bottom of the post.
Other Asian markets were less kind, the New Zealand NZ50 finished flat with no clear signal, whilst the Nikkei 225 also failing to follow through after its very strong bounce, but in another strange divergence, the Hang Seng was up 0.7% but the  Shanghai Comp remains sideways bearish, falling another 1.1%as I said yesterday, still not wanting to follow through alongside other commodities.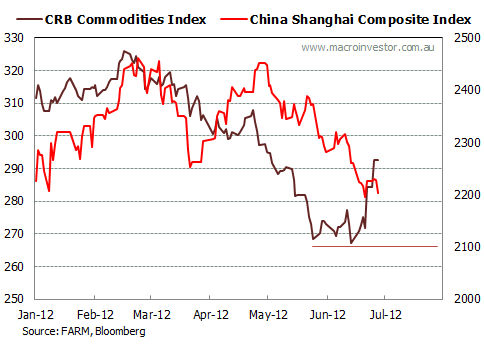 On currency markets, the Aussie remains flat, still just over resistance and the 200 day moving average (see chart below) but not wanting to breakout much further, whilst the Euro/USD cross continues to stay in the doldrums.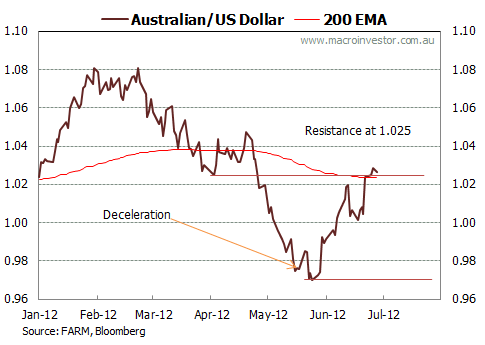 Meanwhile the battle between the world's currency and anti-currency continues, with the US Dollar Index (DXY) holding on for now, whilst gold (USD)  was flat again throughout the Asian session, with a quiet night with no NYMEX/US trading, and still above the $1600 breakout, now at $1616USD.
Macro Investor subscribers (and they're growing fast!) would know we've been watching the precious metal for a breakout medium term trade idea for awhile now, but nothing as yet….In AUD terms, it didn't do too bad today, but remains stuck currently at $1576AUD per ounce rising slightly overnight.
In the debt markets today,  Aussie 10 year yields fell back nearly 11 basis points to 3.09%, the yield curve remaining sharply inverted. No breakout above the level I analysed in last week's "Technicals" :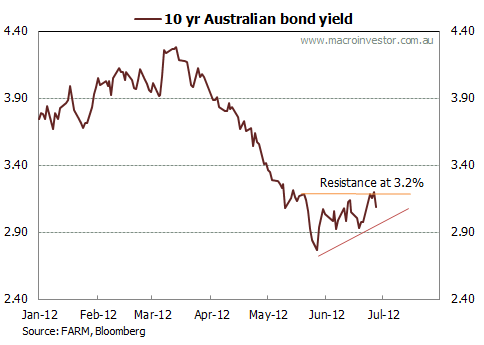 Australian Stocks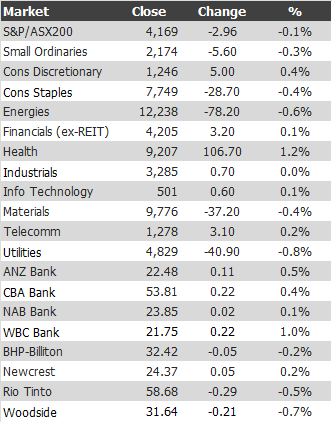 On to the index – whilst we had a definitive breakout in the ASX200 yesterday, there has been no follow through, even though it remains above the trading range between 4000 and 4150: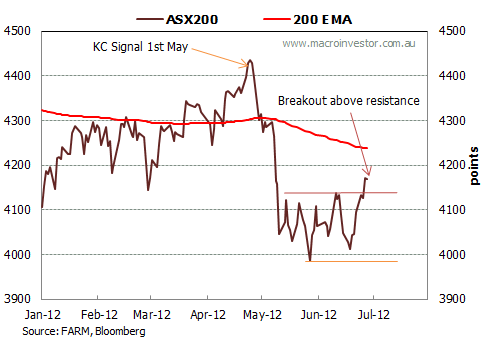 Tonight
Its no so quiet tonight – the US markets will reopen, and they will watch the Bank of England announcement, with more QE expected, closely. This will be preceded by German manufacturer's orders, and thereafter by the ECB itself, which may cut rates and spur this risk on move.
If that wasn't enough, the all important US ADP employment numbers come out alongside another Tier 1 release – the ISM non-manufacturing index.
Don't miss the overnight market updates by my colleague Greg McKenna, in MacroBusiness Morning.
Oh and here's Bugs in all his glory – kids these days don't know what they're missing – that era's cartoons were the best!

Til then, you can find me on Twitter here.
Disclaimer: The content on this blog should not be taken as investment advice. All site content, including advertisements, shall not be construed as a recommendation, no matter how much it seems to make sense, to buy or sell any security or financial instrument, or to participate in any particular trading or investment strategy. The authors have no position in any company or advertiser reference unless explicitly specified. Any action that you take as a result of information, analysis, or advertisement on this site is ultimately your responsibility. Consult someone who claims to have a qualification before making any investment decisions.
Latest posts by Chris Becker
(see all)