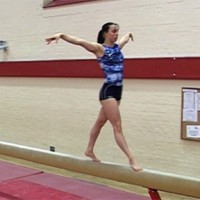 The Shanghai Comp tried to lift itself off the deck, scraping along at its December 2011 lows, with the 200 day moving average providing strong overhead resistance. There's money to be made on a rebound rally from these levels, but the risks are high: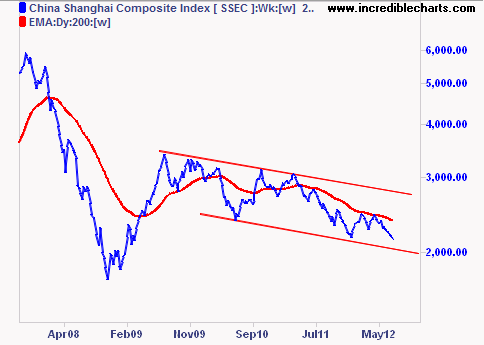 On currency markets, we're looking at the Yen and GBP pretty closely this week at Macro Investor this week, as the Aussie continues to diverge from, well reality. Here's another fun filled five year chart – I hope the levels are self explanatory?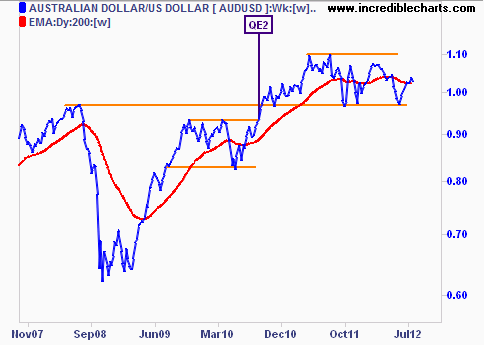 The Euro/USD and US Dollar Index (DXY) traded places today, barely moving, so it was up to the anti-dollar – gold (USD) –  to do something. Which it is: slumping coming into the London session, just like last night –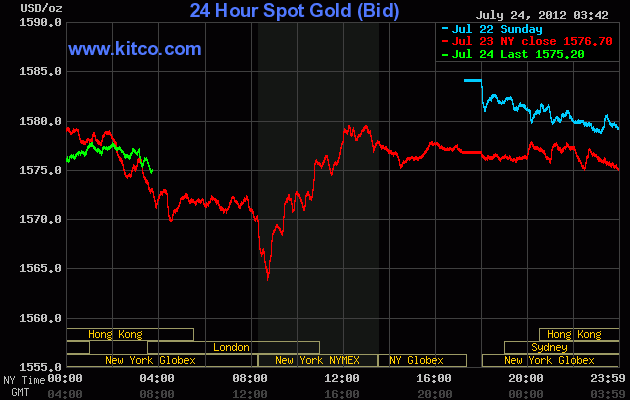 In AUD terms, the precious metal/pseudo currency/real money/speculative commodity has dropped slightly, now at $1531AUD per ounce.
Australian Stocks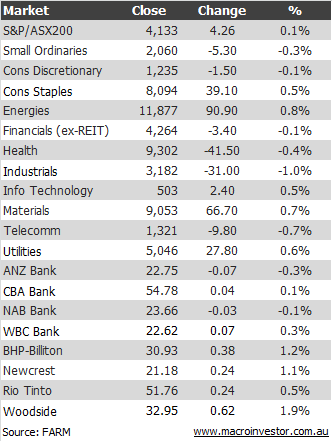 You can see the resistance level that was once support at $40 per share for WPL throughout 2010 (the higher orange line) whilst current prices are gravitating around the new support level – same as the GFC low, more or less – at $30 per share. Here's FARM's estimate of value over the next 2 years – its not exactly cracking is it?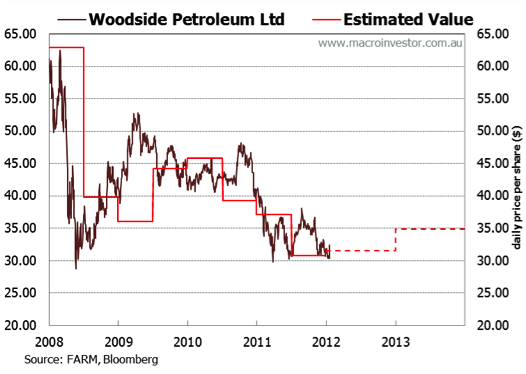 Here's today's top movers and losers: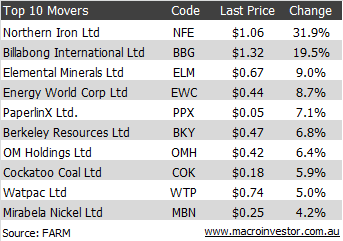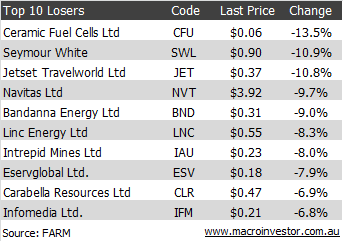 TPG are making another tilt at Billabong (BBG) which saw the share price surge again today, and it was another increase in the takeover offer from Aditya Birla (ABY) that saw Northern Iron (NFE) jump the highest on the bourse today. NFE follows the iron ore price very closely, and FARM has an "Avoid" rating on both it and its takeover parent, on both price signal and fundamental valuations. Forecast revenue looks pretty though…
On to the index where maybe its times to revisit the "BEAR" Fund ETF? Hmmm.
Ah yes, the index: first of all, lets finish up with the 5 year weekly chart theme. Excuse all the lines on this one…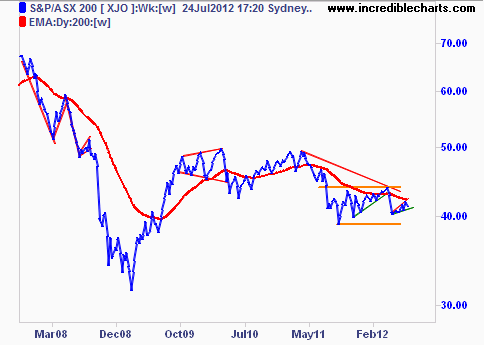 Confusing? Well the two horizontal orange lines form the basis of the sideways bear market thesis, but let's zoom in a bit more: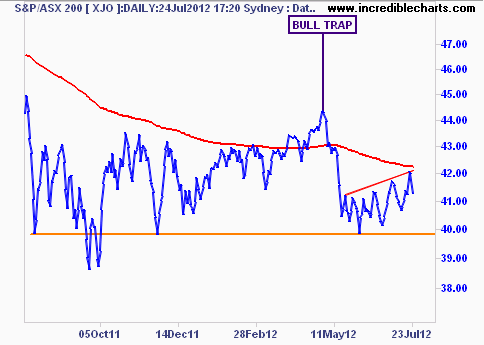 The picture here is not clear at all, and support at 4000 points and resistance at 4220 or so (the 200 day moving average) are the key levels to watch from here. As always, our markets take leads from overseas and whilst the ASX200 is fairly valued right now (between 4129 points now and 4319 points by the end of 2012, according to FARM's latest estimates – it recalculates value each week) we could just grind along at these levels for sometime yet.
Don't miss the overnight market updates by my colleague Greg McKenna, in MacroBusiness Morning tomorrow morning.
You can also find me rambling on Twitter here.
Disclaimer: The content on this blog should not be taken as investment advice. All site content, including advertisements, shall not be construed as a recommendation, no matter how much it seems to make sense, to buy or sell any security or financial instrument, or to participate in any particular trading or investment strategy. The authors have no position in any company or advertiser reference unless explicitly specified. Any action that you take as a result of information, analysis, or advertisement on this site is ultimately your responsibility. Consult someone who claims to have a qualification before making any investment decisions.
Latest posts by Chris Becker
(see all)