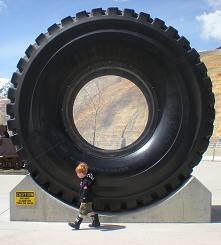 By Chris Becker
These daily updates need to be placed in context with the longer trends and drivers amidst the overall technical picture, so head to Macro Investor for a free trial. Former "Trading Week" readers will find it reborn as "Technicals", published 8.30am each Monday morning.
Well that didn't go according to plan – BHP announced a 19% increase in annual iron ore production, following RIO and FMG yesterday. Nah nah. Market hated it – as brokers started to realise they hated it too and tried to sell it too each other. The stock fell 2% which means the ASX200 fell – closing down 17 points or 0.42% to 4123 points – check out my more detailed technical analysis of the ASX 200 after the wrap at the bottom of this post.
It's a mixed day across the board in Asia, with the Nikkei 225 taking back yesterday's gains,  the Hang Seng doing the same, losing around 1.2%, whilst the Shanghai Comp put on some more gains! Huzzah! Up 0.4% to 2161 points, but still floundering around its year lows.
On currency markets, the Aussie had a  seesaw day and is currently just above 1.03 against the Yank. As I said previously, the Macro Investor Technicals system (my former position system – this is not a short term trading system btw) still has no entry signal, but its getting close: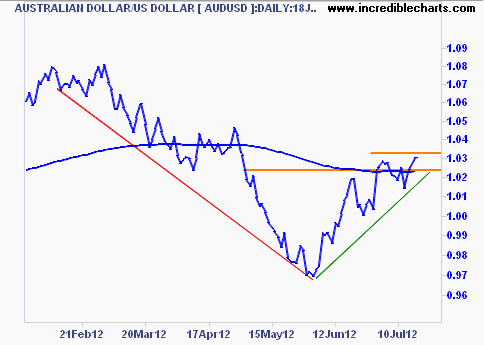 The Euro/USD cross has rebounded over 100 pips in the last couple of days, but is struggling to get back over 1.23 against the USD, sitting just below coming into the European session.
As for the US Dollar Index (DXY) the reverse could be said, as it still dices with short term support at 83 points. The anti-dollar gold (USD)  continues to slip sideways, now at $1583USD, haivng a very volatile overnight session, where it dropped from nearly $1600 to just above $1570:
In AUD terms, it continues to fall strongly, now at $1535AUD per ounce. Although I said previously that the weekly chart shows a dominant uptrend with strong support around $1530AUD per ounce, we're slowly getting to a position where a hedged position in GOLD no longer makes sense, and a possible trendline violation to boot: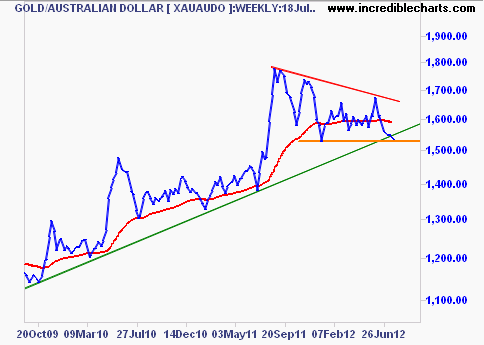 Aussie 10 year bond yields were steady today at 2.92%, with the yield curve still inverted, whilst Euro bond yields are fairly mild moving going into the European session, with only Portugal seeing some selloffs.
Australian Stocks
How the world turns – a "perfect storm hitting commodities" was the headline at AFR, and now the Cupboard is reporting "mining outlook weighs". Hmm – as I've been following throughout the day, most brokers/analysts are scaling back their projected earnings and price forecasts for commodities, a couple "permanent plateau" quotes in there for sure, but on the main, expectations are being lowered rapidly. Too rapidly maybe?
As I said at the top BHP-Billiton came off 2% today and remains in a dominant downtrend. FARM, our proprietary valuation/allocation/risk management program at Macro Investor has an estimated value of $44 per share for FY13 – but this is before earnings revisions. The most important signal is FARM says "AVOID":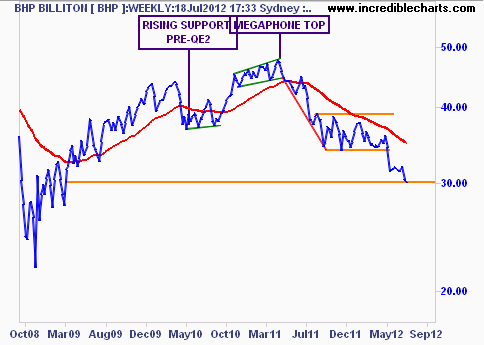 As a result of the market not liking materials – which were off over 2% today – healthcare first then bank stocks were bid up. CSL broke out to a new high, whilst yield chasers, um, chased the banks! All except NAB – maybe because of their FSA investigation in the UK?
On to the index where the ASX200 has rejected the 50 day moving average, and now back inside its short term trading range between 4040 and 4140. As I said yesterday, we are not out of the woods yet, as the Megabank moves are being dragged down by materials, so net – the index aint going anywhere: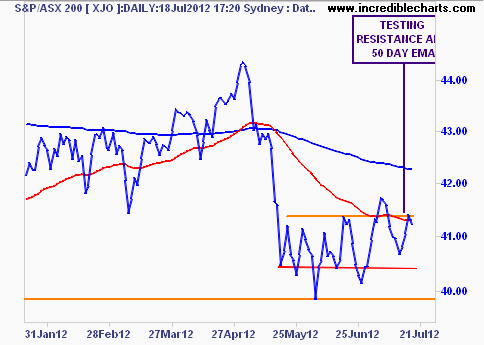 I do remember saying somewhere once or twice that opportunities lie elsewhere outside the index?
And in this mornings' scan I found a heap of bullish stocks and indicies – but most were outside Australia. Pays to look outside your backyard for returns.
Don't miss the overnight market updates by my colleague Greg McKenna, in MacroBusiness Morning.
You can also find me rambling on Twitter here
Disclaimer: The content on this blog should not be taken as investment advice. All site content, including advertisements, shall not be construed as a recommendation, no matter how much it seems to make sense, to buy or sell any security or financial instrument, or to participate in any particular trading or investment strategy. The authors have no position in any company or advertiser reference unless explicitly specified. Any action that you take as a result of information, analysis, or advertisement on this site is ultimately your responsibility. Consult someone who claims to have a qualification before making any investment decisions.
Latest posts by Chris Becker
(see all)