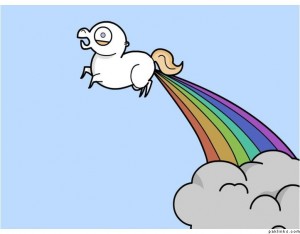 By Chris Becker
These daily updates need to be placed in context with the longer trends and drivers amidst the overall technical picture, so head to Macro Investor for a free trial. Former "Trading Week" readers will find it reborn as "Technicals", published 8.30am each Monday morning.
The unicorns came bearing bank stocks which rocketed today, whilst the rainbows were mirages in the form of record iron ore production numbers by FMG and RIO.  The ASX200 closed up over 35 points or 0.87% to 4140 points – check out my more detailed technical analysis of the ASX 200 after the wrap at the bottom of this post.
It's green across the board in Asia, with the Nikkei 225 up 0.3% to  8755 points alongside the Hang Seng – the biggest mover for the day – up 1.8% to 19461 points. The Shanghai Comp finally put on some gains, up 0.62% to 2161 points, still floundering around its year lows.
On currency markets, the Aussie zoomed ahead on the slightly bullhawkian comments from the RBA's meeting suggesting no more rate cuts for now. Speculators giggled with delight as the cross rose above resistance and the 200 day moving average, continuing the series of higher lows on its small bounce from the June low. As I said yesterday, the Macro Investor Technicals system (my former position system) still has no entry signal, but its getting close: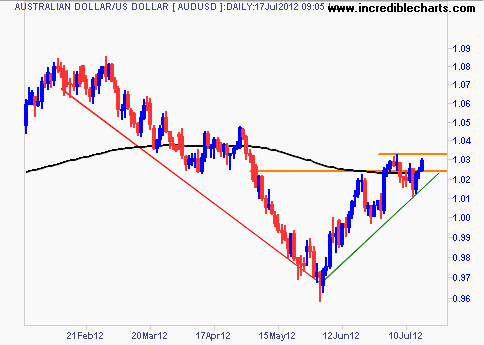 The Euro/USD cross is still finding a short term bottom just above 1.22, and continues to look slightly oversold on the daily charts, with a series of slightly higher lows – but we're still short for now. As for the US Dollar Index (DXY) the reverse could be said, as it dices with short term support at 83 points. The anti-dollar gold (USD)  continues to slip sideways, now at $1593USD, whilst in  AUD terms, erased its strength on the AUD rise, falling to $1548AUD per ounce. Although I said yesterday that the weekly chart shows a dominant uptrend with strong support around $1530AUD per ounce, we're slowly getting to a position where a hedged position in GOLD no longer makes sense: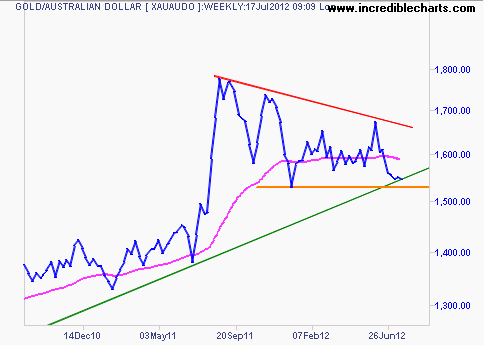 Aussie 10 year bond yields were  just over a point today and the yield curve remains inverted.
Australian Stocks
Another big day on the ASX200 – lots of movers and as I said at the top, a muted response to RIO and FMG iron ore production numbers. We get BHP tomorrow – which finished in the black today.
Now, I'm getting a lot of  long signals throughout the bourse (but not the market itself) including Megabank (except the NAB division, which is interesting) – and a few other financials like Suncorp (SUN), Bendigo and Adelaide Bank (BEN) and QBE (QBE!) look interesting too.
Commonwealth Bank (CBA) in particular broke out to new highs today and is almost back at its Feb 2011 high on the weekly chart – lots of brokers getting bullish here too but not this Macro Investor – FARM still has an "Avoid" grade on the bank, as its estimate of growth in value is marginal at best over the next couple of years. The yield is enticing at 8.5% – about 2.5% more than a term deposit – but does this outweigh the risks?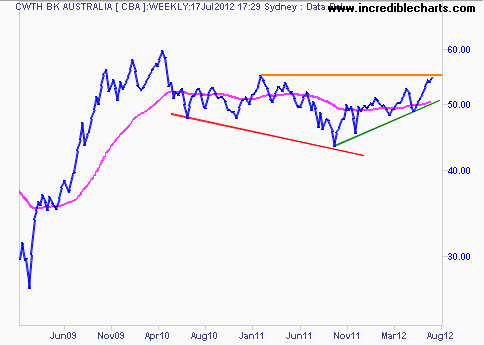 On to the index where the ASX200 has tipped over the 50 day moving average, getting out of its short term trading range between 4040 and 4140, but we are not out of the woods yet, but I do note that a momentum secondary indicator I use for scanning purposes is about to tick over positive:
You can see the current sideways bullish move on the weekly chart – but we still need to pass above the 200 day moving average and the downtrend intersection area, or I fear another false break like we had in early May: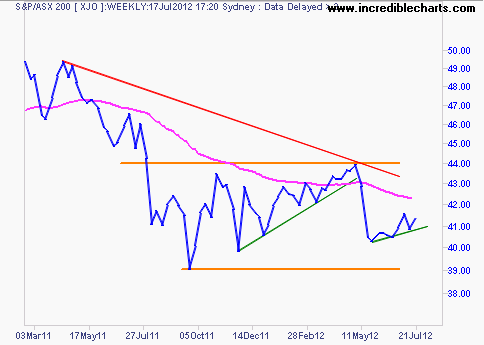 Don't miss the overnight market updates by my colleague Greg McKenna, in MacroBusiness Morning.
You can also find me rambling on Twitter here (and unlike some commentators, I'll actually reply, if you ask nicely!)
Disclaimer: The content on this blog should not be taken as investment advice. All site content, including advertisements, shall not be construed as a recommendation, no matter how much it seems to make sense, to buy or sell any security or financial instrument, or to participate in any particular trading or investment strategy. The authors have no position in any company or advertiser reference unless explicitly specified. Any action that you take as a result of information, analysis, or advertisement on this site is ultimately your responsibility. Consult someone who claims to have a qualification before making any investment decisions.
Latest posts by Chris Becker
(see all)