Bloomie has got some new indexes for shipping that are showing a rather mixed picture for the Chinese economy: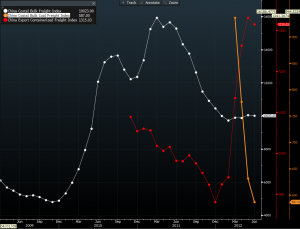 On the on hand, we see a pretty healthy bounce in containerized traffic (red). At the same time, however, China's Coastal Bulk Freight Index(white) is flat following the big fall last year. The orange line is China's Coastal Coal Bulk Freight Index, which gives you some idea of why thermal coal has been sliding without cease.
So, decent containerized traffic and lousy bulk commodity traffic, especially in coal. Together you might call that some kind of rebalancing. Hope it doesn't persist!
Latest posts by David Llewellyn-Smith (see all)