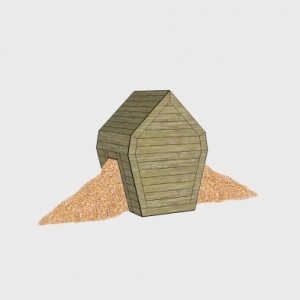 The Bureau of Resource and Energy Economics (BREE) is out with its latest quarterly assessment of commodity markets. I like BREE. They tend to forecast more conservatively than one might expect. The major story emanating from the latest update is the fruits of the long predicted surge in volumes in Australia's major commodity exports, which will offset price declines:
Australia's resources and energy commodity export earnings are forecast to reach a record $209 billion in 2012–13, according to the Resources and Energy Quarterly—June quarter 2012, released today by the Bureau of Resources and Energy Economics (BREE).

"The continued increase in Australia's minerals and energy export earnings will be underpinned by strong growth in export volumes, particularly for iron ore and LNG following the completion of a number of projects." said Professor Quentin Grafton, BREE's Executive Director and Chief Economist.

The growth in earnings in 2012–13 is forecast to be underpinned by increases in export values for: iron ore, gold, thermal coal, liquefied natural gas, copper and alumina.

A lower assumed value of the Australian dollar against the US dollar in 2012–13 will also support increases in the value of Australia's resources and energy exports.

With the exception of aluminium, export volumes for all major minerals and energy commodities are forecast to increase. The largest increases, in percentage terms, are forecast to be LNG (21 per cent), alumina (15 per cent), metallurgical and thermal coal (both 13 per cent), iron ore (10 per cent) and copper (10 per cent).

…The forecast increase in LNG exports in 2012–13 reflects the start up of the Pluto LNG project, which will increase Australia's LNG capacity from around 20 million tonnes to over 24 million tonnes. Australia's LNG capacity could exceed 80 million tonnes by the end of this decade.

Economic growth across a number of major economies, including China, is assumed to slow in 2012, relative to 2011, and then increase in 2013.
The rise in volumes is a good story, even if it results in the fall in prices. But I am still not satisfied that BREE is being conservative enough at this point in the business cycle. Witness its growth assumptions: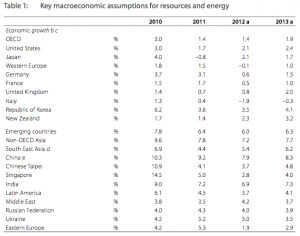 None of these forecasts are outlandish but they are basically an extrapolation of where the global economy is right now. I expect things to get worse before they get better. For instance, Western Europe is still in line for a full blown recession in my view. Where is it's growth going to come from with paralysis in fiscal policy and a liquidity trap emerging across much of the Continent? You might look to exports but to where? A European recession may happen by a thousand cuts but it is still going to happen in the next year or so. The US is also likely to see greater weakness, though not recession (unless there's a shock). Emerging markets are not going to grow at 6% either, with weakness in Eastern Europe, Russia and India worse than this forecast. China looks about right.
Given this, BREE's assessment of market growth in some commodity segments look rosy. The thermal coal market is expected to expand 4% in 2013, the steel market by 4% and the sea born iron ore market by 8%. Flat is more likely, even without a shock.
We'll still see the volume expansion here, of course. And no doubt capture greater market share. But the trend in prices is more likely to follow the current relentless downtrend of thermal coal than it is the nascent iron ore recovery.
Still, there's no doubt that the volumes are coming and will mitigate price falls.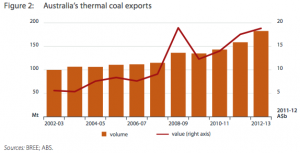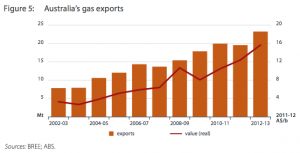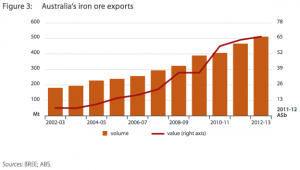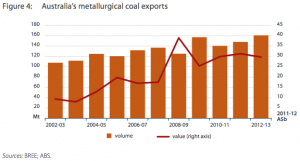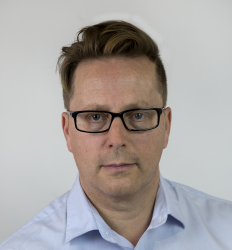 Latest posts by David Llewellyn-Smith
(see all)